Whether you're diving back into the pool for the first time as the weather changes, or you're someone who laps your local lido multiple times per week already, I've got good news — my favorite swimming headphones currently have 20% off in the Black Friday sales. Despite it being a few days before Black Friday, the Shokz Openswim just dropped to $119 on Amazon.
If singing you're favorite song over and over no longer cuts it in the pool, the Shokz Openswim are my go-to best swimming headphones for keeping boredom at bay. They are easy to use, and rarely go on sale, so now is a great time to buy.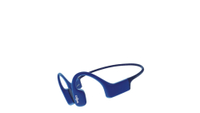 Shokz Openswim: was $149 now $119 @ Amazon
The Shokz Openswim headphones are currently on sale on Amazon and Best Buy in a range of different colors. The headphones come with a handy carry pouch, which stops you from accidentally chucking them in the washing machine with your swimming towel, and a nose clip.
Price check: $119 @ Best Buy
These bone-conducting headphones work to ensure comfortable, safe listening in the pool — you're able to get lost in your favorite soundtrack or podcast, but still hear the lifeguard's whistle should you need. The Shokz Openswim also have two different modes — swimming and general, so you can use these headphones out of the water should you wish. The swimming mode offers a boost for voice-based podcasts where the bump in volume and clarity felt most noticeable. The General mode is versatile enough to work for different types of audio both in and out of the water.
Since getting pregnant and cutting down on my running mileage, I've been swimming more than ever, and these headphones have revolutionized my workouts. They weigh just 1.05 ounces (around 30g) and I can easily slip them underneath my swimming cap in the water. I also find they don't move, even when pushing off from the side of the pool, and didn't get tangled in my hair on sessions where I'd forgotten to pack my cap.
The headphones themselves are easy to use in the pool — Shokz placed three physical buttons on the underside of the right side of the headphones to turn on the headphones and adjust the volume up and down. Like all swimming headphones, you have to manually upload music or podcasts to the headphones — Bluetooth doesn't work in water, so you can't connect these to your phone. This is a little fiddly at first, but it's the price you pay for listening to music when you swim. The headphones have 4GB of storage and the ability to transfer over MP3, WAV, WMA, AAC files and you do that using the same proprietary cable used to charge the headphones.
All things considered, I'd be lost without these headphones, and if you're looking for a gift for the swimmer in your life, now is a great time to buy these, as they are unlikely to drop any lower. Not for you? Check out the best Black Friday deals here on Tom's Guide, as well as the best Black Friday Apple Watch deals and the best Black Friday Garmin deals here.