Last week Amazon offered a massive buy 1 get 1 free deal across a range of PS5, Nintendo Switch and Xbox Series X games, including several games released in 2023. Unsurprisingly, this offer proved to be very popular, and much to our delight it's not ended yet.
Right now, you can "buy 1 get 1 free" on select PS5, Xbox Series X and Nintendo Switch games at Amazon. To claim your free game all you need to do is add two eligible items to your Amazon cart, and the cheapest one will be completely free at checkout. And, if your picks are of equal value, you'll only pay for one. Plus, you're free to mix and match across platforms. For example, you can grab a PS5 game along with a Nintendo Switch game and still score this awesome discount.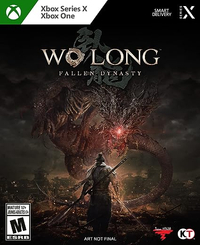 PS5, Xbox and Switch games: buy 1 get 1 free @ Amazon
Amazon's "buy 1 get 1 free" promotional sale on various PS5, Xbox Series X and Nintendo Switch games is still running. While the biggest releases of 2023 aren't included, there are still plenty of worthwhile picks. Just add two eligible games to your Amazon shopping cart, and the cheaper one will be free when you checkout. Even better, you can mix and match across platforms.
While the majority of the games that populate our lists of the best PS5 games and best Xbox Series X games are not included — sadly the likes of Starfield and Baldur's Gate 3 are absent from the selection — there are still several games that launched in 2023 to choose from. These include Street Fighter 6, Atomic Heart, Wo Long: Fallen Dynasty and Like a Dragon: Ishin.
Other top picks for PS5 and Xbox Series X players include Octopath Traveler 2, Sonic Frontiers, Neir Replicant, Tiny Tina's Wonderlands, Cuphead, Forspoken, A Plague Tale Reqiuem and Maneater Apex Edition. Plus, loads of the games in this sale are already discounted which means you can potentially pick up two must-play titles for less than the price of a $70 new release. That's a serious gaming bargain in our book.
Amazon has once again refreshed the available selection and the promotion now includes Elden Ring (but only on PS4). This super-challenging action RPG was my personal favorite game of last year, and is one of the most engrossing gaming experiences of the last decade. It's also been discounted to $39, which is an absolute steal for an open-world game that you can easily sink more than 100 hours into.
Unfortunately, the Nintendo Switch games included in the deal are rather more underwhelming. Pokemon Brilliant Diamond has recently been added, but you might struggle to find something to pair it with unless you've been holding out for a deal like this to pick up Knockout Home Fitness or Smurfs Kart Turbo Edition. If you're a Switch player we recommend saving your cash for now as there will probably be better discounts available during the upcoming Prime Day 2 and Black Friday sales.
However, if you predominately game on PS5 or Xbox Series X (or even PS4/Xbox One) then you should have little trouble finding two picks that appeal to you in the full range of more than 500 games included in this Amazon deal. Just don't delay much longer as this deal definitely won't stick around forever.