The Motorola Razr+ is here, and it's quickly risen up our list of the best foldable phones on the market. If you're looking to score a discount on this new phone, now's your opportunity.
Amazon Prime members now have the chance to get $150 off the Motorola Razr+ at Amazon. You need to request an invitation to purchase the phone during the Prime Day sales event starting on July 11th, meaning this deal is limited only to Prime members who receive an invitation. Prime membership costs $14.99/month, or you can sign up for a 30-day free trial.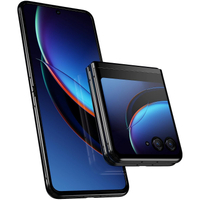 Motorola Razr+: was $999 now $849 @ Amazon
In our review, we called the Motorola Razr+ "the best designed clamshell foldable to date." This phone features a 6.9-inch OLED FHD 165 Hz inner display and a 3.6-inch OLED 144Hz outer display, a Snapdragon 8 Plus Gen 1 CPU, and 256GB storage. The 12MP main (f/1.5), 13MP ultrawide (f/2,2) and 32MP (f/2.4) cameras are great for selfies and content creation. Note: this deal is only available to Amazon Prime members via invitation.
The Motorola Razr+ is one of the best foldables on the market right now, and our current favorite clamshell-style foldable phone. Just check out our recent Motorola Razr+ review to see why.
The Motorola Razr+ deserves serious props for its stylish design. The phone is 0.27-inches thick and easy to slip into a pocket, and the hinge allows the display to close with no visible gap. While you can still see the crease on the screen when the phone is off, our reviewer found it to be barely visible with the display activated.
This phone also provides great utility. Running on the Snapdragon 8 Plus Gen 1 chip, the Motorola Razr+ delivered smooth performance, even when switching between apps or during gaming. If you're a content creator, the strong outer cameras can be used with the outer display as a viewfinder, helping you stay in frame.
Plus, we got 10 hours and 9 minutes of battery life from the Motorola Razr+. This beats competition like the Samsung Galaxy Z Flip 4 (8 hours, 57 minutes.)
The Motorola Razr+ is an awesome phone — so if you want to get your hands on it, sign up for the chance to purchase it at a discount on Prime Day. Oh, and for more deals, check out our Prime Day sales coverage in the lead-up to the big day(s).