One of the things I like most about this time of year is hunting down the best Black Friday deals on my favorite wireless earbuds. And Amazon has come up with a win on one of the best wireless earbuds I've heard all year.
Right now the Sony WF-1000XM5 wireless earbuds are just $248 at Amazon, which is the lowest-ever price I've seen on them so far. Given that they only went on sale in July, this $50 off the $299 list price is a deal worth snapping up and one of my favorite deals around right now. Similar discounts can be found at Best Buy and Walmart.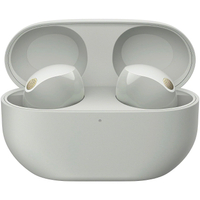 Sony WF-1000XM5: was $299 now $248 @ Amazon
The Sony WF-1000XM5 top our list of the best wireless earbuds on the market. In my review, I loved the smaller and lighter design that's comfortable to wear for long periods. They have some of the strongest ANC around, outstanding sound quality and one of the best user experiences from the Sony Headphones Connect app. Getting the best fit can be a bit hit and miss, but once achieved, the performance with LDAC sources is spectacular.
Price check: $248 @ Walmart | $249 @ Best Buy
I loved Sony's new flagship wireless earbuds for their balance of great features, and I regularly swap out my AirPods for Sony's next-gen wireless earbuds on routine work commutes. They're one of my go-to picks for the best wireless earbuds for audiophiles thanks to the amazing sound quality they deliver when connected to a smartphone using the high-quality LDAC codec over Bluetooth. They're not for everyone, though, and although they sound fine with Apple devices, they don't support the high-quality LDAC codec and some iOS users may feel shortchanged.
As I mentioned in my Sony WF-1000XM5 review, I was lucky enough to be one of the first audio experts in the world to experience Sony's next-gen flagship wireless earbuds. Despite some initial difficulties regarding the troublesome fit thanks to the smaller earbud design that meant I had to step up an ear tip size to get the optimal fit test to work for me, and finicky 360 Reality Audio personalization issues, Sony's WF-1000XM5 wireless noise-canceling earbuds have been my go-to earbuds ever since I got my hands on them. Even after further testing and countless hours of extended listening, I remain mightily impressed.
Almost six months later and they continue to offer one of the best-sounding wireless earbud experiences on the market. The elite noise cancelation performance, high comfort levels, and awesome Headphones Connect app features make these a very sweet and worthwhile upgrade indeed.
Although battery life is on a par with the Sony WF-1000XM4 with up to 8 hours with ANC on, that's still pretty strong when you consider that the Bose QuietComfort Ultra Earbuds and AirPods Pro 2 both offer just 6 hours of battery life from a single charge.
When you do need to top them up, a 3-minute quick charge can give up to 1 hour of use. The charging case also gives the same capacity and holds around 24 hours of use with ANC enabled. It's Qi-compatible and you can even keep it wirelessly topped up via compatible Xperia devices.
With so many factors coming into play around what models get the best discounts over sales season, it's difficult to gauge whether this is the lowest price we'll see as we get closer to Black Friday and Cyber Monday. But if you're thinking of pulling the trigger sooner rather than later, I'd grab this great deal now while it's still running.