Trust us when we say ski wear isn't something you want to skimp on. When you're 1300 meters above sea level, carving your way down a mountain face as snow and wind battle against your body, you can bet your bottom dollar you want to be wearing warm and waterproof layers. Thanks to the early Black Friday deals happening at Decathlon right now, you can collect some fabulous discounts on essential ski gear.
Earlier this year, my friend's dad broke his ankle right before they were due to go on their annual ski holiday and I was asked if I wanted to go instead. Let's just I didn't need to be asked twice to spend a week skiing in St Anton, Austria.
But there was one problem, I hadn't skied in a good few years and was in dire need of brand new gear that didn't cost the world but would keep me warm and flexible to enjoy my time on the slopes. I ended up getting the full lot from Decathlon, including my all-time favorite ski pants that I tell anyone going skiing to buy.
Right now the Wed'ze women's Skiing Warm Pants are just $30 at Decathlon, so you can save 45% versus the full price I paid in January. Certain sizes will go quickly so you'll need to act fast if you like the look of these ski pants!
Early Black Friday Ski Pant deal at Decathlon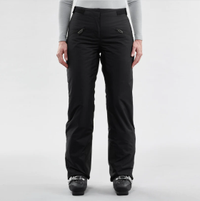 Wed'ze Women's Skiing Warm Pants: was $54.99 now $30.00 at Decathlon
Look ace and feel even better as you plow through the snow this Winter. I wore this pair of Wed'ze ski pants every day for a week skiing in Austria and loved how comfortable, warm and stylish they were. Petition to bring out more colors! Scoop up a pair now and save $24.99.

Why I love the Wed'ze Women's Ski Pants
I didn't know it was possible to get so stoked over a pair of ski pants, but apparently, it is. First of all, I am on the taller side so have to be extra careful when looking for a pair of ski pants where the leg fully extends to the ankle of my ski boots. This Wed'ze pair features a game-changing adjustable design meaning you can adjust the leg length via the press studs. So tall or short, you can tailor these pants to sit better on you.
You can also adjust the waist to be tighter using the rip-tab feature on either side of the waist. I went up a size to make sure the pants would fit over my underlayer which meant they were a tad too loose around my hips, but I was able to use the adjustable waist to my advantage here.

The level of warmth I experienced while wearing these ski pants was unmatched. I tried to save some dollars for my ski trip and didn't buy proper thermal pants and instead wore a pair of my best running leggings underneath the Wed'ze pants while up on the slopes. This shortcut could have come back to bite me in the bum but it didn't due to the ample level of warmth provided by Wed'ze. Plus, I had no issues with water seeping in through the pants or forcing its way up the bottom of the pant legs after a crash or tumble on the mountains.
Looking for more winter warming discounts? Our fitness writers have spotted some awesome deals so far, like these Black Friday deals on Arc'teryx and Patagonia or this Lululemon puffer jacket is $120 off right now in early Black Friday deal.