Name-drop "Patagonia" or "Arc'teryx" around a certain crowd of granite-scaling, mountain-hopping outdoorsy folk and you may see some eyes roll. Why? These two top-rate outerwear brands have, in recent years, become status symbols for some fashionable, Gorpcore-loving celebrities and influencers. (Feel free to roll your own eyes now).
Trendy or not, both brands make best-in-class jackets. And several of my all-time favorite lightweight models are on sale right now, through REI, at steep pre-Black Friday discounts.
Specifically, the Patagonia Houdini is presently 30% off for men and 50% off for women. Meanwhile, dudes can score the Patagonia Reversible Shelled Microdini Jacket for $149 and the Arc'teryx Gamma Lightweight Hoody for $154. Finally, Patagonia's R1 CrossStrata Hoody for women is $141. Colors are limited but size availability is still solid for most options.
Pre-Black Friday Arc'teryx & Patagonia jacket deals – Quick links:
Patagonia Houdini — lightweight and packable
I've owned a Patagonia Houdini for four years and it's one of my most versatile pieces of outerwear. The chest pocket converts into a zippered stuff sack for easy storage. In this form, it takes up about as much room as a pair of tube socks. So, I always toss the Houdini in my bag when I'm leaving the house for more than a few hours, just in case.
Despite weighing less than 4 ounces, this jacket does a remarkably good job keeping the wind and light rain at bay. Note: It's not fully waterproof. You can also comfortably wear a sweater or a mid-layer jacket under the Houdini. But it does run a tad small in men's, so consider sizing up.
Patagonia Houdini deals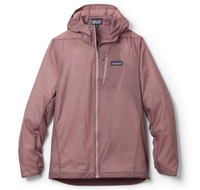 Patagonia Houdini (men's): was $109 now $76 @ REI
Fun fact, this was Houdini's favorite jacket, hence the name, he even wore it during some of his most famous escapes. Okay, not really, but there is something magical about a packable garment that weighs next to nothing, yet provides a fair amount of weather protection. And while the Evening Mauve color is a tad unusual, it's also pretty darn classy.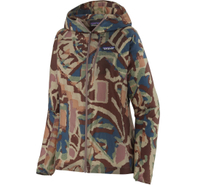 Patagonia Houdini (women's): was $109 now $54 @ REI
Deals on women's Houdini jackets are even better. You can score that same Evening Mauve color for just $54, though sizes for that one are limited to just small and medium. Fortunately, the Thriving Planet/Cone Brown color is available in nearly every size. However, a California or Colorado state ID is required to complete the purchase — I kid of, course.
Patagonia Reversible Shelled Microdini — comfy and casual
Patagonia's reversible Shelled Microdini jacket is essentially a Patagonia Houdini with a built-in fleece liner. This is an outrageously comfortable garment when worn with the shell side out.
Reversed, it's a bit more sporty and fun thanks to the colorful chest pocket. You also get hand pockets, which I appreciate. The fleece does increase the jacket's weight to 16 ounces, but that's still quite light.
Patagonia Reversible Shelled Microdini deal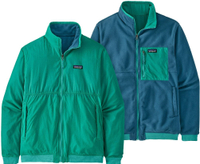 Patagonia Reversible Shelled Microdini (men's): was $199 now $149 @ REI
This jacket offers the best of both worlds with soft fleece on the inside and wind and light rain protection on the outside. Plus, both of the colors offered, Bayou Blue and Fresh Teal, look fantastic. If you're after a practical jacket with just a little bit of 1990s charm, this is it.
Arc'teryx Gamma jacket — flexible weather protection
Like the Houdini and Microdini, this Arc'teryx jacket also has a silly name, but don't let that fool you, the Gamma is serious business. This a heavier option than the Houdini, with better protection from the cold and elements. Still, it's just 10.6 ounces, so it certainly won't weigh you down.
I especially like the Gamma because the fabric repels water effectively, while still being fairly stretchy. This allows for good mobility, which isn't always the case with wet weather jackets. I also appreciate the inclusion of hand pockets, something the Houdini is missing.
Arc'teryx Gamma deal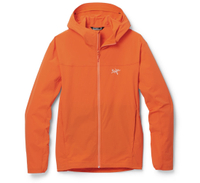 Arc'teryx Gamma (men's): was $220 now $155 @ REI
The Phenom colorway is a tad loud. But that makes it an even better option for cold-weather running when daylight is a precious and often absent commodity. Made from recycled materials, the Gamma provides a solid degree of wind, water and sun protection while remaining nice and breathable. The material is also comfortable and flexible enough to be worn while hiking, climbing, cycling and more.
Patagonia R1 CrossStrata Hoodie — functional fleece
Like the Gamma above, this lightweight, weather-resistant jacket is a great option for cool-weather fitness activities. The CrossStrata is also abrasion-resistant, so it should hold up through even the most extreme adventures.
The built-in hood can be worn normally or under a helmet, which is a really nice touch, especially for bikers and climbers. Moreover, for a jacket that weighs just 10.5 ounces, this technical fleece punches well above its weight.
Patagonia R1 CrossStrata Hoodie deal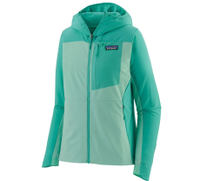 Patagonia R1 CrossStrata (women's): was $189 now $141 @ REI
This flexible piece of cool weather kit is only available in Early Teal, which is pretty snazzy looking if you ask me. In addition to a weather and tear/abrasion-resistant design, the CrossStrata also sports hidden hand warmer pockets and a zippered chest pocket. It's also made from 90% recycled materials!
Other REI jacket deals
Arc'teryx and Patagonia aren't the only brands REI is offering heavy discounts on ahead of Black Friday. You can also score some sweet deals on gear from Outdoor Research, Helly Hansen, Marmot and other.
For more on wet weather gear, read our handy guide on staying dry while biking in the rain.