Amazon Prime Day deals are here, and it's the perfect opportunity to pick up a gadget or two without having to pay the usual price. One of those deals has knocked the Fitbit Versa 4 price down to its all-time low price. It's perfect for people like me, who want a smarter watch but can't justify paying Pixel Watch prices.
RIght now you can pick up the Fitbit Versa 4 for just $139 at Amazon. Not only is that $60 off the usual price, it's also $10 cheaper than this wearable's previous lowest ever price. And for that money you can get a great range of smart and fitness-centric features to aid you in your day.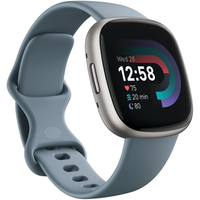 Fitbit Versa 4: was $199 now $139 @ Amazon
LOWEST PRICE: The Fitbit Versa 4 offers a solid fitness tracking experience for a much lower price. It has a sleek and attractive design, strong 6-day battery life, sleep and fitness tracking, plus a bunch of smart features like Google Maps navigation and Alexa voice control. The only thing working against it was the price, which is now no longer an issue.
Check other retailers: $198 @ Walmart | $199 at Best Buy
I can speak from personal experience that the Fitbit Versa 4 is a great fitness tracker. I've never been a huge fan of smartwatches, and the idea of essentially transferring your phone screen to your wrist — it's one of the reasons why I didn't buy a Pixel Watch. But the Fitbit Versa 4 is the epitome of less being more.
Like all Fitbits the Versa 4 is a fitness tracker at heart, with everything you need to track steps, workouts, heart rate and even sleep. Like many modern wearables it also has the ability to read blood oxygen levels, check for irregular heart rhythm, stress levels, breathing rate, and more. Not quite as much as the Fitbit Sense 2, which has an ECG reader and skin temperature sensor, but it's still plenty of features — especially for the price.
As for smart features, the Versa 4 has the ability to take phone calls on your wrist, view messages and app notifications, talk to Alexa, alongside integration with Google Wallet and Google Maps. All of which can be very useful on a daily basis, since you won't need to be taking your phone out quite as much.
Plus, as we noted in our Fitbit Versa 4 review, the watch is attractive, easy to use, offers water resistance up to 50m and a solid battery life. Fitbit claims it will last up to six days on a single charge, though in my experience actually using the watch it's usually a little bit lower than that.
So if you're looking for a low-cost wearable that's still got a slew of useful features, this Fitbit Versa 4 deal might be for you. We weren't too happy with the launch price, but with $60 off now is the perfect time to pick one up for yourself.
If you fancy something a little more premium, be sure to check out our Prime Day Apple Watch deals hub to find the best discounts on Apple's smartwatch range. Or, if you want something else, we've been rounding up the best Prime Day deals for all our favorite discounts.