I've made some pretty conclusive statements about my love for LG OLED TVs in the past, mainly because I'm obsessed with this type of display technology. So when I say the best OLED TV I've ever owned has just dropped to its lowest price yet in an awesome Black Friday deal, I don't use 'best' lightly. This discount is so good, I almost feel a little sick.
Right now, the 77-inch LG G3 OLED 4K TV is on sale for $3,496 at Amazon. For context, the cheapest we've ever seen the G3 go for previously was $3,997 back in early September, so that's a seriously tasty savings of $500. The discount looks all the juicer when you consider the normal listing price for this incredible OLED is $4,197. Not to mention the fact the best TV LG has ever made only launched in April for $4,499. Quick, someone pass me a barf bag.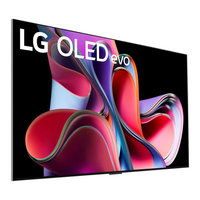 LG G3 OLED 77-inch TV: was $4,197 now $3,496 @ Amazon
Lowest price! It really doesn't get any better than this astonishing LG OLED. Thanks to its Micro Lens Array panel, the G3 is capable of astounding brightness levels by traditional OLED standards. It's also future-proofed through the roof, boasting 4x HMDI 2.1 ports that all support a signal up to 4K/120Hz and awesome gaming features, like VRR, G-Sync, FreeSync Premium and ALLM.
Price check: $3,499 @ Best Buy | $3,499 @ LG
Why the queasiness? Because back in late August, I bought the 77-inch version of the LG G3 OLED TV for around $5,281. As you can see above, its price has dropped big time since then. Honestly, where is that sick bag?!
Not that I have buyer's remorse in any way, shape or form. I mean, my credit card is furious with me. But hey, these past few months living with the LG G3 have been A/V nirvana for this OLED-obsessed dweeb.
Here at Tom's Guide we rank the LG G3 OLED as the best TV you can buy right now. It's a sensational, sensational set. Actually, I'll go one further: it's a transformatively good TV.
The best part of $3,500 is hardly chump change, but if you have the money and want a spectacular television to dominate your entertainment area, you really can't do better than this astonishing 77-inch OLED.
Up until a few months ago, I would have cheerily told you that the LG C2 OLED was the best TV I've ever parted with colossal amounts of cash to purchase. Don't get me wrong, my 'old' 77-inch stunner remains one of the best OLED TVs on the market. The trouble is, it lacks the one game-changing feature that transforms the LG G3 into the most amazing television the South Korean manufacturer has ever released.
Said feature would be Micro Lens Array tech (MLA, for short). This process involves billions of miniscule convex lenses being placed on top of the LG G3's panel, in turn substantially brightening the TV's image compared to existing OLED models. The technique is essentially LG's answer to Samsung's brightness-boosting quantum dot tech, seen in the likes of the amazing Samsung S95C OLED TV.
Make no mistake, MLA is a huge deal in the world of OLEDs. Currently, the G3 is the only LG TV that currently offers this pioneering tech, and I'm hoping we'll see it in more affordable lineups going forward. Perhaps next year, with the all but inevitable release of an LG C4 OLED?
What makes MLA so special? It gives the G3 a genuinely startling brightness boost over previous LG OLEDs, like the C2. I should know, I've tested both side by side. Don't believe me? Just look…
When it comes to peak HDR brightness measured over a 10% window, the LG G3 embarasses both this last year's C2 model and the newer LG C3 OLED. Thanks to its Micro Lens Array panel, the G3 reaches an astounding 1,361 nits of brightness, whereas the C3 measured in at just 820 nits during our tests, while the C2 hits a similar figure around the 800 mark.
This is one of those cases where the numbers truly do tell the full story, too. In the flesh, it's impossible to ignore just how much brighter the G3 is compared to an OLED without MLA tech. While it's not always hugely easy to spot the difference in photos, in real life, the significant boost in vibrancy in HDR content, whether you're watching the best Netflix shows or playing the best PS5 games, stands out instantly.
Yet it's not just how vivid and bright the LG G3 can get that makes this OLED the real king of TVs. It's also the best TV for gaming on the planet. Input lag measures in at just 9.2 seconds in Game Mode, with the G3 supporting advanced frame rate-smoothing features like VRR, G-Sync and FreeSync Premium, alongside input lag-slaying ALLM (Auto Low Latency Mode).
And if you need to stick an additional cherry atop this already delicious sundae, I can honestly say I've never seen a TV (OLED or otherwise) that exhibits such brilliant image upscaling. The LG G3 OLED is so good at upscaling lower resolution content, it makes the best Switch games look almost 4K good. Almost.
There are a couple of slight caveats to throw in before you go spending all of the money on the G3. For one thing, LG still refuses to sell its G-series of OLED TVs with stands, and 2023's G3 is no exception. The set's 'Gallery Design' comes with a special wall mount, which places it incredibly flush to the wall, almost like a picture frame. If you rent or have a flimsy wall and really need a stand, you can buy one from various retailers for around $100/£100.
Oh, and if you see the 83-inch G3 OLED TV on sale, I'd avoid it. For some unknown reason, only the 55-, 65- and 77-inch versions of this TV come with an MLA panel. It means the biggest G3 is also, somewhat bafflingly, the dimmest.
I'll be paying my LG G3 OLED off for years, but I can wholeheartedly say it's the best technology purchase I've made in my 38 years on this spinning rock. And while I have your attention after making such an incredibly definitive statement, make sure to check out our best Black Friday TV deals.