If you need a cheap mattress in a hurry, right now you can save 15% on the Casper Snug Mattress at Wayfair as part of the shopping site's Big Furniture Sale. Casper Snug mattress prices start from just $250 in the sale, which is $45 less than you'll pay when shopping at Casper Sleep.
With Fall just around the corner, now is the time to prep your bedroom or guest room for cozy sleep. And if you have a small budget or only need a mattress for occasional guest use, the Casper Snug is a good choice as it offers breathable memory foam comfort and all-over body support for a very low price.
It has a great pedigree too: Casper makes some of the best mattresses for every type of sleeper, and the Snug is an excellent introduction to the brand's growing line of hybrid and memory foam beds. This deal is available until the Wayfair Big Furniture Sale ends on Thursday 19 September, so you'll need to move fast to grab the Snug at such a cheap price.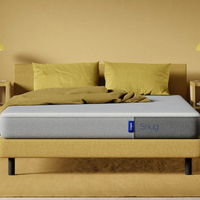 Casper Snug Mattress: up to 15% off at Wayfair
Was: from $295
Now: from $250.75
Summary: The 8.5" Casper Snug is a good cheap mattress that sits on the firmer end of the comfort scale. That makes it ideally suited to back and stomach sleepers who need a firmer surface to keep their spines aligned. The Snug will also suit heavier bodies who need a firmer surface to stop them from sinking down too much. On the flipside, those who weigh under 150lbs and side sleep may find this too firm to be comfortable. Hot sleepers will find it cool, though obviously it won't be as cooling as Casper's top-rated cooling bed – read our Casper Wave Hybrid Snow Mattress review for more on that one.
Price history: We regularly see the Casper Snug rolled out for big sales events and shopping holidays such as Labor Day and the Black Friday mattress deals and sales, and discounts are normally in the range of $40 to $90. That matches up with what we're seeing in the Wayfair Big Furniture Sale, meaning that now is a good time to buy the Casper Snug Mattress for less – there's no need to hold on for a later sale if you need it now as it probably won't drop much further in price.
Extras: One-year product warranty; free shipping; free 100-night trial
At just 8.5" tall, the Casper Snug isn't a mattress we'd recommend for heavy use unless you prefer sleeping on slimmer, firmer mattresses. We would however recommend it as a good cheap mattress for guest rooms and occasional use.
We'd also recommend investing in one of the best mattress toppers for adding extra comfort, as one of those could transform the Casper Snug into a much comfier bed for long term use.
For another good budget pick, take a look at our Allswell mattress review for a top-rated hybrid bed that's taller and a little softer than the Casper Snug. For further discounts, take a look at our round-up of this month's top mattress sales from leading brands including Nectar, Saatva and DreamCloud.