It's never a bad time to buy the best inflatable hot tubs. It may seem counter-productive to get a heated pool in the middle of the summer, but fewer things are as relaxing as taking a dip in a warm bubbly hot tub. Especially there's none of the shock you get getting into cold water.
Inflatable hot tubs are much cheaper than their fixed counterparts, and their inflatable nature means they're easier to install (or move if the need arises). There are loads of different models out there, but don't let their similarities fool you because their features tend to be very different. So here are our choices for the best inflatable hot tubs, plus a few tips to keep in mind before you buy.
What are the best inflatable hot tubs?
We've looked high and low for the best inflatable hot tubs you can buy today, and a consistent favorite among reviewers and consumers alike is the Coleman SaluSpa. True, the Coleman brand is usually associated with activities that burn a few calories, but as it turns out, the company also makes a killer hot tub. It has 114 bubble jets to soothe what aches, and the cushioned floor is more than comfortable for you and a few friends. The multi-function pump keeps things simple, and we like how the Power Saving Timer lets you heat things up in advance. The PVC construction is darn durable, too.
For a little more space to stretch out (or "chill," if you will), consider the Intex 75 PureSpa. It comes in a few sizes, features contoured headrests and up to 170 bubble jets for maximum massage power; the multi-colored LED lights are a cool bonus, too.
Because of their popularity, many of the best inflatable hot tubs can go out of stock temporarily at retailers, so if there's one you like, you should check back frequently to see if it's in stock. On the flip side, the end of summer has meant sales on some models —including pricier options — as retailers look to clear out stock.
The best inflatable hot tubs you can buy today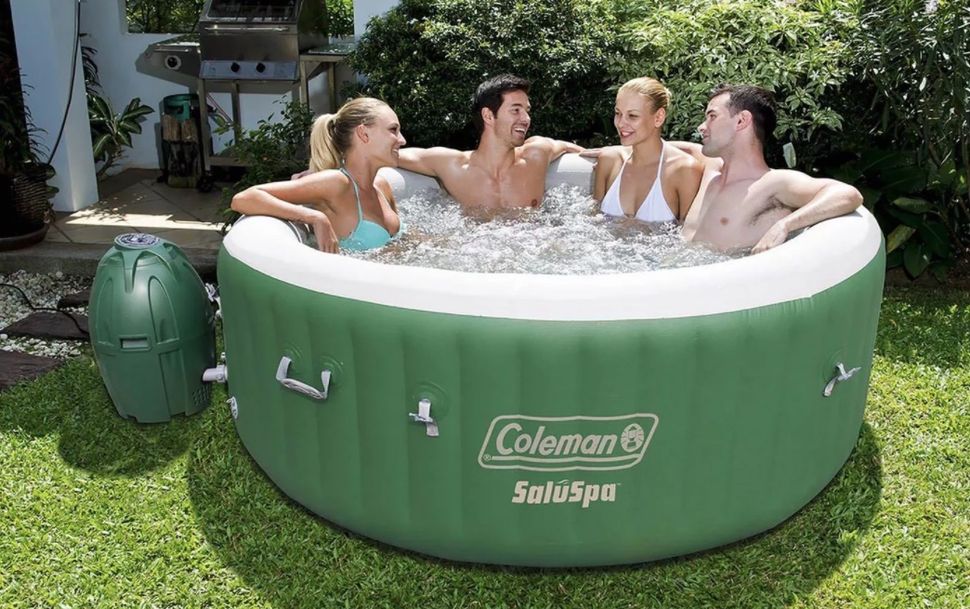 After a long day of jogging, hiking, or rearranging furniture in your attic, there's nothing quite like sinking into your own personal jacuzzi. Brought to you by a brand most may associate with camping equipment, the green-and-white Coleman SaluSpa is a great option for end-of-the-day, on-the-patio relaxation.
Setup is super simple: no tools required. Thanks to durable PVC materials and secure I-beam construction, this hot tub is built to last, and it won't lose its shape over time. The water heats up all the way to 104 degrees Fahrenheit, and 114 bubble jets are there to soothe your aching muscles. The multi-function pump doesn't just heat the water, either; it also inflates the SaluSpa, and regulates the water filtration system. Thanks to the Power Saving Timer, you can even control the temperature up to 72 hours in advance, so that blissful soak will be ready when you are.
If you have the space, this might be the best inflatable hot tub you can find at this price. (And it shows. Intex offers a variety of other hot tub options, but as of this writing, most online retailers were sold out across the board.) Capable of holding up to four people, this popular model features two contoured headrests and up to 170 high-powered bubble jets, which should melt away any stressors of the day.
The built-in Fiber-Tech construction is built to last, and the puncture-resistant exterior is made of three-ply laminated material. Setup/breakdown is a breeze, and the insulated cover is there to minimize heat loss in between steam sessions. There's even a neat multi-colored LED light for added ambiance.
If you can find one in stock somewhere, this is one of the best inflatable hot tubs on the market today.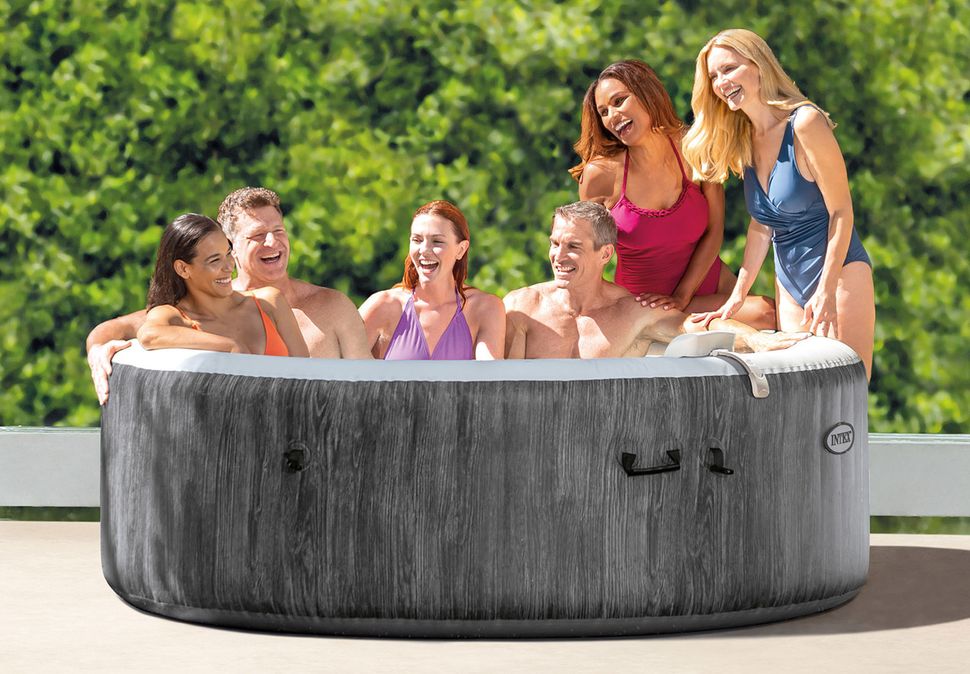 Intex's Greywood Deluxe Hot Tub comes in two sizes: The larger of the two can fit up to six people, has a 290-gallon capacity, and 170 water jets. The smaller, 4-person model has a 210-gallon capacity, and 140 jets.
What makes both models a lot of fun, though, is the color-changing LED light, which provides a certain style when hot tubbing at night. Both models also come with two foam headrests, and the exterior has a gray wood-style look (hence the name). They also have a wireless control panel, which lets you adjust the temperature, bubbles, and set a timer for when it should turn on and off. If you want a light show in your hot tub, this is the model for you.
It's not easy to travel to Scandinavia these days, but you can get a piece of the Nordic life with the Bestway Helsinki inflatable hot tub, whose exterior is designed to look like a rustic barrel-type hot tub. It also comes with ChemConnect chemical dispenser to keep your spa clean, 2 type VI filter cartridges, spa pump, hand inflating pump, repair kit, and an aluminum-lined cover to keep things warm.
The attached water pump is also used to inflate the Helsinki, which can accommodate up to seven people. Atop the pump are controls for temperature and water jets, as well as a timer which can be used to set the water temperature up to 72 hours in advance. However, with prices close to $1,000, the Helsinki costs as much as a flight to Finland.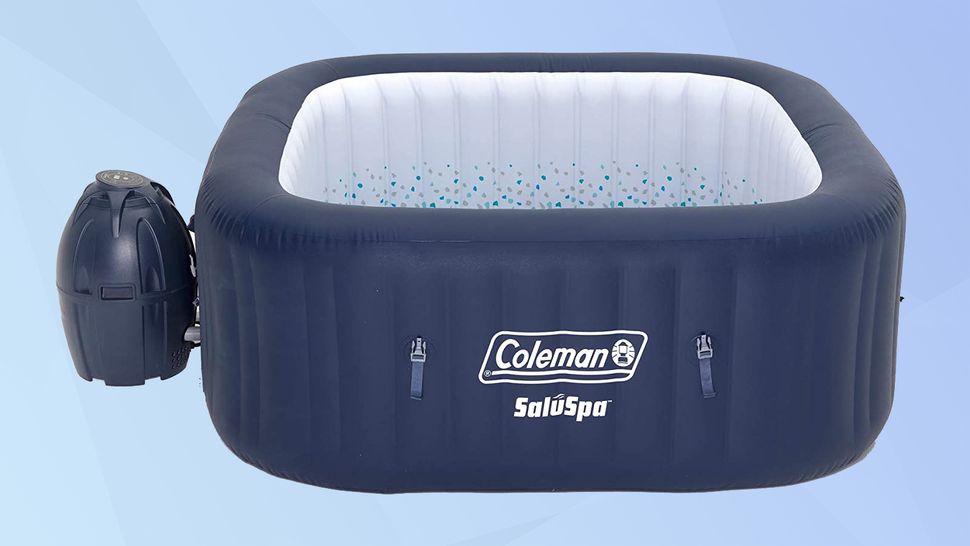 Sometimes it's hip to be square. Coleman's Hawaii SaluSpa inflatable hot tub takes a different shape than other, circular hot tubs, but still has all the amenities you want: 114 bubble jets, a cushioned floor, and room for up to four people. It's available in blue and gray.
Digital controls on the top of the pump are easy to navigate, and let you adjust the temperature, bubbles, and set timers. The filter cartridges are a cinch to replace, and the whole package is compact enough to store in the garage. The kit comes with the pool, one pool liner, a pool cover, a pump a chemical floater, two filter cartridges, an air pad protector, a repair patch, and an AirJet system.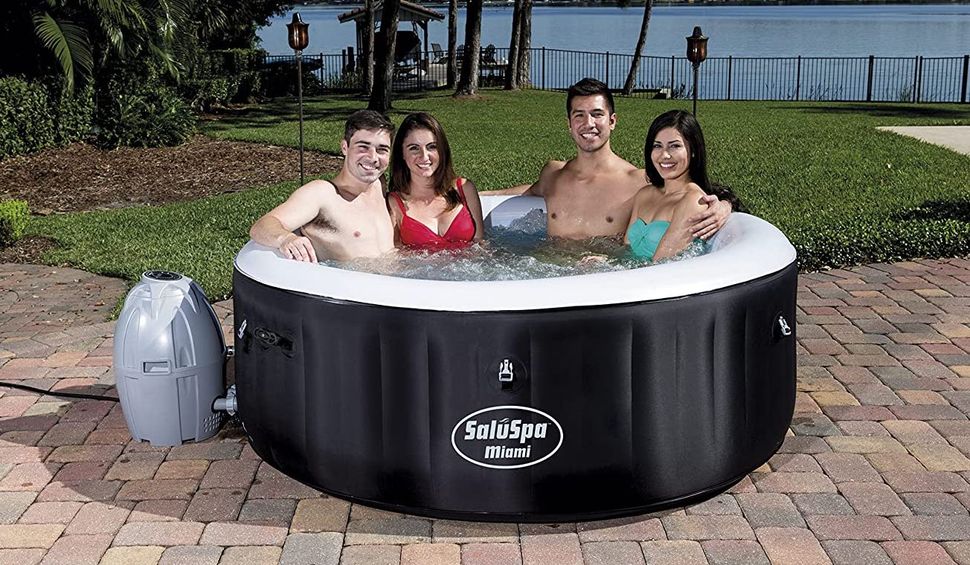 The Bestway Miami is nearly identical to the Coleman SaluSpa, but that's not a bad thing. Holding up to 177 gallons of water (and four fully grown humans), the Miami model is one of the best inflatable hot tubs you can get today. It has 120 bubble jets, plenty for a tub this size, allowing for just the right amount of water pressure. However, there is only one massage setting, and the jets shut off automatically after a half hour of continued use.
Like other SaluSpa models, the water heats up to 104 degrees Fahrenheit, and the temperature can be adjusted via the LED control panel. Reviewers consistently praise this glorified kiddy pool for its quality construction and overall durability; the puncture-resistant material and I-beam construction lets your friends, family, or lovers lean against the side comfortably.
How to choose the best inflatable hot tub for you
Let's start with the obvious: size. Make sure you have enough room on your deck, patio, etc. for this particular amenity, or you'll end up making a mess. If the purpose of this purchase is to soothe your aching muscles every now and then, a smaller model will probably do (2- to 4-person). If you plan on using your hot tub for more social activities, a larger hot tub (4- to 6-person) might be what you need. Pick the best inflatable hot tub to suit your needs and lifestyle.
Pay attention to construction materials, particularly if you plan on using your hot tub outdoors for the majority of the time.) Since these things are designed for relative portability, good durability is essential; the best inflatable hot tubs are made of heavy-duty puncture-resistant materials, such as PVC and layered vinyl. (Look for names like Tri-Tech, DuraTech, or Rhino-Tech in the fine print.) Reinforced walls are also a plus.
For premium models, look for additional bells and whistles: adjustable bubble jet settings, cupholders, LED touch panels, removable headrests, and carrying handles can be found on some of our favorites.
Check out more of our appliance coverage:
Best refrigerators | Best gas ranges | Best electric ranges | Best dishwashers | Best washing machines | Best clothes dryers| Best vacuum cleaners | Best microwaves | Best grills | Best bread machines | Best blenders | Best stand mixers | Best coffee makers | Best espresso machines | Best food processors | Best juicers | Best air fryers | Best Cuisinart coffee makers | Best patio heaters | Best solar lights | Best coolers