You'll find Tello among the many different MVNOs — or mobile virtual network operators — offering low-cost wireless service to smartphone owners in the U.S. Tello looks to stand out with a blend of affordability and flexibility, making it an attractive option if you're on a tight monthly budget. But is Tello the right service for you?
Tello hopes to win your business with a collection of pre-designed plans, but some customers might also appreciate the phone carrier's "build your own plan" approach. That lets you choose exactly how much you'll pay each month based on the amount of data you use and the number of talk minutes you're allotted.
Tello's cell phone plans at a glance
Whether you decide to design your own cell phone plans with Tello or choose one of the options supplied to you, the network has some of the best cheap cell phone plans in the US, competing with the ever-popular Mint Mobile.
Tello offers flexibility, only tying you in for a month at a time. (In contrast, Mint's best rate requires you to commit to the wireless service for a year.) Using T-Mobile's network, Tello also provides 5G coverage if you've got a compatible 5G phone.
Tello may excel in pricing and flexibility, but this comes at the loss of data. Without going for Tello's unlimited data plan, you will find yourself maxing out at 8GB and all of the best price points appearing around 1 to 2GB.
So is Tello right for you or will you find yourself restricted with data caps? Read on to find out more about this cheap carrier and see whether it is the right option for you to go for.
The best Tello plans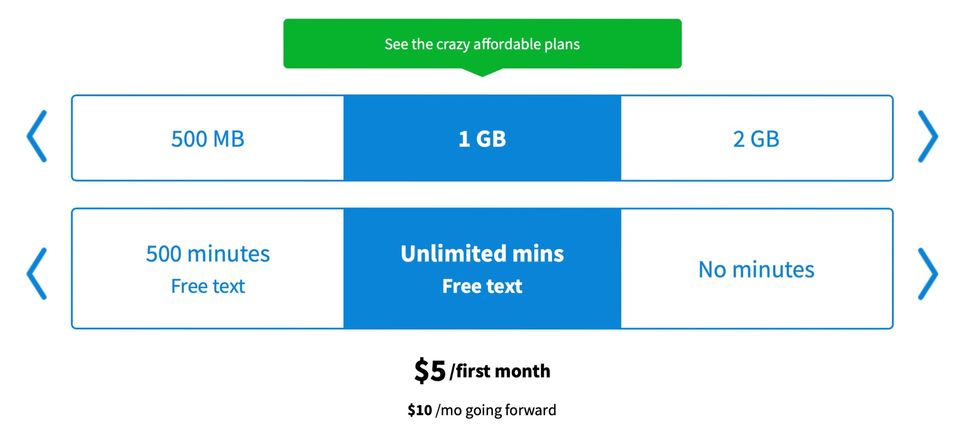 Tello has two options when it comes to choosing a cell phone plan — either pick from from a list of deals or make your own plan by adjusting the amount of data and talk time you get. (Texting is free no matter what plan you assemble.)
Flexible option remains from no data all the way up to unlimited data. You can also pick no talk minutes, 100 minutes, 300 minutes, 500 minutes or unlimited minutes.

Custom plan
This is likely going to be the best option when it comes to choosing a Tello plan. You can select the exact amount of data, calls and texts you'll receive, mixing it up to find your best price. The customisations start at 500MB/100 minutes and go all the way up to unlimited everything.

If you choose one of Tello's pre-made plans, you have four options, differentiated by how much data each one provides.

Economy
While you can customize your own plan, you can also simply decide on a pre-designed option. The cheapest of these is the $10 Economy package, rewarding you with 1GB of data and unlimited minutes and texts. It's cheap but that 1GB limit will prove pretty restricting for a lot of people.


Value
Value does exactly what it says on the tin — it provides you with Tello's best overall value for $14/month. You'll be getting 2GB of data and unlimited minutes and texts. It's slightly more expensive than the Economy option above but for most, the boost in data available here will be a necessary.


Smart
Tello's Smart plan doubles the data available from the Value plan boosting you up to a much more competent 4GB. You'll pay $5 more each month for a $19 rate. The extra data will give you a bit more room for some very light streaming, social media and more. Like the two options above, you'll get unlimited minutes and texts

Data
Tello's most expensive cell phone plan at $39 may be the best one for a lot of people. Your bills will jump up sharply here but you will get unlimited data, calls and texts. However, you will only get 25GB of high-speed data, from then on you will fall to 2GB for any other data you use.

Swipe to scroll horizontally
| | | | | |
| --- | --- | --- | --- | --- |
| Plan | Economy | Value | Smart | Data |
| Talk | Unlimited | Unlimited | Unlimited | Unlimited |
| Text | Unlimited | Unlimited | Unlimited | Unlimited |
| Data | 1GB | 2GB | 4GB | Unlimited |
| Monthly Rate | $10 | $14 | $19 | $39 |
Be on the lookout for promotions from Tello that occasionally drop the cost of your first month of service. That promotion is largely aimed at new customers, though.
Tello family plans
Tello offers family cell phone plans in the loosest sense possible. You'll sign up as a family and you can manage all of the accounts via one email address and one dashboard.
However, past that, there's no real benefit to a Tello family plan. Each person in the family can choose their own plan, pay separately and start their contract on a different day. Plus, there is no discount for added lines which is usually the main reason to pick a family plan.
Other than the ease of checking your accounts and dashboard, Tello's family plans are pretty much identical to buying separately. In contrast, rival provider Visible offers per-line discounts as you add additional lines to your account.
Why choose Tello?
A lot of obvious benefits come with Tello, though the two biggest come down to pricing and flexibility.
All of Tello's plans renew every 30 days. Not only does that mean you can cancel whenever you like without any charges but, it also allows you to update your plan each month if you need more data, want to pay less or need to bump up your minutes.
This flexibility also allows you to pick exactly how much you pay. Tello can get you some of the cheapest prices in the US, especially if you don't need much data and if you feel you're paying too much, you can easily cut your data down and lower the bills at any time.
Looking past the cost and flexibility, Tello's other benefits include unlimited texts on all plans, free tethering with no limits, free calls to 60-plus countries and the use of 5G data via T-Mobile's network.
What do customers say about Tello?
Tello for the most part is a well rated network. On TrustPilot, Tello scores an impressive 4.5 stars from over 8,000 reviews, making it one of the best rated options in the US right now.
Over on the Better Business Bureau, Tello's score takes a slight tumble, scoring a B rating. This however is from just 17 customers so is by no means as comprehensive as the reviews from TrustPilot.
The major factor that stands out in the negative reviews of Tello is around its customer service. Most complaints seem to highlight the network's issues with troubleshooting, customer service assistance and occasional issues with payments.
The next most common complaint focuses on signal with complaints that customers were struggling to get fast speeds in their homes. However, this tends to be the most common theme in complaints across all of the networks, both MVNOs and the core options too.
Is Tello an MVNO?
Like the majority of carriers in the US, Tello is an MVNO, which means it doesn't have its own cellular network. Instead, as a T-Mobile MVNO, Tello uses the T-Mobile network for its speed, coverage and 5G service. There aren't really any issues with an MVNO, operating almost identically to the carrier it borrows from.
That's good news for Tello customers, as T-Mobile ranks very highly for coverage, especially when it comes to 5G. According to testing firm Rootmetrics, T-Mobile heads into 2022 with the best 5G availability and speeds, and Tello subscribers benefit from that.
Just be aware that if you get your service through an MVNO, you could see your data speeds slowed if a network becomes congested. Carriers favor their own customers over MVNO partners, so a company like Tello might see speeds slowed, when T-Mobile subscribers are prioritized.
While this is obviously going to be irritating, it doesn't happen all too often and in exchange, you're able to use the T-Mobile service at a much cheaper cost than going directly through that carrier.
Tello: Bottom line
Tello can save you a lot of money if you don't need a whole lot of talk or text. A plan that gives you 100 minutes of talk, free texting and 1GB of data will set you back just $10 each month, for example. And Tello has generally competitive pay-as-you-go rates to fill in the gaps.
If you use your phone primarily in one area that's served well by T-Mobile's network and spend most of your time connected to Wi-Fi, you can really save a bundle. If you often travel to areas where T-Mobile's coverage relies on roaming, or if you need a large bucket of data, Tello probably isn't a good idea.