12 Cheap Running Headphones (Under $50), Ranked Best to Worst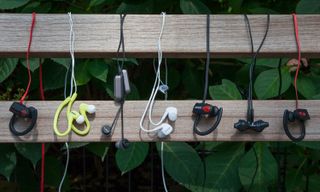 Top bargains put to the test
You don't have to spend a fortune to snatch up a pair of water-resistant in-ear headphones. Cheap Bluetooth options abound, and wired earbuds are still available if your smartphone has a headphone jack. But which ones actually work? We put 12 sets of budget headphones, each designed specifically for running, to the test to see which provide the best sound and comfort for your hard-earned Hamiltons.
If you're willing to shell out a little more cash, check out our round-up of best sport headphones, which include some completely wire-free options that will make you want to say goodbye to corded fitness earbuds forever.
And if you're looking for even cheaper earbuds, keep an eye out for Black Friday deals to snag some pricier running headphones for less.
Image Credit: Tom's Guide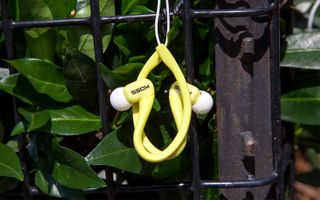 Koss FitClips KSC32 (4.5/5)
Koss' FitClips are stylish and sporty sweat-resistant wired headphones that nail the trifecta of comfort, great sound and price. While Koss' packaging describes the FitClips as designed for women by women, these headphones fit just about everyone. Their flexible hooks can be adjusted to fit over any ears — even when the user is wearing glasses — and they come with three tip cushion sizes to make them fit more comfortably.Where cheap headphones usually fall short is in sound quality, but the FitClips blocked out most street noise as I ran through the streets of Brooklyn, and songs sounded richer and more bass-heavy than other similarly priced headphones. In fact, the audio quality was even better than that from the Apple EarPods (the ones that come free with an iPhone) that many people wear when working out.The FitClips' only downside isn't really Koss' fault: You have to use the Apple-supplied 3.5mm headphone jack dongle to make the FitClips compatible with an newer-model iPhone.
Connection type: Wired
Battery life: N/A
Extra tips included: 3
Image Credit: Tom's Guide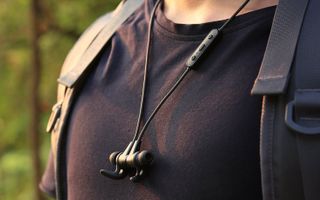 Aukey Latitude EP-B40 (4.5/5)
Aukey's Latitude EP-B40 isn't the flashiest set of Bluetooth earbuds. In a sea of cheap Amazon listings, you'd be forgiven for skipping over them. But this pair of sweat-resistant headphones is worth buying. The Latitudes are ultra-affordable, easy to set up, extremely low maintenance and sound great. There are no bells and whistles, but who needs them?
Aukey includes three additional sizes of silicone ear tips and three fins to ensure a comfortable fit. I used the default options that shipped with the headset and the Latitudes stayed put through a windy 3-mile run. The sound is well-balanced for cheap Bluetooth buds, if a little heavy on bass. Most budget sport headphones don't handle bass well, but the Latitudes performed capably. For this price, you can't ask for much more.
Connection type: Bluetooth
Battery life: 8 hours
Extra tips included: 3 tips, 3 in-ear ear-hooks
Image Credit: Tom's Guide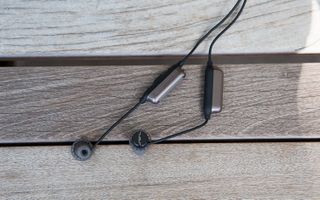 Sol Republic Relays Sport Wireless (4.5/5)
The biggest problem with cheap Bluetooth earphones is subpar sound quality. Sol Republic's Relays are solid sweat-resistant buds that try to manage that with two modes: indoor and outdoor.
You can switch between the modes by pressing the middle button and the volume-up button on the inline control at the same time. There's a noticeable boost in bass when you do so, but remember to switch to outdoor mode before you hit the ground running; pressing those buttons at the same time while pounding the pavement isn't exactly easy. But once outdoor mode is activated, the Relays offer a comfortable, super-lightweight fit with an adjustable cord for a custom experience. It's one of the best Bluetooth sport headsets you can buy.
Connection type: Bluetooth
Battery life: 8 hours
Extra tips included: 4
Image Credit: Tom's Guide
Zeus Outdoor (4/5)
This Bluetooth headset is one of the best I've tested, at least when it comes to sound quality. Songs are a little heavy on the bass; but usually, Bluetooth buds have the opposite problem, so I appreciate that Zeus made an effort to fine-tune its audio for runners.
The ear hooks wrap comfortably for a secure fit, and while the tips were snug and sealed to keep ambient noise out, they were slightly uncomfortable for me. It wasn't a deal breaker, but your mileage may vary. Zeus promises 8 hours of playtime on a single charge, which is comparable to the battery life of my other Bluetooth faves, Sol Republic's Relays. Zeus Outdoor isn't my favorite Bluetooth headset, but it scores high marks for audio quality and noise isolation.
Connection type: Bluetooth
Battery life: 8 hours
Extra tips included: 3 silicone, 1 foam
Image Credit: Tom's Guide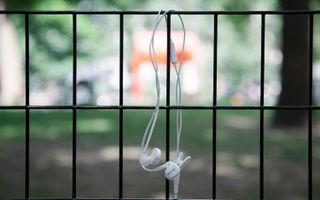 Defway Rovking Sweatproof Workout Headphones (4/5)
Bad news: You won't be able to find a great-sounding pair of sweat-resistant Bluetooth earbuds for less than $15. However, for that price, Defway's wired Rovking headphones definitely get the job done. Not only do these earphones sound great, but they're incredibly cheap.
The one drawback is design: Instead of fitting into your ears as normal headphones do, the Rovking is designed to loop behind your ears. This would be fine if Defway had designed a flexible hook, but you have to thread the actual headphone wire behind your ears. This can be uncomfortable when you're running, especially if you wear glasses. If I hadn't taken a look at the user manual, I would've never guessed that the Rovking earphones are supposed to be worn that way, but they don't actually fit comfortably in your ears unless you do.
Still, hundreds of Amazon reviewers are fans of these headphones, and even with the weird design, the price makes it easy to see why they're so loved.
Connection type: Wired
Battery life: N/A
Extra tips included: 3
Image Credit: Tom's Guide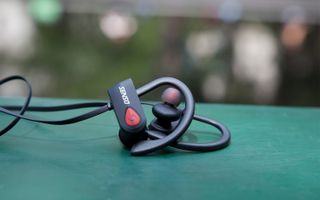 Senso ActivBuds (3.5/5)
Senso is Amazon's best seller of Bluetooth sport earbuds. With more than 19,000 reviews and a 4.5-star average, I had to see if Senso's ActivBuds lived up to the hype. And for under $40, this headset, with its comfortable ear hooks, is pretty good. Songs are a little too light on treble and a little too heavy on bass, but the sound is pretty well balanced for a Bluetooth headset at this price.
I just wish Senso hadn't promised noise "suppression," because these headphones don't suppress much of anything. If there's even so much as a slight breeze, the sound is amplified. If it weren't for that, Senso would be the easy winner.
Senso includes every accessory you could need: a carrying case, a Lightning charging cable, a mini USB cable, silicone ear tips in three sizes and even a dual-port USB car charger. Outdoor runners might be a little irritated by the ambient noise these earphones let in, but they're otherwise a solid investment for the price.
Connection type: Bluetooth
Battery life: 8 hours
Extra tips included: 3
Image Credit: Tom's Guide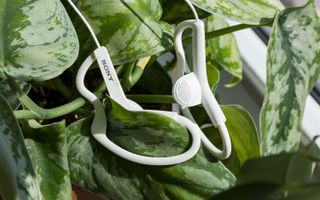 Sony MDRAS200 Active Sports Headphones (3.5/5)
Sony's super-cheap wired sport headphones have racked up more than 1,000 Amazon reviews, and it's not just because they cost less than $15. These headphones sound great and fit securely in your ears.
There's a downside: There's no way to personalize these headphones, so if the buds don't nestle in comfortably at first, you can't make them work with ear tips or fins. I also found the way the headphones loop around the ear caused them to hit against my small hoop earrings. If you don't wear earrings or if your earlobes are shaped differently than mine, you might not experience the same issue.
These headphones won't work for everyone due to their shape and lack of customization options, but for the low price, they're worth trying.
Connection type: Wired
Battery life: N/A
Extra tips included: 0
Image Credit: Tom's Guide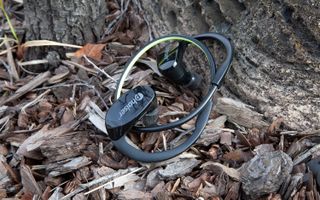 Phaiser BHS-530 (3.5/5)
Phaiser's Bluetooth earbuds may look a little weird, with ginormous earpieces that attach to the tip. But with solid sound, great battery life, and a variety of tip sizes (including three silicone and one cushy Comply memory foam option) this $30 pair of headphones is worth every cent. All of those tips mean you'll likely find the best fit for you, but it will take some adjusting to get comfortable. I'm not sure if the supersized earpieces play a part in that, but they certainly don't help the style factor.
Once I got the medium-sized memory foam tips placed perfectly in my ears, they didn't budge throughout a 40-minute treadmill run and 20-minute elliptical session. I prefer the memory foam because it blocks out gym noise, but the silicone tips allow more ambient noise in for outdoor running. I also tried Phaiser's BHS-730 Bluetooth sport earbuds, which are better designed, but found the Bluetooth connection too unstable.
Connection type: Bluetooth
Battery life: 11 hours
Extra tips included: 4
Image Credit: Tom's Guide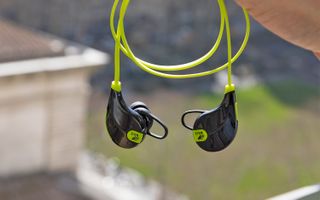 SoundPeats QY7 (3.5/5)
Some headphones are great for outdoor runs. Some are better for the gym. SoundsPeats' Bluetooth earbuds fall in the latter category. These earphones offer noise cancellation, which is perfect for getting in the zone on the treadmill. I ran outside with these earbuds and couldn't hear any ambient noise, not even while crossing a busy intersection, which isn't exactly safe. But if you're looking for a pair of workout earphones to use indoors, SoundPeats offers warm, well-balanced sound at a low price.
Where these headphones fall slightly short is design. Some might find the oversized buds a little off-putting. The size of the buds causes uneven weight distribution that can tug the earbud out of your ear if you don't customize them with the exact right ear tip and wing stabilizer. These aren't the most comfortable running earphones I've worn, but the high-quality audio and noise cancellation almost make up for it.
Connection type: Bluetooth
Battery life: 6 hours
Extra tips included: 3 tips, 3 stabilizers
Image Credit: Tom's Guide
Yurbuds Inspire 400 (3/5)
I had high hopes for the Yurbuds, a pair of sweat-resistant wired earphones that promises a perfect fit thanks to a "twist lock" mechanism that keeps the buds securely in-ear. And that part works: The headphones stayed put through a 3.5-mile run, even when the wind picked up.
But these earphones sacrificed comfort for that resilience. Silicone covers aim to soften the hard plastic buds and help to keep them in your ear, but they are incredibly uncomfortable if you don't have larger ear canals. The Yurbuds offer decent sound quality, but they let in a fair amount of ambient noise, which some people don't like.
Connection type: Wired
Battery life: N/A
Extra tips included: N/A
Image Credit: Tom's Guide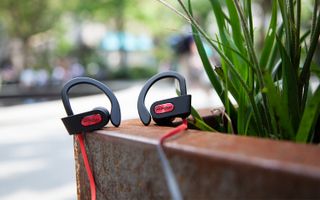 Mpow Sport Bluetooth Headphones (2.5/5)
Mpow has been making reliably cheap Bluetooth running headphones for years, and I expected to like its newer versions more than the $13 model I picked up as my starter Bluetooth running headphones a few years back. Most cheap Bluetooth earphones are too light on bass; but I need my tunes to bump to stay motivated, so I tried Mpow's bass-forward model.
The fit was comfortable right out of the box, and there are three different sizes of silicone earphone tips if you need to adjust the fit. I also liked the carrying case that Mpow provides to keep your new accessory safe. But the super bass was just too much, and the sound was completely off-balance as a result. The beat of Beyonce's "Déjà Vu" sounded as if it were playing underwater. You can pass on this particular headset.
Connection type: Bluetooth
Battery life: 7 hours
Extra tips included: 3 silicone, 1 foam
Image Credit: Tom's Guide
Sardonyx SX-918 (2.5/5)
The Sardonyx SX-918 are cheap Bluetooth earbuds fit that comfortably with an over-ear hook. Unfortunately, the audio is a mess. I felt like I was listening to music underwater: every element was mixed together. On Kendrick Lamar's "All the Stars," Sza's angelic vocals barely soar above the thudding base and synths. Every element swirls together, as if the music is coming from far away instead of directly in your ear.
The buds fare better with tracks that are lighter on the bass, like Zedd and Maren Morris's "The Middle," but they're still not great.
The one upside is noise cancellation, which definitely works. You can easily hear songs above the din of an office or street traffic. But Aukey's Latitudes are far better for not much more money. Skip these.
Connection type: Bluetooth
Battery life: 8 hours
Extra tips included: 3 silicone, 1 foam
Image Credit: Tom's Guide