13 Biggest Announcements of Google I/O 2017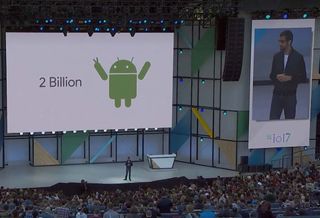 Google's Big Week
Google I/O is typically a developer's conference, but that doesn't mean there isn't news for us regular folks. From a smarter Google Assistant that now works with the iPhone to a chattier Google Home and the promise of standalone virtual reality headsets, this year's I/O conference had something for everyone. In case you missed the week's many keynotes, here are the highlights from Google I/O 2017.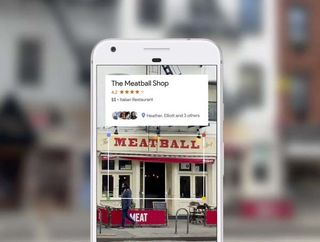 Google Lens Sees All
Google's take on Samsung's Bixby Vision, Google Lens partners your smartphone camera with Google Assistant to identify and interact with objects in a meaningful way. Simply point the camera at a flower to learn its name or scan a restaurant to pull up reviews and other pertinent information. It can even get your phone on the nearby Wi-Fi; just snap a picture of the login and password, and you'll be on the network.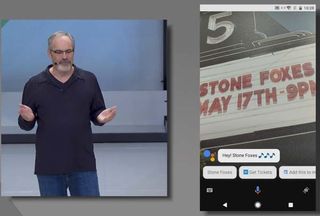 Google Assistant Gets Smarter
The smart AI is getting even smarter. The latest iteration will focus on being more conversational. If you don't want to look like a tool talking to your phone, you can just type your inquiry. Using Google Lens, you can translate foreign languages by snapping a photo. Point it at music marquee and it pulls up options to get tickets or play tracks by the artist. iPhone users can also get in on the fun, since the AI is making the jump to iOS.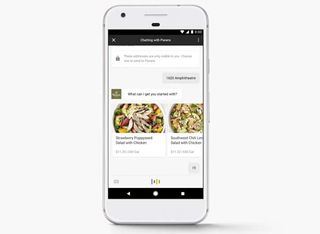 Actions on Google Transactions
Tired of entering your credit card information for every purchase? Google's new Transaction feature will pull that information along with your address when placing an order. During a demo, we watched a rep make a voice-controlled order over Google Home to Panera Bread. With a quick fingerprint scan, Google pulled the payment information and paid for the food with no fuss.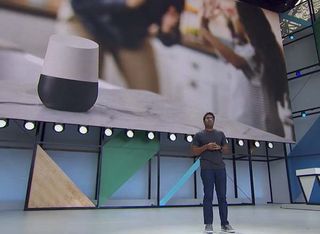 Google Home Getting Way Better
Google Home is about to get way more useful. Google's adding support for proactive assistance, which will notify you of pertinent info by checking your schedules. Thanks to Hands-free calling, Google Assistant can make a call to any landline in the US or Canada.
As far as entertainment, Spotify's adding its free music service to Google Home. It's also getting support for Soundcloud and Deezer. The smart home device is also getting Bluetooth support, so you can link it to a phone or smart TV.
Speaking of TV, you can now launch HBO Now, Hulu, CW, Food Network, Cooking Channel with your voice. You can also pull up your schedule or directions on the big screen thanks to the Visual Responses feature with is also coming to Chromecast.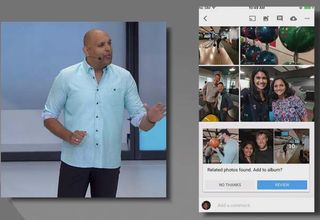 Google Photos Suggested Sharing
Now you can stop being a terrible person and start sharing your awesome group photos with suggested sharing. The new feature sends a suggestion to share the photos by scanning who's in the photo. It will send an SMS or email for people that don't have the app so they can get the full resolution photos. The app will also ask friends for pictures of you.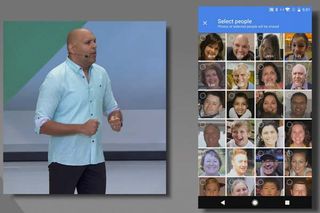 Shared Libraries
Android O will automatically share your photo library with chosen people (close friends or family). You can choose to share a subset or all the photos. The person who receives the photos can save their chosen photos to their phones. Instead of checking for new shared photos notifications, Photos of the chosen subset will automatically save.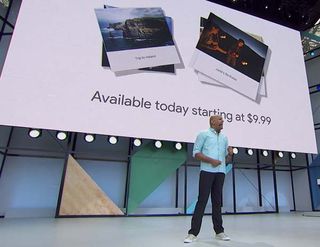 Photobooks
Curating images, sending them to a print company -- printing photos can be a bit of a hassle. Using Photos, you can select a bunch of photos and Google will pick the best pics and lay them out. From there, all you have to do is pick whether you want a hard or soft cover book and pay (starting at $9.99). In a few days, you'll have a physical copy of your precious moments.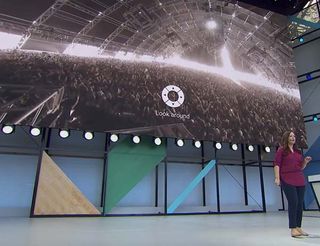 360 Video on the Big Screen
For a while now, you've been able to watch 360-degree videos on your smartphone or a VR headset. Google has announced the feature is coming to your TV. Even better, you'll also be able watch live 360 content, which should come in handy when you're watching a concert or sporting event.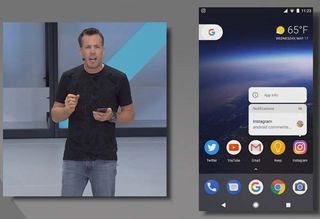 Notification Dots
For the Android power users, when Android O arrives this summer, you'll be able to long press an app with a notification dot and you'll queue up a mini-notification shade so you can quickly view activity.
MORE: Top Android O Features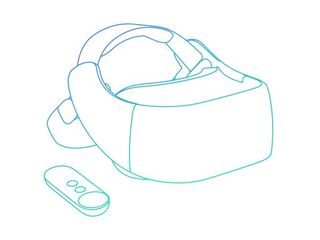 Standalone VR Headsets Coming
Rumors have finally become reality with the announcement of Google's Standalone VR headsets. Attempting to combine the best of smartphone and PC-powered VR, the new hardware will be the next evolution in virtual reality. Partners include HTC, Lenovo and Qualcomm.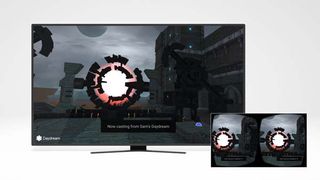 More Shared Experiences in VR
Standalone VR headsets aren't the only way Google plans to shake up virtual reality. It's adding new features to its Daydream platform that should make VR a less solitary experience. One of the more interesting features in the upcoming Euphrates update to the Daydream VR platform is the addition of Google Cast support. That means you'll be able to beam the VR activities you're seeing on your headset to a nearby TV so that friends can share some of the experience, too. Google's also planning a new feature for YouTube VR that will let you and your friends — well, avatars of you and your friends — watch the same 360-degree videos in the same virtual theater.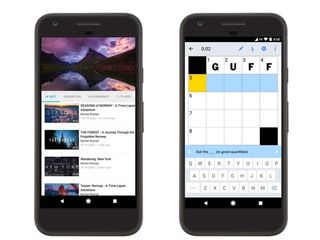 Instant Apps for Everybody
One of the more intriguing announcements at Google I/O last year will be getting wider play in 2017. Google announced in a second developer-focused keynote at the start this year's developer conference that it was allowing all developers to start cranking out Instant Apps, after initially limiting the feature to just a handful of partners. Instant Apps let users access an app's key features without having to download them — all you do is click on a link, and you can fill in New York Times crossword puzzles or watch videos on Vimeo just as if you had downloaded those apps. Instant Apps work on Marshmallow or later; Google plans to eventually add support to devices running Android 5.0.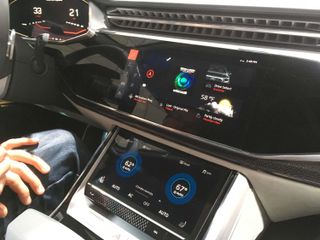 Android in Control of Your Car
The big Android Auto news actually broke before I/O got underway: Google announced that both Audi and Volvo will use Android to power their cars' infotainment systems. But I/O was our first chance to see prototype vehicles with the Android-based control systems that let you do everything from chart out routes to control the air conditioning in your car. And with Google Assistant built-in, you'll be able to control things without ever taking your eyes off the road.