The best cheap wireless earbuds give you all the convenience of cable-free headphones, at prices that are mere fractions of the very best wireless earbuds on the market. Whereas a mainstream but high-end pair could set you back close to $300, the models we've picked out here can perform for less than $100. A lot less, in most cases.
The best part? You don't need to settle for shoddy craftsmanship, a dearth of features or most of the other headaches you'd normally associate with buying on a budget. We've tested all these headphones ourselves, so we know they're worth a shot, and with certain buds you can even enjoy benefits like active noise cancellation (ANC). For the full lowdown of what you can get, check out our picks of the best cheap wireless earbuds below.
What are the best cheap wireless earbuds?
We recommend the JLab JBuds Air as the best cheap wireless earbuds. These buds boast the kind of features you'd typically expect to see in much more expensive buds. We're impressed by the bass-forward sound and portable-friendly charging case with charging cable built into it.
A more recent addition to the list is the Skullcandy Dime. This pair of compact buds costs a mere $25, but comes complete with rich sound and water resistance. Another great alternative is the Tribit FlyBuds 3, should you want great-sounding wireless earbuds with up to 100 hours of playtime with the charging case.
Other entries on this list running down options of the best cheap wireless earbuds come with compromises — usually in the area of sound quality, but some of these buds may not fit as well as they could, or they're plagued by middling battery life. Still, some of these models carry a few specialized features that make them worth looking at.
The best cheap wireless earbuds you can buy today
The best cheap wireless earbuds right now are the JLab JBuds Air. JLab's fitness earbuds have bass-forward sound and modern features that should warrant a higher price tag.
The JBuds Air comes programmed with three EQ settings (Balanced, Bass Boost, and Signature) so that you can customize the audio output. Bass Boost is most ideal for workouts and packs punchy lows, while Signature makes minor adjustments to frequency response for better midrange.
Battery life is rated at 4 hours, which is slightly below standard, but the accompanying charging case gets you an extra 10 hours of use. An IPX55 certification means these earbuds are built to withstand sweat and splashing as well.
The design is a bit bulky and can create some discomfort when worn for long stretches, but it's sufficient for workouts. You're only able to take calls on one earpiece as well.
If you're someone who values color variety, then you have plenty to choose from, including Black, White, Green, and awesome-looking Navy Blue.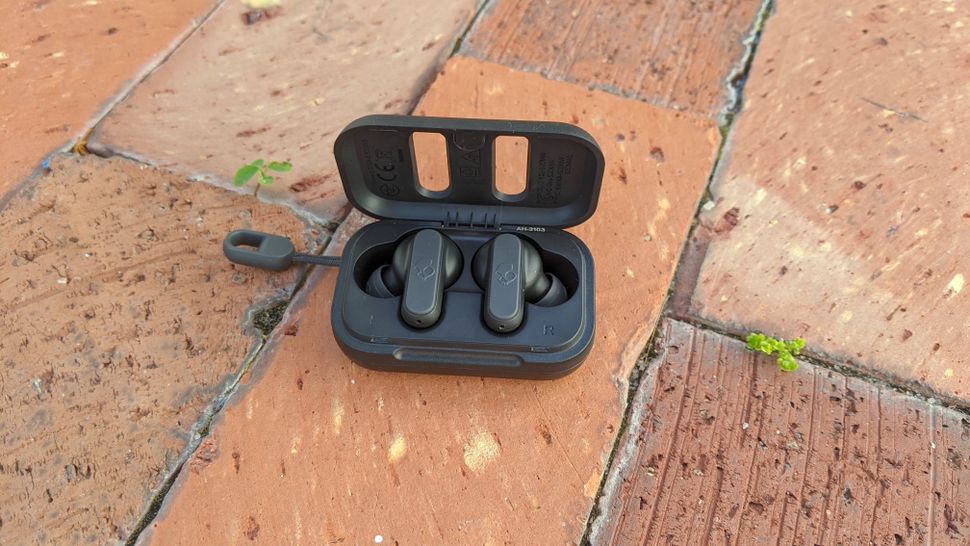 Cheap even by the standards of this list, the Skullcandy Dime wields far better sound quality than even the most optimistic bargain-hunter might expect. Combine that with IPX4-rated water resistance, the same as what you get on the premium AirPods Pro, and the Dime is an instant low-cost champion.
Granted, there are still some imperfections, like the fiddly touch controls and the short battery life: expect only about 3 hours of playtime per charge. But if you want the biggest sonic bang from the smallest pile of bucks, look no further.
Read our full Skullcandy Dime review.
Those who want great-sounding buds and extended playtime for at least a month's worth of use before recharging will want to put the FlyBuds 3 on their radar. Audio is clean and impactful, keeping bass levels energetic and balanced for vocals to shine. They also serve as workout headphones with IPX7 waterproof coating and multiple fins and tips to accommodate different ear shapes. The charging case can even be used as a portable charger, allowing you to juice up any USB-C devices on the go, something Android fans will appreciate.
Our only complaint is that the touch controls are not the most reliable; you'll have to perform tap gestures multiple times for commands to register. The charging case is a hefty sucker too, but that's a small compromise you can live with, especially since it holds up to 100 hours of playtime. And no, that's not a typo.
The Soundcore Life P3 is the most expensive pair of earbuds on this list. But that's really just saying it's the least cheap, and considering Anker has equipped it with full active noise cancellation, it's still an affordable set of buds you should seriously consider for commutes, studying or working use.
Crucially, the ANC actually works reasonably well; there's no sense that it was thrown in with a bunch of cut corners. In fact, the the Soundcore Life P3 is a commendably feature-rich set of buds in general, offering a customizable EQ, Gaming Mode and even a "Superior Sleep" mode to listen to as you drift off. Battery life is pretty good too, especially if you switch off ANC to maximise efficiency.
Read our full Anker Soundcore Life P3 review.
It's rare that a pair of wireless earbuds, much less a cheap pair like the SoundFree S20, manages to exceed its own official battery estimates. Lypertek says these buds are rated for "8+" of usage per charge, but we got 9.5 hours of non-stop music playback before they ran dry. That's a great showing at any price point.
The charging case also refills quickly over USB-C, though both it and the buds are a bit plasticky. Still, on design, the SoundFree S20's strengths outweigh its weaknesses. Each earbud is comfortable to wear for extended periods, and the little onboard control buttons provide a nicely tactile alternative to the usual touch sensors. Crucially, we could use them without the buds slipping out of place.
Earfun is one of the few brands that has managed to program tons of functionality into its promising lineup of cheap wireless earbuds. The Free is arguably its greatest creation. Songs are given plump bass and detail, and the gel tips create a tight seal to take in fuller sound, while minimizing leakage. The buds also come IPX7-rated for waterproof protection. A full charge gets you 6 hours, which is above average, plus you can get 2 hours of playtime on a 10-minute charge via quick charging. Oh yes, the case supports wireless charging too.
The minimalist design may be hit or miss for some, but the flush buttons on the front are the biggest issue. They are pretty stiff, don't produce the best tactility, and pressing them creates discomfort since it requires pushing the buds further into your ears. Besides that, the Earfun Free hits mostly every other mark, giving you a lot of bang for your buck.
If you want something similar to the Beats Powerbeats Pro in terms of fit and sound, then this is the model that you'll want to gift yourself in the New Year. The BackBeat Fit 3100 is considered by many to be the best cheap wireless earbuds for runners under $60, thanks to its waterproof and sweat-resistant protection, booming bass levels, and extended functionality via BackBeat app. You can personalize the controls for convenience, simplifying tasks like enabling different programs (e.g. Spotify, Google Assistant) or starting a timer with a simple tap.
Battery life is nothing special, at 5 hours. However, the accompanying charging case increases it to 15 hours total and has enough interior space to stash several small EDC items such as cash, credit cards, and gym membership key fobs.
Read our full Plantronics BackBeat Fit 3100 review.
Active noise cancellation used to cost a pretty penny, but nowadays even a pair of wireless earbuds as cheap as the Enacfire A9 can cut out distracting background noises from your daily commute or office shift. The tech isn't going to worry the absolute best noise-cancelling earbuds, and the Transparency mode definitely won't, but all things considered you don't need to make massive concessions to get ANC on a budget.
The A9 is also waterproof to the lofty IPX7 rating, higher than the likes of the AirPods Pro and Sony WF-1000XM4. That means you can dunk it in shallow water for up to 30 minutes without issue; rain and sweat are no threats by comparison.
Read our full Enacfire A9 review.
Just like the Enacfire A9, the Edifier TWS NBQ shows that yes: you can get true wireless, noise-cancelling earbuds for less than $60. And it's not a bargain basement imitation of ANC, either, as the noise cancellation effect is impressively effective. There's an Ambient Sound mode too, so you can choose to let outside sound in when required.
Overall sound quality is great too, while battery life beats even the AirPods Pro; we got about 6 hours of mixed use between charges. The touch controls aren't great, and the styling is questionable, but the fact remains that you won't find better ANC earbuds for less money. For now, anyway.
Read our full Edifier TWS NBQ review.
Taotronics' excellent SoundLiberty 79 has been out of stock for a while, but the SoundLiberty 95 are worthy of inclusion on this list. This set of buds combines solid battery life, great wireless performance and a warmth-filled soundstage; aptX support also gives audio a nice boost when streaming on Android devices. If you ever wondered what the AirPods charging case looked like in black, just take a look at this one because the end result is nearly identical, though Taotronics' case does feel a little more durable, and holds more battery life (28 hours fully charged). And we can't stress the 18-month warranty enough, especially knowing the shelf life of most cheap wireless earbuds.
Unfortunately, the thick, bulky stems take away from the appealing all-black design. In addition, a lack of ear tips means the buds will slip out occasionally.
An effective blend of form, function, and fashion means the Soul ST-XX snags a spot in our ranking of the best cheap wireless earbuds. Bass is tight to give lows and mids more transparency. IPX5 certification means the buds have weatherproof protection, making them ideal for outdoor activities and excessive sweating. The ST-XX is also available in several bold colors to accessorize with your outfits.
A Transparency Mode was programmed into the buds to let listeners hear their surroundings better, but you'll want to keep it disabled since it compromises the sound quality. While battery life is rated at 5 hours on a full charge, it's realistically about 3.5 hours when factoring in calls and high volume. Thankfully, the charging case carries up to 4 charges for around 15 hours of additional playback.
How to choose the best cheap wireless earbuds for you
THE BEST HEADPHONES AND EARBUDS
Obviously, price is a big consideration when looking for the best cheap wireless earbuds. Many cheap models have listed prices of less than $100, but with sales and discounts at online retailers, you can find even lower prices. You should be able to find a decent pair of wireless earbuds for around $50 to $65, some even as low as $29.
Any money you save on your earbuds purchase won't do you much good if you're constantly needing to recharge your audio gear. So pay attention to rated battery life and whether any carrying case comes with the earbuds to provide additional power. You'll also want to see what reviews from both professional testers and people who bought the earbuds have to say about sound quality. That goes for both listening to music via the earbuds as well as fielding phone calls.
How well wireless earbuds fit your ears can vary from person to person. But some models come with additional tips and fins to offer something approaching a customized fit.
How we test the best cheap wireless earbuds
When rating the best cheap wireless earbuds, we look not only at price but also design, sound quality and battery life. We also consider how easy it is to pair earbuds with a smartphone and what kind of controls are accessible through the device.
In terms of audio, we listen to many sample tracks that span a number of genres, including hip-hop, rock, jazz, classical and R&B, while evaluating volume, clarity and fullness. We also make phone calls to assess both call quality and microphone performance.
During the testing phase, our reviewers wear each pair of headphones for hours at a time throughout the course of a week. Reviewers will make note of battery life and how well it matches the rated battery life provided by earbud makers.
As with the best wireless headphones, we evaluate earbuds based on our five-point system (1 = worst, 5 = best). If a product hits nearly every mark, it's awarded an Editors' Choice badge.