1More PistonBuds Pro: Specifications
Colors: Black; white
Battery life (rated): Up to 7.5 hours (ANC off); 30 hours (charging case with ANC off)
Connectivity: Bluetooth 5.2
Water resistance: Yes (IPX5 rated)
Size: 0.6 x 0.7 x 0.8 inches (per bud); 2.2 x 0.9 x 1.4 inches (charging case)
Weight: 0.15 ounces (per bud); 1.07 ounces (charging case)
1More continues their true wireless rollout, releasing not one, but two new models: the ComfoBuds Mini and PistonBuds Pro. Both products come with enticing features, including active noise cancellation (ANC), Bluetooth 5.2, customizable sound, and the most compact designs we've seen in the category yet. However, it's the more affordable PistonBuds Pro that proves to be the better investment and stands out as one of the best cheap wireless earbuds.
That isn't to say the PistonBuds Pro is free of criticism. 1More put little effort into polishing up their extra features. The mediocre battery life and call quality might also be concerning to some consumers. But some of these shortcomings are forgivable when factoring in the audio and noise cancellation these buds deliver, especially for $69.
See which models rank among the best wireless earbuds under $100, and the best cheap noise-cancelling headphones we've tested. And for the ultimate in sound quality, take a look at our picks for the best-sounding headphones for audiophiles.
1More PistonBuds Pro review: Price and availability
The PistonBuds Pro originally launched on 1More's website for $69, but is currently on sale for $59 on Amazon. It is sold in two colors: black and white. Inside the box are a charging case, USB-C charging cable, three sets of different sized tips, and a user guide.
This is one of several new models to enter the cheap noise-cancelling earbuds market and faces stiff competition from some well-known competitors. Our current favorite is the Edifier NeoBuds Pro ($99), which offers excellent ANC and sound, followed by the well-rounded Anker Liberty Air 2 Pro ($79). For top-of-the-line performance, consider splurging on elite models like the AirPods Pro ($249) and Sony WF-1000XM4 ($279).
For all of the latest wireless earbuds sales, bookmark our best headphones deals page.
1More PistonBuds Pro review: Design and comfort
The PistonBuds Pro showcases 1More's penchant for creating tiny, attractive wireless earbuds. The oval shape is ideal for buds this size and allows them to sit on the ear discretely. I love the matte finish and reflective touch panels with shiny logo on the right (the gold and black colorway looks cool). Plastic makes up the entire construction, but the material is durable enough to ensure the buds won't shatter if dropped from a high distance. IPX5 certification gives the buds stronger sweat and water resistance than the AirPods Pro (IPX4).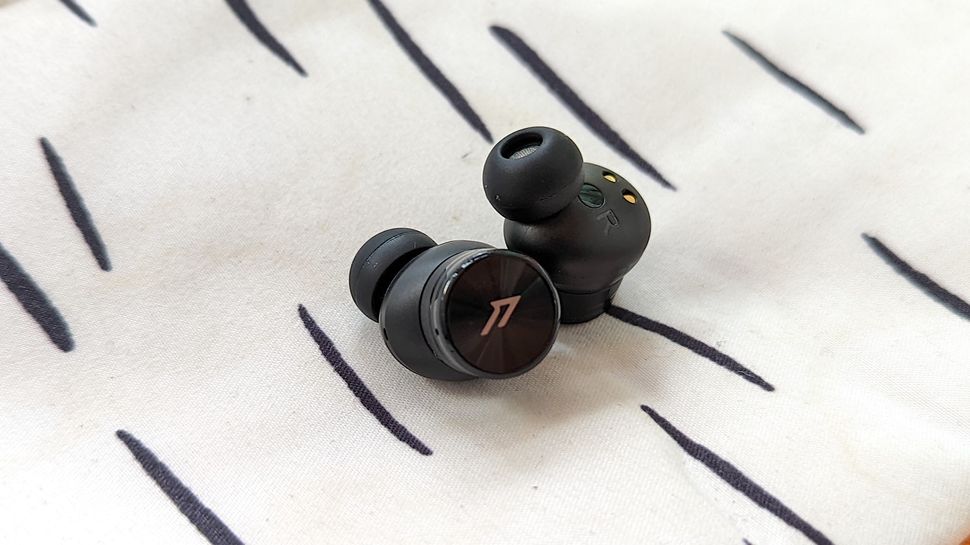 1More didn't pay the charging case as much attention. The plastic design looks more premium than it feels and scratches easily. What I can appreciate about it are the strong magnets that keep the buds docked and lid shut tight, as well as the flush pairing button in the back.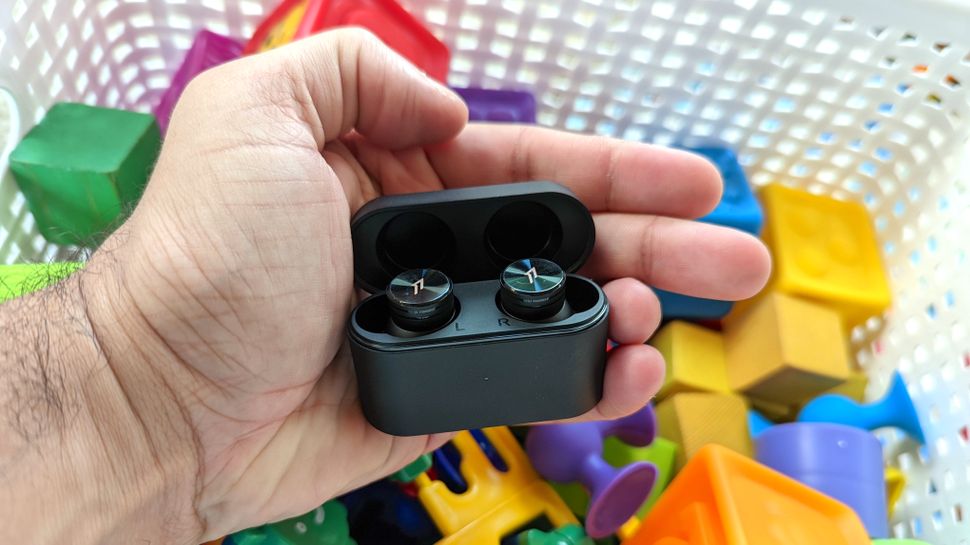 Unlike the ComfoBuds Mini, the PistonBuds Pro provides a secure and stable fit. The short-angled sound port inserts seamlessly into the ear and the tips form a tight seal to keep the buds locked in place.
They also make for a comfortable wear, resting on the concha without applying pressure. I was fine using them for several hours throughout the day, though I gave my ears a breather after 4 hours straight.
1More PistonBuds Pro review: Controls and digital assistant
All the touch controls are responsive and execute intended commands without a hitch. A full suite of controls is at your disposal, including playback, call management, volume, digital assistance, and listening mode activation. Each of these can be assigned to double-, triple-, and long-tap gestures in the companion app.
The smart playback feature works flawlessly, stopping music automatically whenever removing the buds and resuming playback when placed back on your ears.
Google Assistant, Siri, and Bixby are all compatible and perform up to par. Much of my testing was done on the Google Pixel 6 Pro and the native assistant captured every syllable and voice command with precision. The same can be said for Apple and Samsung's AI bots.
1More PistonBuds Pro review: Sound quality
It's surprising to see the PistonBuds Pro carry stronger audio hardware than 1More's higher-priced ComfoBuds Mini. Underneath the hood lies a 10mm dynamic driver with an aero titanium membrane made to "deliver natural, accurate sound." I feel the better description is balanced and clear with an emphasized low end. Either way, the results are gratifying.
If you want to feel immersed in a live orchestral performance, press play on Hans Zimmer's "Time" from the Inception soundtrack. The rattling bass has some solid reverberation, taking its sweet time fading away, but also remaining transparent over emphatic percussion sounds (the bucket snares and taiko drums knock hard). Even high-pitched sounds from violins shined over the intensely dramatic production.
Interestingly, the low end wasn't so well balanced on indie pop tracks like Paula Cole's "Tiger." The pounding drums sounded deep, maybe a bit too much, which decreased the clarity in certain parts of the song. Cole's whispery notes and adlibs were more delicate on the AirPods Pro.
There are multiple EQs you can check out in the 1More Music app, though they're hit or miss. Vocal booster creates more room for mids to breathe, but Bass Booster bloats up the entire soundstage. Podcast gives dialogue crisper presentation, whereas Lounge favors high frequencies and diminishes other sonic elements. I recommend experimenting with them since some perform better than the default EQ.
Low Latency mode is another feature that can be enabled through the app. There's no way of telling how effective it is since the buds don't suffer from any latency issues. I played a few mobile games and YouTube videos and didn't notice any changes in lip synchronization or sound effects.
There's no support for aptX, aptX HD, or LDAC codecs for improved hi-res streaming over Bluetooth, meaning you'll have to settle for SBC and AAC. Thankfully, AAC steps up big to keep streaming fast and stable. Apple Music tracks played smoothly on my MacBook Pro, along with Spotify playlists on my Pixel 6 Pro.
1More PistonBuds Pro review: Active noise cancellation
The PistonBuds Pro perform well in this category and block out sounds across the frequency spectrum to good effect. There are two ANC settings – Strong and Wind Resistance (WNR) – each engineered for a different purpose.
Strong serves as the buds' standard ANC mode and is surprisingly great at keeping backgrounds quiet during listening sessions. Inside the house, I was fascinated by how well the technology blocked out low and mid frequencies; loud chatter and any motorized toys in my toddler's playpen went unheard. Even the tumbling noises our dryer makes didn't break my concentration when entering the laundry room.
High frequencies weren't completely wiped out, but they were minimized well enough to not distract me during office hours. My mother-in-law's blaring iPhone ringer couldn't pull me away from work, though my son's shrieking cries from one room over drew my attention. Ambulance sirens were also audible when sitting on the front porch.
Turning on WNR is useful to reduce the whisking effect produced by gusty conditions. There is one caveat: it amplifies other sounds. I could hear car horns and trucks pulling up to the house while relaxing in the backyard.
The ambient listening mode (Pass-through) is below average. I could hear people when in front of them, but they sounded muffled from several feet away. Some outdoor noises like bird chirps and landscaping work weren't discernable. Neither were the cries coming from the nursery after naptime ended.
1More PistonBuds Pro: Special features and app
1More Music is where you'll access all the special features. I already touched on key ones like ANC/Pass-Through, control customization, Equalizer, and Low Latency. There are a few others, but not many worth keeping in your rotation.
Soothing Sounds is the company's version of Soundscape mode and has 16 different profiles to mask the ambient noise around you with nature sounds. Some of these are true to their backdrops. However, 1More continues to ignore the feature's biggest problem, which is each profile restarting after 10 seconds instead of running on a continuous loop.
Select the Experimental Features tab in the settings page and you can enable the pop-up window that displays battery life in an overlay. It's a nice shortcut that could benefit from other additions like toggles for the listening modes. Smart Burn-in lets users break in the buds by playing static noise for several hours to give the speaker drivers a workout in the hope of improving audio quality. I stress the term "hope" because many experts say it's a myth, while others are convinced it works. The practice is usually associated with more upmarket transducer designs, but try it and judge for yourself.
Rounding out the app are battery level indicators for the charging case and buds, firmware updates, and a quick guide.
1More PistonBuds Pro review: Battery life and charging case
A full charge can generate 5 hours of ANC playtime and 7.5 hours with ANC off. High volume and other features drop these playtimes by about 45 minutes. It's nice to get 30 minutes more noise cancelation than the AirPods Pro (4.5 hours), but there are plenty of inexpensive models that come with longer ANC playtimes; such as the Anker's Liberty Air 2 Pro (6 hours) and JLab Epic Air Sport ANC (11 hours).
The charging case holds between 20 to 30 hours, depending how you use the buds. This is a reasonable amount for the price. 1More's fast charging technology nets you 1 hour of use on a 5-minute charge versus 1.5 hours on a 10-minute charge.
Wireless charging is unavailable.
1More PistonBuds Pro review: Call quality and connectivity
Call quality isn't 1More's strength and that continues to show on the PistonBuds Pro. According to several people, I sounded muffled throughout most conversations, mainly outdoors. The mics struggled to pick up vocals clearly and let in lots of external sounds.
Bluetooth 5.2 operates well. Range extends to 60 feet, nearly double the distance of what other buds at this price range deliver. The buds will instantly pair to the last recognized device once taken out of the charging case.
One-tap Google Fast Pair and multipoint technology (pairing to two devices simultaneously) are not supported.
1More PistonBuds Pro review: Verdict
The PistonBuds Pro is a win for budget-conscious consumers who desire outstanding ANC and sound in a stylish, affordable package. Are they going to replace your AirPods Pro? No, but they are easily one of the best AirPods alternatives that can be had for a third of the price. Battery life isn't anything to write home about, nor is call quality. Still, audio and noise-cancelling performance are enough to satisfy at the price and give the Piston Buds Pro mass appeal.