Keurig K-Classic: Specs
Reservoir Capacity: 48 ounces
Size: 13.3 x 13 x 9.8 inches
Brew sizes: 3 (6-, 8-, 10-ounce cups)
Removable water reservoir: Yes
Milk frother: No
Strength settings: No
Iced coffee: No
Auto On/Off: Yes
The Keurig K-Classic is the brand's best selling machine, iconic for starting the coffee pod craze and introducing consumers to a no-fuss way of brewing coffee at home. To use it, you simply turn the machine on, insert a K-Cup, and tap a button to start brewing. In the mid-aughts, Keurig machines seemingly took over the coffee appliance space. But, does the speedy coffee maker still warrant its flagship status?
The Keurig K-Classic lacks all the bells and whistles of a typical coffee maker and replaces it with a large water reservoir and a small array of buttons. This convenience may save a lot of time, but leaves it with more to be desired. Find out if it's one of the best Keurig coffee makers in our full Keurig K-Classic review.
Keurig K-Classic review: Price and availability
The Keurig K-Classic retails for $149, but you can easily find one within the price range of $69 to $129, depending on color, retailer, and the occasional sale. Since this is the prototypical Keurig, we haven't found many stock issues, so it's widely available online. It's also easy to luck up and grab the machine with a bundle of other Keurig accessories and K-Cup pods if you're looking for a starter kit.
This being a Keurig machine, the K-Classic only accepts K-Cup pods to brew coffee, tea, and hot cocoa. These pods can run anywhere between $7 to $14 per 12-pack, the lower end being grocery chain branded pods and the higher end Starbucks branded. Give or take, that's about 60 cents to $1.15 per K-Cup. The K-Classic is compatible with the reusable K-Cup filter.
Keurig K-Classic review: Features
Although the K-Classic is one of Keurig's barebones offerings, it still has a few minor updates that differentiate it from older models. For one, an "Add Water" light indicates when more water is needed for the water reservoir to brew a cup of coffee. It also has a "Descale" indicator to show when the machine needs cleaning.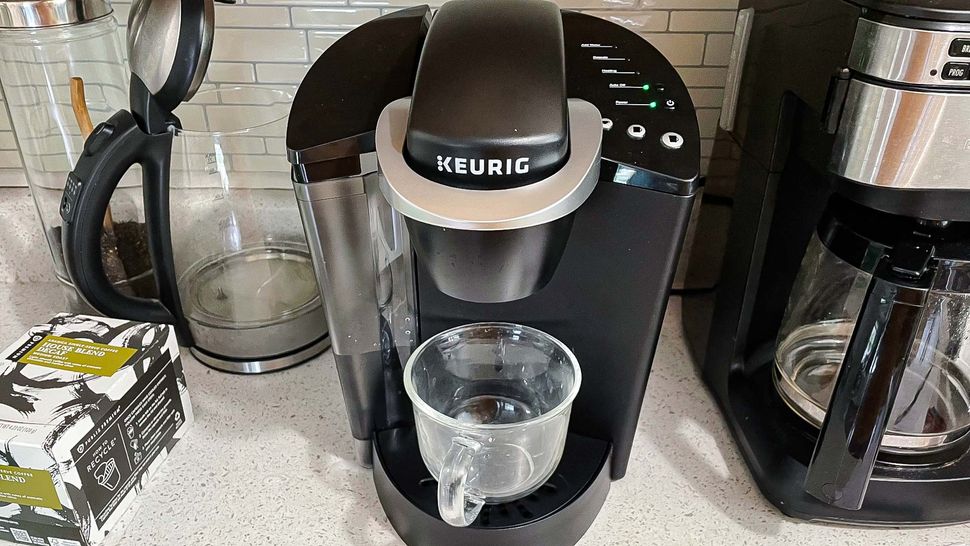 Other than those new signals, this machine has lights to show when the K-Classic is warming up, if the device is on, and if you've toggled the Auto On/Off feature, which turns the appliance off after two hours of inactivity. It also has three buttons to show if you're brewing a 6-, 8-, or 10-ounce capacity.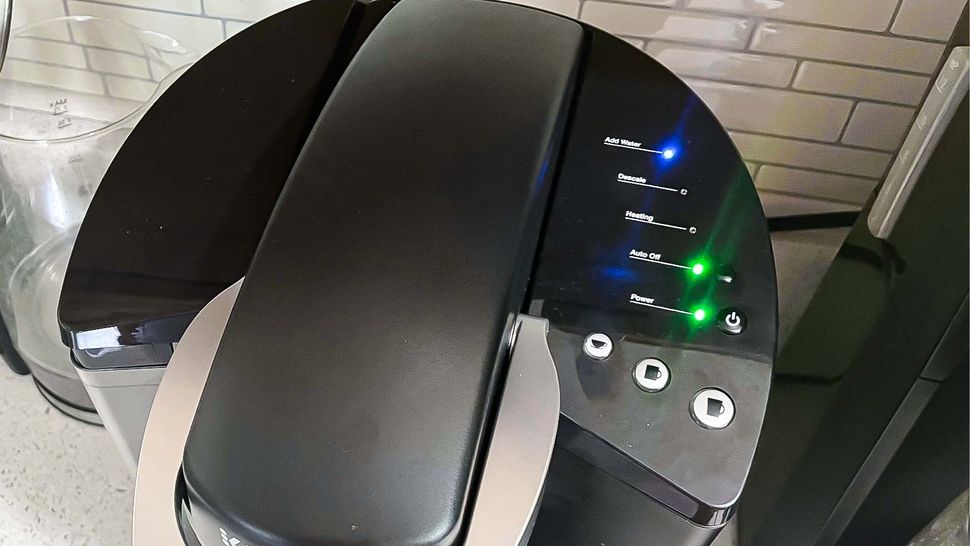 If you're the grab-and-go coffee drinker who often forgets to turn off their coffee maker, that Auto On/Off feature may be handy. While using an energy reader, we observed the K-Classic required roughly 110 kilowatts per hour. The machine will automatically warm up again after brewing, so energy-conscious people should just hit the off button after a cup is brewed. It's nice to know that if you forget to do that, your machine will do it for you, though in a much larger window than needed — two hours seems way too gracious for a single cup coffee maker to stay on.
Keurig K-Classic review: Design
Unless you're into your K-Classic being the centrepiece of your counter space, the physical design of this machine isn't great. It's bulky and looms over other appliances you may have nearby. The K-Classic looked massive sitting next to my electric kettle, which can hold roughly 2.5 liters of water. It doesn't feel smartly designed either, as most of its heft isn't for its dedicated water reservoir, but for housing its electrical workings with an excess of plastic.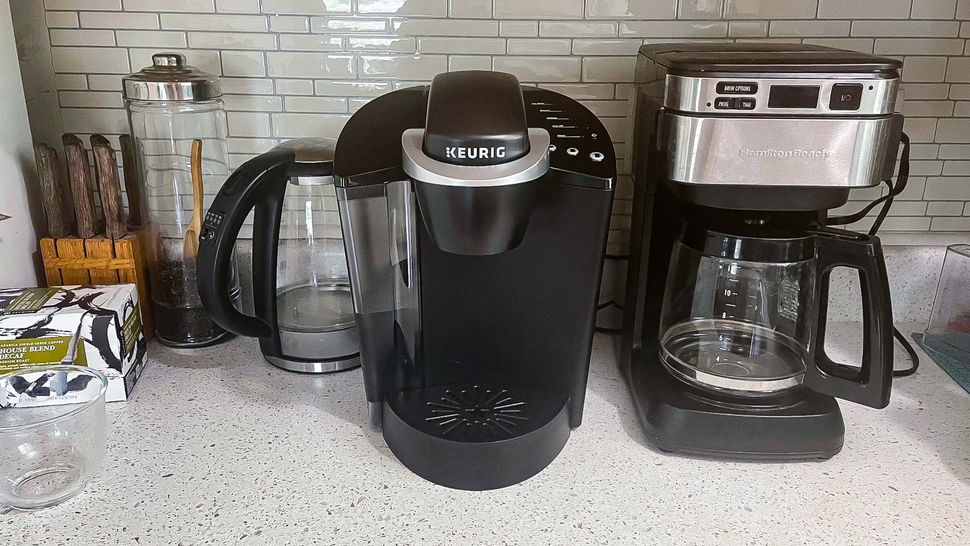 I live in an old modular home, and measuring from the bottom of my kitchen cabinetry to the below counter space is about 17.5 inches. To fully open up the Keurig's latch and place a K-Cup inside, I had to pull the entire machine forward so it wouldn't catch on the above cabinets.
The K-Classic machine measures about 13 inches tall (17.6 inches tall with the latch open), 13 inches deep, and just shy of 10 inches wide. My Hamilton Beach coffee maker, by comparison, shaves about 3 inches off each of those dimensions and holds 12 cups of coffee. Those of you who have a tiny living space or, like me, have cluttered counter space should stay clear of this machine. For being a single-cup coffee maker, the K-Classic demands a ton of room.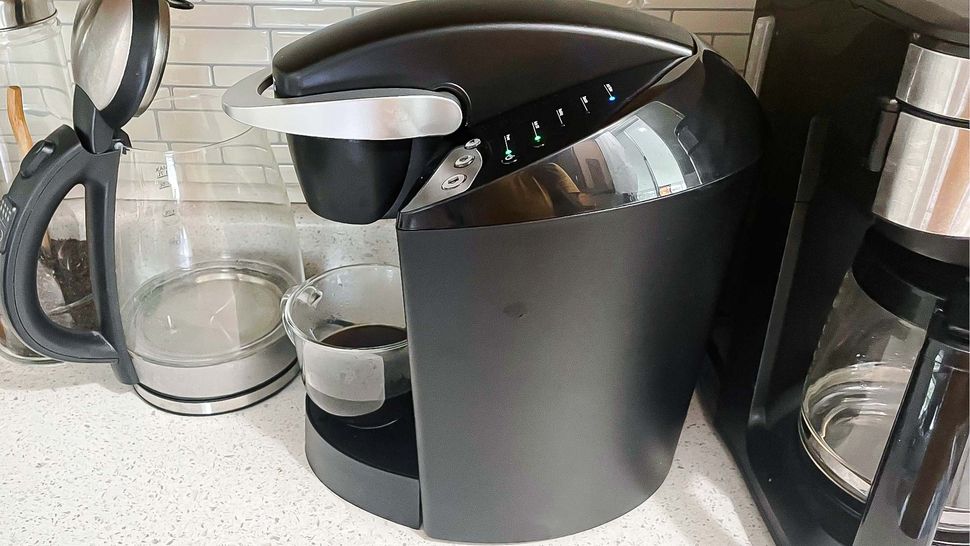 At least the 48oz water reservoir is removable, however, and I could easily pull it out to fill it with filtered water. The fact that its top rack dishwasher safe also makes cleaning it easier.
Keurig K-Classic review: Performance
First, the good. If you're getting a Keurig machine, you want a cup of coffee, and you want it now. Although the machine takes roughly two minutes to initially heat up its water when powering on — a process that sounds similar to a low-powered water flosser — heating takes less than 40 seconds with each sequential cup. The K-Classic's brew and heating times are separate. We found it needed 47 seconds on average to heat its water and about 35 seconds to brew, the smallest cup size taking as short as 25 seconds, the largest as long as 46. That coffee-making speed is impressive, and it sure beats waiting for your morning pot to finish in the AM.
However, that doesn't mean coffee should be brewed in less than a minute. For this review, I used a pack of Publix-branded decaf house roast to brew a 6oz, 8oz, and 10oz cup of coffee. Keurig recommends brewing a smaller cup to get a more intense cup, but I still found the 6oz cup lacking in depth. The flavor here is stale and flat.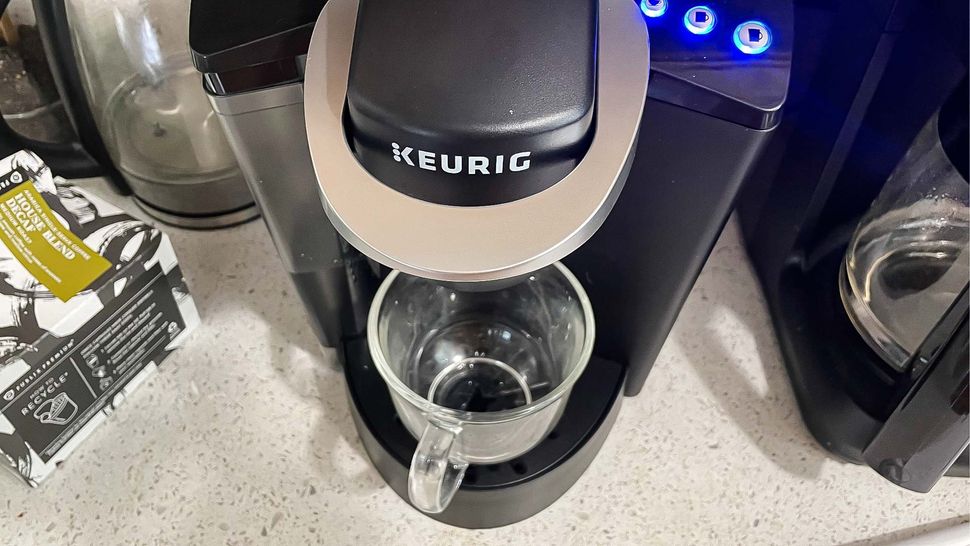 Temperature matters with coffee, and the National Coffee Association says the optimal cup is brewed between 195 to 205 degrees Fahrenheit. Straight out of the box, after a quick suggested rinse to clean its filter, the K-Select brewed my first 10oz cup of coffee at 186F. Using a thermometer, I measured every sequential cup and noticed that they brewed at a significantly lower temperature, ranging between 172F and 178F. So, don't expect this machine to make a piping hot cuppa.
Though Keurig makes a few machines that provide options like temperature adjustments and brew strength, the K-Classic can't craft as consistent a cup of coffee. The K-Classic is also unable to make crema, a layer of foam made of tiny bubbles that gives coffee a full, syrupy mouthfeel. Crema is made from a combination of hot temperatures and pressure during the brewing process, which the Keurig cannot provide. But, for what it's worth, most drip coffee machines also can't produce crema. Still, the Keurig ultimately can't offer a tasty cup that, say, a Nespresso can with its pressurized brewing method.
Keurig K-Classic review: Ease of Use
The K-Classic is pretty painless to use. You turn it on, insert a K-Cup, wait for the water to warm up, and press one of its three glowing blue buttons to indicate what size of coffee you'd like: 6oz, 8oz, or 10oz. Its latch opens with gliding ease, and it's easy to clamp shut with a gentle push. Although it's got two more buttons than the Nespresso Vertuo, the K-Classic is just as easy to operate.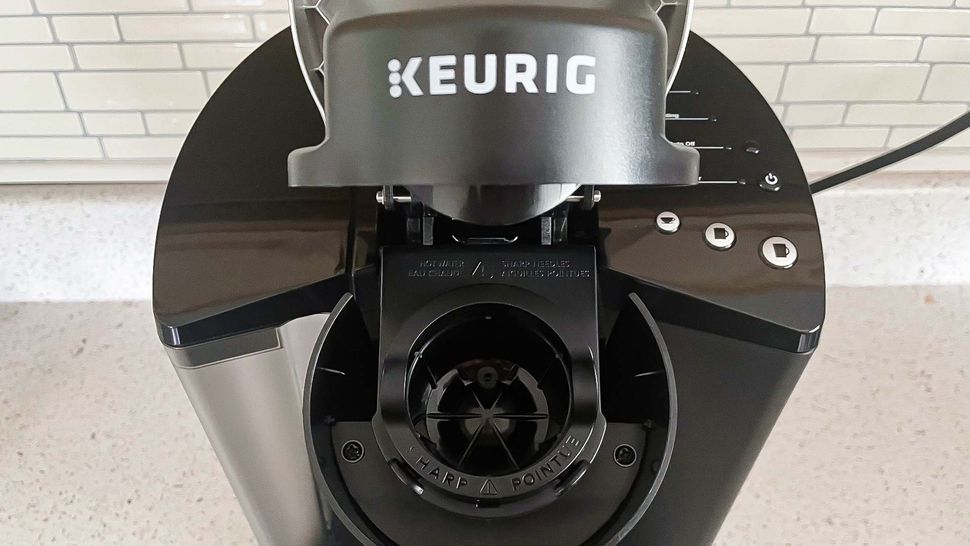 Maintaining a K-Classic is a little trickier, though. You'll need to buy some Keurig descaling solution every three to six months to clean your machine. It's a long process that'll take about an hour or so of your time, even if you're carefully following Keurig's descaling instructions. Outside of descaling, you'll have to wash your reservoir by hand or in the top rack of your dishwasher. You also need to clean the K-Classic's pod holder, using a straightened paper clip to remove any loose coffee grounds found around the entrance needle — this is what's used to puncture each K-Cup.
Keurig K-Classic review: Verdict
The K-Classic is the prototypical fast-brewing, easy-to-use Keurig machine. It's a no-frills appliance with an easy access 48oz water reservoir, an auto on/off feature that can help save energy, and the ability to brew a single cup of coffee in less than one minute. However, like many Keurig machines, this one is boggled down by a chunky design that hogs counter space and the inability to brew a tasty cup of coffee at an appropriate temperature.
The K-Classic is best for those constantly on the go, who may find it irritating to prep and set up a coffee maker to brew first thing in the morning. Ease of use couldn't be better as well; K-Cup pods pack pre-ground coffee into single-servings that are so easy to brew, a child can do it. You can also recycle that K-Cup pod too, granted you rinse it clean of its wet coffee grounds.
If you've got the counter space, the K-Classic is a straightforward intro to the single-cup coffee experience. But, those who are looking to replace the at-home coffee making experience may be let down by the machine's lack of brew options, poor flavor, and inconsistent temperatures. We don't recommend the K-Classic over our favorite picks, the K-Elite or K-Cafe. If you're looking for a gateway Keurig that's better, and cheaper, than the K-Classic, check out the K-Select.