If you can't start your morning right without a decent cup of Joe, one of the best coffee makers is what you need. These heavily relied on appliances produce coffee on demand, doing so in a quick and convenient fashion. And while ease of use tends to be at the core of most designs, the flavor of coffee produced takes precedence too. You want a balanced flavor, which is neither burnt nor bitter, while not watered down during the brewing process. Of course, you want a machine which looks good as well, particularly if you're leaving it on display.
Once you have all that, you need to consider what you want from your specific coffee maker. For instance, if you're making coffee for a crowd, you will likely need a larger carafe. Others may offer increased versatility which could be desirable, such as cold brew settings and temperature customization. Whatever your preferences, it can be tricky to find those models which offer exactly what you're looking for. That's why we've tested a range of coffee makers to help you out.
We assessed the performance and design of each model, using it at home exactly as you would to find every strength and weakness. We considered the ease of operation, convenience of cleaning, the settings on offer and much more. As a result, we've found the best options to suit every circumstance. These are the best coffee makers.
Best coffee maker for most people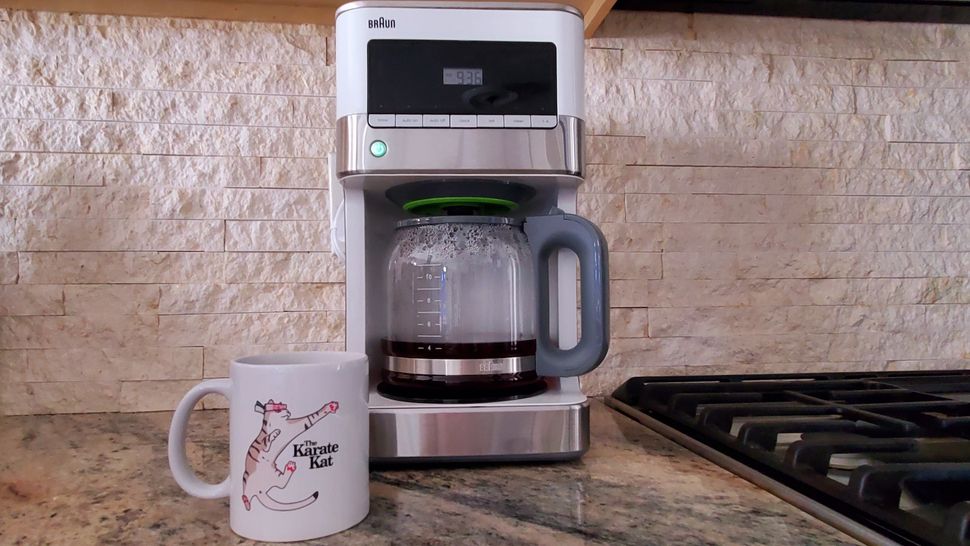 Whether you're looking for a budget-oriented machine to fill a gap in your kitchen or you're after a compact machine for a college dorm, the Braun Brew Sense manages to hit a sweet spot between price and quality that secures it top position here.
The Brew Sense KF6050 comes in just under $100 but still manages to brew great tasting coffee with some excellent quality of life features as well. You won't be fiddling around with too many complicated settings here, which may be a blessing if you simply want to make a cup of coffee in the morning. However, you'll still have access to a programmable timer, brew pause settings, and a 1-4 cup setting for smaller brews.
While that compact design certainly looks great, we did find it difficult to access the water tank as it's non-removable — not ideal if you want to fill it from the faucet. However, at this price point a little frustration in refilling your machine is an excellent trade-off for performance that beats out the competition.
There are certainly plenty of additional extra features that we don't usually see in this price bracket; like the charcoal water filter and permanent gold-tone filter. However, it's worth remembering that you won't have access to any strength settings as per that basic but affordable design ethos. Having said that, the Brew Sense KF6050 is one of the cheaper models in the range, and offers a great performance, which is why it's the best coffee maker overall and why it took home the Tom's Guide 2022 Award for Best coffee Maker.
This is also one of the best gifts for new homeowners; check out our guide for more inspiration.
Read our full Braun Brew Sense review.
Best for coffee purists
The Technivorm Moccamaster KBGV Select is the company's latest model, first released in late 2019 as the Moccamaster KBG Select in Europe. The new release continues the Moccamaster's highly respected name as the highest quality and most widely praised coffee maker on our list. It's been engineered for optimal brew temperatures and water dispersal, with innovative features that have earned it recognition from the Specialty Coffee Association. What's more, it does all of this while operating exceedingly quickly, which we found out when we tried it out for ourselves.
Handmade in the Netherlands, this pricey coffee maker has a unique industrial aesthetic that some people love and others hate. This, however, is one for the enthusiasts, and lacks a few of the convenience features you might find in cheaper models. The water tank is fixed onto the system, and you won't find any auto-brew features baked in here. However, what it lacks in the amenities that are typical of today' at-home brewers, it makes up for in producing smooth, balanced coffee, which is why it's one of the best coffee makers.
There's technical brilliance under the hood, however. This machine can reach industry standard temperatures (196°F – 205°F) in under a minute and stay there. The water then moves up a glass tube and into a 9-hole spray arm, where it's evenly dispersed over ground coffee in a cone-shaped basket. Not only that, but the KBGV Select can do all of this in four to six minutes, depending on brew size. It comes at a steep cost, but the superior performance and build quality make it worth it for coffee enthusiasts.
Read our full Technivorm Moccamaster KBGV Select review.
Most versatile coffee maker
While it's almost twice the price of the Braun Brew Sense Drip Coffee Maker, the Ninja Hot and Cold Brewed System turns your kitchen into a full-on cafe. Casual drinkers may find it too overwhelming, but coffee and tea lovers will appreciate the flexibility of being able to make their beverages as simple or fancy as they want right from home. Capable of brewing a wide range of coffees, teas and cold brews, temperature and brew times are all automatically adjusted based on your choice of drink (selected from the display panel).
Ninja claims that, using the specialty coffee setting and the included milk frother on the side of the machine, you can make coffee-bar drinks at home. That's true if you're not super fussy about the quality of the coffee in your 'ccinos, as the machine brews strong coffee but not espresso like the coffee shops.
We were particularly happy with a medium-roast coffee brewed on the Classic setting, yielding a smooth and well balanced cup - though the Rich preset also served our dark roast particularly well.
In our testing we found that, while impressively quick, the cold brew setting didn't offer a particularly smooth taste. However, an XL cup of perfectly fine cold brew was whipped up in just ten minutes, which is a real benefit for anyone seeking extra convenience.
Being able to produce more complex coffee brews at home makes for an incredibly versatile machine, especially considering tea drinkers are also accounted for here as well. The smart basket system will automatically register the brew basket you are using and recommend drink types as well.
Not only was the Delay Brew programming feature a godsend, but we also appreciated how quiet the Ninja Hot and Cold Brewed System was, only whirring slightly while kicking off the brewing process.
If you're one of those households with single-serve and multi cup brewers, this appliance can replace both and make a single cup without using coffee pods. However, if you don't foresee a need for cold brew or tea functionality, you can save money with the cheaper Ninja Specialty further down the page.
Read our full Ninja Hot and Cold Brewed System review.
Best espresso machine
The Breville Bambino Plus (known as the Sage Bambino Plus in the UK) is the best espresso machine for anyone who wants both the convenience of an easy to use system and the space to experiment and explore on a more sophisticated level. We found excellent consistency between brews here, and a well balanced shot thanks to the customizable pre-infusion techniques.
We were also really able to make the most of some premium beans as the Bambino Plus also offers standard professional grade filter baskets alongside easier to use double-walled filters as well. While that will only be a draw for those with a precise grinder and some tamping practice, it's worth noting that all skill levels are catered for here. Plus, unlike all of the other models mentioned so far, the Breville Bambino Plus comes with a built-in steam wand, which makes it a great choice for milky drinks.
It only takes three seconds to warm this machine up, an impressive feat considering it can be minutes before a cheaper device is ready to start brewing. While you're certainly paying a little extra for this model than you would an entry level device, aforementioned features like customizable pre-infusion times and the array of baskets included with the machine mean you're actually getting some top tier specs at a great price here. That's why it's the best espresso machine.
Read our full Breville / Sage Bambino Plus review.
Best for those who like to tinker
The Breville Precision Brewer isn't your every day coffee maker. It's a powerful machine capable of brewing your perfect cup of coffee, if you're willing to put the work in and have a tinker with all its impressive controls. We found that initial setup a little overwhelming in our testing, but the easy to follow instructions (and Gold standard presets for everyday use) helped us gather confidence in tweaking individual settings to match the brew flavors we were after.
While we did find a few issues with the volume of the machine, it was nothing compared to the high quality coffee coming out. You'll be able to experiment with brew times and temperatures, but you'll also have access to the flow rate and bloom time. A pour over dripper is also available for additional controls as well.
There's a lot of tech packed in here, and while it may take a little while to figure it all out, it was all well worth it in the end of our testing. Nevertheless, this really is one for those who view coffee as a science.
Read our full Breville Precision Brewer review.
Best single-serve coffee maker
Pod coffee makers are the ultimate convenience-led machines. However, that doesn't have to mean they offer an inferior coffee quality — as the Nespresso Vertuo Plus demonstrates. While it's one of Nespresso's pricier machines, the Vertuo Plus does bring out the best in easy to brew pod coffee, making it the best Nespresso machine.
Larger pods allow for a wider range of drink types, leading all the way up to 14oz single brews, however the beauty here lies in how the Nespresso treats each pod. The machine will scan the pod before brewing to determine the drink type being produced and automatically set the appropriate brew time and temperatures for the perfect cup every time. That means that while you are inevitably losing out on some personalization options by trading for the convenience of a pod machine, you're still getting the perfect settings for each coffee type automatically.
Espresso is this machine's strong point; cups come out with a picture-perfect topping of crema, the frothy head that's the hallmark of a true espresso. We can thank the Vertuo Plus's centrifusion technology for that — with multiple holes punched into the pod and a rapid spinning process that produces a creamier quality coffee. Pods are also fully sustainable as well. That's why this is the best single-serve coffee and espresso maker.
Read our full Nespresso Vertuo Plus review.
If you were eyeing up the Ninja Hot and Cold Brewed System, but need a little more out of the espresso quality, the Ninja Specialty offers a greater focus on specialty brews at the expense of cold brew and tea functionality. You're also paying a little less for this more focused machine, which is perfect if you're just after high quality specialty coffee.
You're keeping the built-in milk frother and strength controls, with six brew size options and four brew types for classic, rice, iced and specialty coffees. Overall, it's a versatile machine with everything you need to make a massive range of specialty drinks, with plenty of control over the strength, size and type.
The Ninja Specialty also only comes with a glass carafe, which means you'll need that warming plate to keep things toasty. Thankfully, we found that the the plate managed to keep our coffee warm for a long time, without having consequences on the taste.
If you're not going to be experimenting with teas or cold brews, you can save some serious cash with this cheaper option.
Read our full Ninja Specialty review.
How we test the best coffee makers
We test each coffee maker by assessing how intuitive it is to operate and how user-friendly the overall design is. We take into account the number of programs on offer and how customizable the results are — from strength settings to the types of drinks available.
We also consider the brewing time and that all-important flavor of the coffee produced — it should be smooth and rich, with no burnt notes. If it comes with a milk frother, we consider how well that performs as well. We look at the overall value for money on top of this; we have found that the best performers really do range widely in price.
Special functions are assessed, such as smart features and cold brew options. As a result, we can say which machines are worth your consideration with confidence.
Which type of coffee maker should you buy? Check out our guide if you're unsure.
Coffee maker FAQ
How to choose the best coffee maker for you
Will it fit?
A coffee maker sits on the countertop, so measure the space where you plan to keep the machine before you buy one. Be sure to determine the clearance between the countertop and the bottom of your cabinets. Most, but not all coffee makers will fit under a cabinet.
Coffee quality
If you're passionate about coffee, look for a brewer that says it meets the Specialty Coffee Association's Golden Cup Standard. This means the coffee brews at what is regarded as the perfect time and temperature for the best cup of Joe. But be aware that this standard calls for using 2 tablespoons of ground coffee for each 5-ounce cup, which produces a very full-bodied, strong cup of coffee that is not to everyone's taste.
Cup size
Keep in mind that coffee-maker cups are the equivalent of 5 ounces, or an old-fashioned teacup that isn't filled to the brim, leaving room for milk. Most coffee mugs in use today hold upward of 8 ounces. Therefore, a typical 12-cup coffee maker brews enough coffee for about seven mugs at the most.
What kind of carafe?
Models with thermal carafes tend to be more expensive than those with glass carafes. You can bring thermal carafes to the table, where they'll keep coffee hot for refills. However, these carafes have narrow openings that are difficult to hand-wash, and most can't be cleaned in the dishwasher.
Paper or permanent filters?
Decide if you want to use a permanent filter or paper, disposable ones. Permanent filters are better for the environment, and you don't have to constantly replace them, but they do need to be thoroughly washed by hand and they tend to stain. Also, it's easier to toss paper filters in the trash than knock grounds out of a metal filter. You may also find that the taste of the coffee produced differs depending on filter type and that you prefer one over the other.
Do you want to set it and forget it?
With many machines, you can program them ahead of time to brew in the morning or right before you get home, and you can even set them to brew at the same time every day. But such features add to the price and work only if you take the time to read the manual and figure out how to use the setting.
When should you replace a coffee maker?
In general, coffee makers come with a one year warranty, but big brands like Cuisinart can offer up to three years of protection. The average lifespan of a coffee maker is about 5 years, we don't recommend buying an extended warranty since repairs within that timeframe will usually cost less. Plus, rather than repair your coffee maker, you'll likely want to replace it when it fails.
Issues that signal it's time to buy a new machine include failure to brew, coffee that isn't hot enough or leaks. If the brewing process starts to slow down or the java develops an off taste, be sure to descale your unit before you decide to buy a new one; it could just be clogged with mineral deposits.
Are expensive coffee makers worth it?
Some of the best coffee maker brands charge incredibly premium prices for their creations. It should be noted, though, that some expensive coffee makers might not necessarily be worth it for the everyday consumer. Prices that range up to $600 or $700 often focus on flexibility and precise control over aspects of brewing like temperature, steeping times and intensities, bloom and grind density.
If you're looking for a pro barista grade experience, these more expensive coffee maker options can be well worth their price. However, if you just need a quick shot to get you up in the mornings, we'd recommend steering clear of these more premium devices.
How to clean your coffee maker
How to care for and maintain your coffee maker
It's essential that you know how to clean a coffee maker so that all your brews can taste as fresh as the first one. You'll find a quick rundown here, but if you need to know how to clean a Keurig we've got even more tips for you as well.
To avoid a stale-tasting brew, start with cold water and fresh-ground coffee.
Don't overfill the basket with coffee grounds. If you add too much, the grounds can overflow and clog the machine.
Regularly clean all the parts of the coffee maker that come into contact with coffee grinds. The grinds leave behind an oily residue that builds up over time and affects the taste of the coffee.
Run a mixture of equal parts white vinegar and water through the machine to descale it, or prevent build-up of mineral deposits that can clog the device and slow the brewing time. If you're waiting longer than usual for your Java to be ready, your brewer is overdue for a descaling.
Features to look for when buying a coffee maker
Coffee makers are built with more than practicality in mind. The aesthetics are just as important as the performance these days — after all, this machine will be on display in your kitchen for some years. Some feature a timeless brushed steel finish, while others are much more bold with a glossy, painted exterior. Before you choose your favorite, make sure that its size is suitable for your countertop; some are much bigger than they appear.
The latest models come with plenty of useful features. One to look out for is the ability to grind coffee beans and then automatically transfer the grounds to the filter basket. In doing this, you're getting the freshest coffee possible. Some machines also come with settings that let you control the strength of the brew as well as the temperature of the coffee. Controls such as these are a brilliant addition as you can try out different combinations until you find your favorite setting. Size selection is another important factor; some designs let you choose from a single-serve coffee up to an entire pot, which can save waste.
Coffee makers have come a long way in terms of tech as well. Some feature touchscreens rather than manual controls, while others can connect to your Wi-Fi or use Bluetooth. In doing this, you can control the coffee maker handsfree through your smartphone or even using voice commands via Alexa and Google Assistant.
If you want to perfect your coffee, this $30 gadget may transform your coffee routine.
For the summer, you can also follow our tips on how to make iced coffee in 4 simple steps.
---
Check out more of our appliance coverage:
Best microwaves | Best bread machines | Best blenders | Best stand mixers | Best food processors | Best juicers | Best air fryers