Acer Chromebook Spin 714 specs as reviewed
Price: $729
CPU: Intel Core i5-1235U
GPU: Intel Iris Xe
RAM: 8GB
Storage: 256GB SSD
Display: 14-inch WUXGA IPS touchscreen
Battery: 10:44
Size: 12.3 x 8.8 x 0.7 inches
Weight: 3.2 pounds
The Acer Chromebook Spin 714 ($729 to start) is a powerful 2-in-1 Chromebook with good battery life and a handy stylus, making it a great tool for getting things done on the go.
The Acer Chromebook Spin 713 was and is one of the best Chromebooks on the market. With the new Spin 714 model, you'd expect Acer to stick with the winning formula. While they share many similarities, the Spin 714 stands apart with its improved speakers and upgraded internals, which give it some impressive speed and Wi-Fi 6E capabilities. However, it also has a less impressive display and worse battery life than the old Spin 713.
In this Acer Chromebook Spin 714 review I'll help you understand the pros and cons of this laptop by walking through my own time using this it, as well as what we learned from running it through our performance testing lab.
Acer Chromebook Spin 714 review: Price and availability
The Spin 714 is available for purchase via Acer's website as well as select third-party retailers.
Acer sells this laptop in at least three configurations, and the entry-level model starts at $729. For that you get the Spin 714 with a 12th Gen Intel Core i5-1235U CPU, 8GB of LPDDR4 RAM and a 256GB SSD for storage. This is the model Acer sent us for review, and if you were to buy it direct from Acer it would cost you the usual $729.
Laptop prices tend to fluctuate, however, and you can already find steep discounts on this Chromebook with a bit of luck and regular Google searches. Not long before this review was published Best Buy had the entry-level Spin 714 discounted down to $529, for example, so keep an eye out for the best Chromebook deals when it comes time to purchase one yourself.
Acer also sells at least three more powerful variants of the Spin 714 that are aimed at business use. Appropriately branded the Acer Chromebook Enterprise Spin 714 and sold via a separate area of Acer's website, these variants (starting at $999) cost more but offer more powerful CPU options (up to a 12th Gen Intel Core i7-1260P) and double the RAM (16GB).
Acer Chromebook Spin 714 review: Design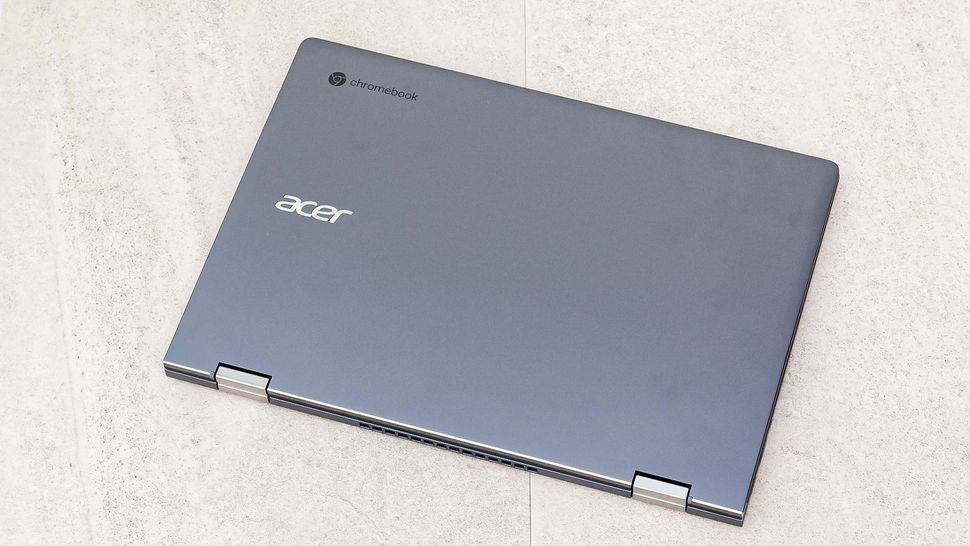 The Acer Chromebook Spin 714 doesn't look drastically different from most Chromebooks design-wise, and that's fine by me. Our review unit measures 12.3 x 8.8 x 0.7 inches and tips the scales a few ounces over that magical 3 pound limit.
The exterior is a uniform shade of grey with a subtle blue undertone, which Acer calls Slate Blue. The Chromebook and Acer brand logos on the back of the lid are the lone decorations. Some may call the aesthetics boring or unimaginative, but the simplicity also means no surprise edges or sharp corners when gripping the Spin or carrying it around.
The hinge rotates a full 360 degrees, allowing you to use the Spin in a traditional laptop position, with the keyboard folded underneath in a presentation mode, pitched in "tent" mode, or completely folded back as a large, heavy tablet. If the keyboard is rotated back farther than 180 degrees, it's automatically disabled and the Spin switches to tablet mode.
Acer Chromebook Spin 714 review: Display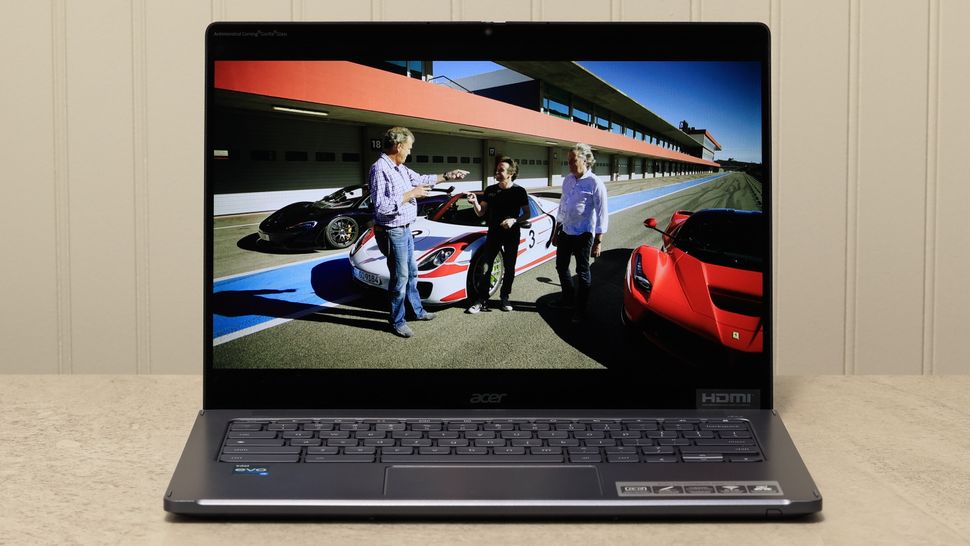 The biggest change Acer made to the 714 is the display. While the Spin 713 featured a 2256 x 1504 resolution 3:2 display, the Spin 714 uses a more common 1920 x 1200 resolution IPS panel for a 16:10 aspect ratio.
While this can be viewed as a downgrade, you could argue that higher resolutions are wasted on a relatively small 14-inch display. Pixel density becomes a much bigger concern for phones and tablets that are mostly viewed within a foot of your eyes than on a laptop or notebook kept at arm's length.
Swipe to scroll horizontally
| | | | | |
| --- | --- | --- | --- | --- |
| Row 0 - Cell 0 | Average brightness | sRGB color gamut | DCI-P3 color gamut | Delta-E score |
| Acer Chromebook Spin 714 | 358 nits | 111.9% | 78.9% | 0.31 |
| Acer Chromebook Spin 713 | 445 nits | 112.6% | 79.8% | 0.2 |
| Samsung Galaxy Chromebook 2 | 390 nits | 118.4% | 83.9% | 0.2 |
| Lenovo Chromebook Duet 3 | 438 nits | 108.4% | 76.8% | 0.22 |
Whether working on documents or streaming videos, I felt the Spin 714 panel delivered good crisp image quality. When we pointed our Klein 10-A colorimeter at it in our testing lab we discovered the Spin 714 displays 111.9% of the sRGB color spectrum and 78.9% of the DCI-P3 spectrum (100% is most accurate) with a Delta-E score of 0.31 (the closer to 0, the better). We also found it achieves an average brightness level of 358 nits, peaking at 374 nits in the upper-left corner.
That's less bright than the preceding Acer Chromebook Spin 713 (445 nits) as well as the Samsung Galaxy Chromebook 2 and Lenovo Chromebook Duet 3, but it's still plenty bright for well-lit office spaces.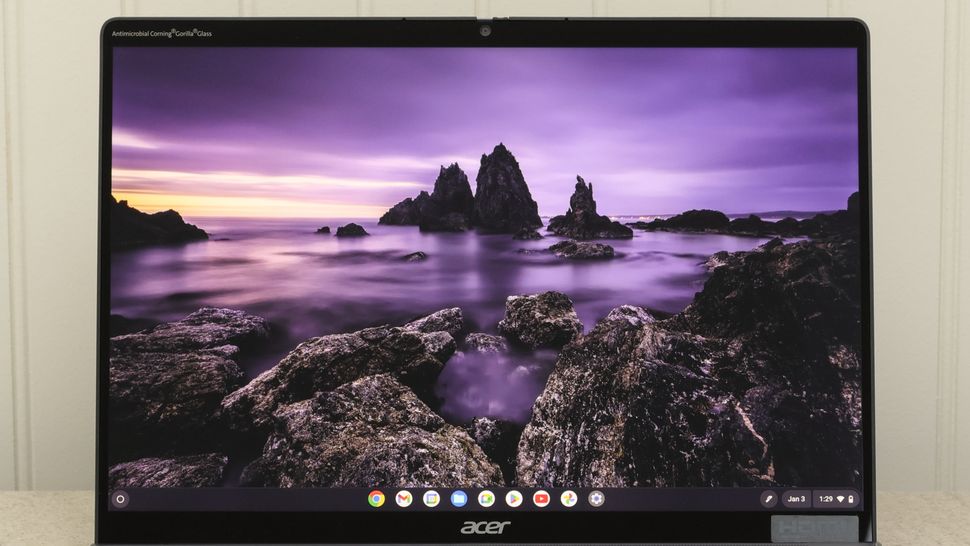 The panel is of course a multi-touch screen and it's covered by Antimicrobial Gorilla Glass. This does make the screen quite glossy, for better or worse.
Acer Chromebook Spin 714 review: Ports and connectivity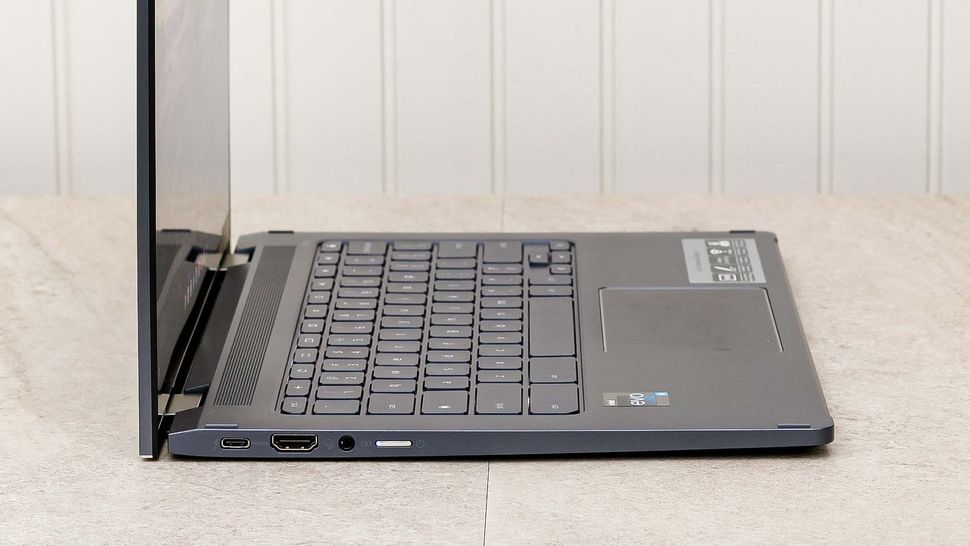 The Acer Chromebook Spin 714 offers a slim complement of ports, but there's enough here to be productive. You get two USB-C/Thunderbolt 4 ports, one on each side, both of which can be used to charge the Chromebook or charge external devices.
A single USB-A port remains on the right side of the notebook, so you can still plug in your favorite old mouse, keyboard or other peripheral. Unfortunately, the SD card slot from previous Spin versions has been removed from the 714, so you'll need to buy an external card reader if you want to quickly pull photos and other files off an SD card.
Acer wisely retained the full-size HDMI port, allowing the Spin to be easily connected to a TV, projector, or other external display. A four-pole 3.5mm audio jack for headphones and headsets is also on the left side, right next to the HDMI port.
Alongside the audio jack on the left side is the power button. This keeps it well away from more frequently used connections, like USB ports, so accidental presses are unlikely. A volume rocker switch is on the opposite side, right next to the USB-A port.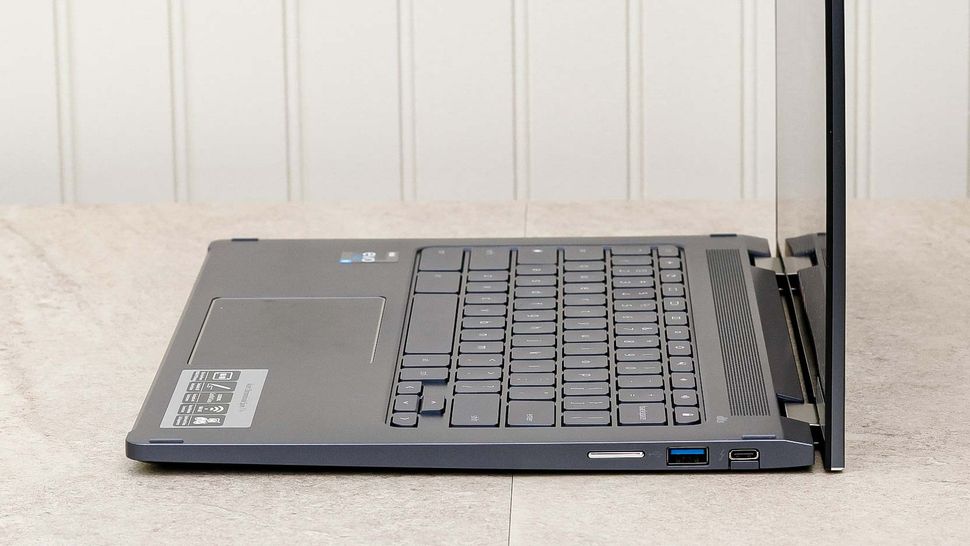 Wireless connectivity on the Spin 714 is also improved over the 713. The Wi-Fi controller has been upgraded from Wi-Fi 6 to 6E, allowing it to utilize the newly alotted 6 GHz bandwidth, and Bluetooth has been bumped from 5.0 to 5.2.
Acer Chromebook Spin 714 review: Performance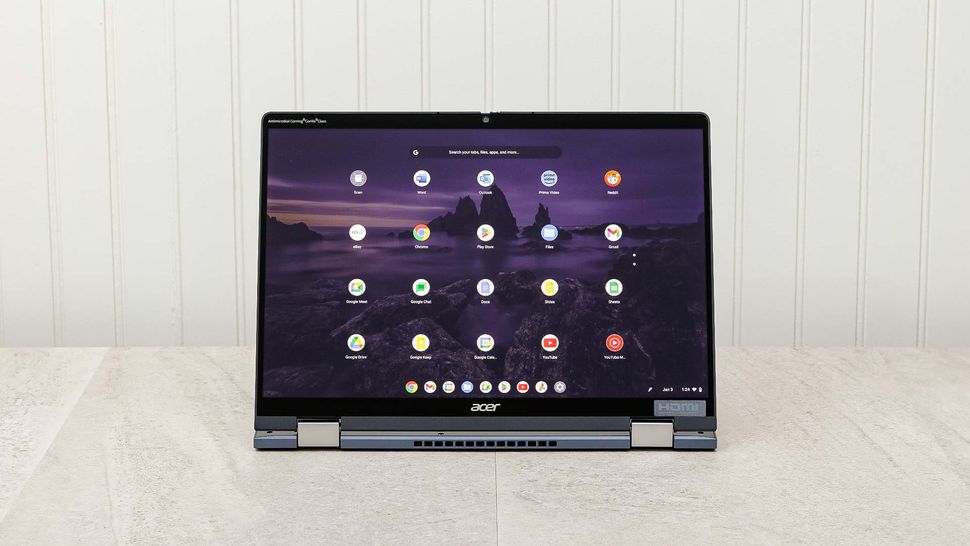 The CPU in our Spin 714 review unit is an Intel 12th Generation i5-1235U chip. It uses two performance cores, each capable of two execution threads and a 4.4 GHz max boost, along with ten efficiency cores that can reach 3.3 GHz, for a total of 12 threads. An Intel Xe integrated GPU provides graphical power. You get 8GB of LPDDR4X RAM for system memory, while long-term storage is handled by a 256 GB PCIe-based solid-state drive.
Our review unit may be the "low-end" model on Acer's 714 stack, but its hardware specs are still higher than many Chromebooks, and it acts like it. The Spin 714 boots and shuts down quickly, applications and system windows open in a snap, video playback is smooth, and even the most complicated websites aren't a problem to render.
With the updated internal hardware over previous Acer Chromebooks, one would expect the new Spin 714 to outshine most alternatives. Keep in mind that while Intel's 12th Gen CPU does have some raw performance gains over the 10th Gen CPU we saw in the older 713, most of the improvements come in the form of power efficiency.
Swipe to scroll horizontally
| | | |
| --- | --- | --- |
| Row 0 - Cell 0 | Geekbench 5.4 CPU test | JetStream 2 web performance test |
| Acer Chromebook Spin 714 | 4415 | 220.6 |
| Acer Chromebook Spin 713 | 3,253 | 113.5 |
| Samsung Galaxy Chromebook 2 | 2,171 | 104.9 |
| Lenovo Chromebook Duet 3 | 1,731 | 63.7 |
Our Geekbench 5 CPU testing reveals that tempering your expectations accordingly is completely unnecessary, as the Spin 714 speeds past the competition with a score of 4,415. The older 713 in comparison scored only 3,253, Samsung's Galaxy Chromebook 2 scored 2,171, and the Lenovo Duet 3 with its Snapdragon SoC netted just 1,732. So as far as Chromebooks go, the Spin 714 has got plenty of power.
The Spin 714 further establishes its hardware chops in the JetStream 2 test, which we use to gauge web app performance and browsing speed. Here, the Spin 714 scores 220.635, nearly doubling the Spin 713 score of 113.5, and more than twice the Galaxy Chromebook 2 at 104.9. So again, the new Spin 714 shines when browsing the web — which is exactly what you want from a Chromebook.
Acer Chromebook Spin 714 review: Audio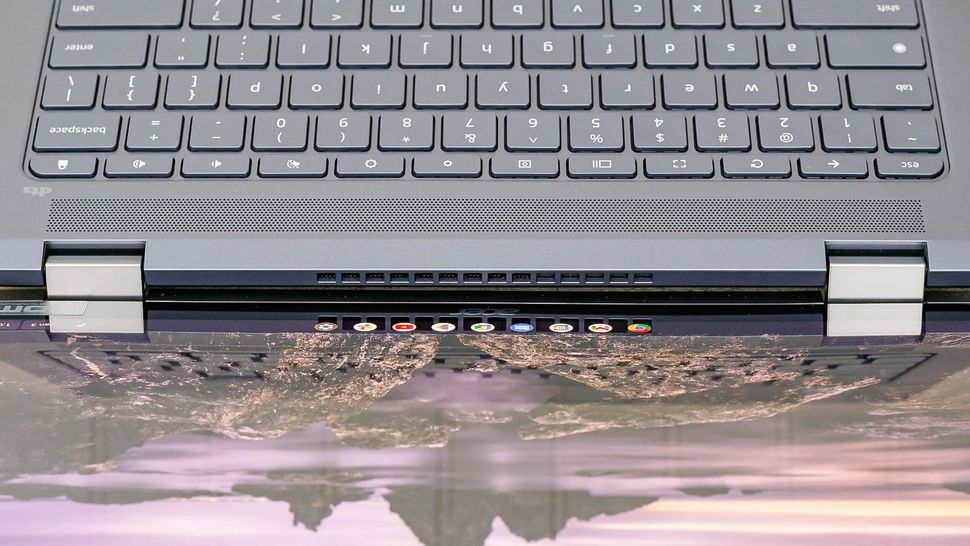 The speakers on the Acer Chromebook Spin 714 have been greatly improved over the older Spin 713 models. Instead of down-firing drivers on the bottom of the laptop, the Spin 714 relocates them to above the keyboard. This results in much more consistent audio, regardless whether the notebook is on your lap, desk, or countertop.
That said, these are still small laptop speakers, so don't expect much from them if you choose to use the Spin as your jukebox during your next party. The Spin has plenty of storage to hold your music library, but a good pair of headphones will go a long way in enjoying it. Also, if you rotate the screen back and use your notebook in presentation mode a lot, keep in mind the speakers will be directly against the desk or whatever surface you place the Spin on.
Acer Chromebook Spin 714 review: Keyboard, touchpad and stylus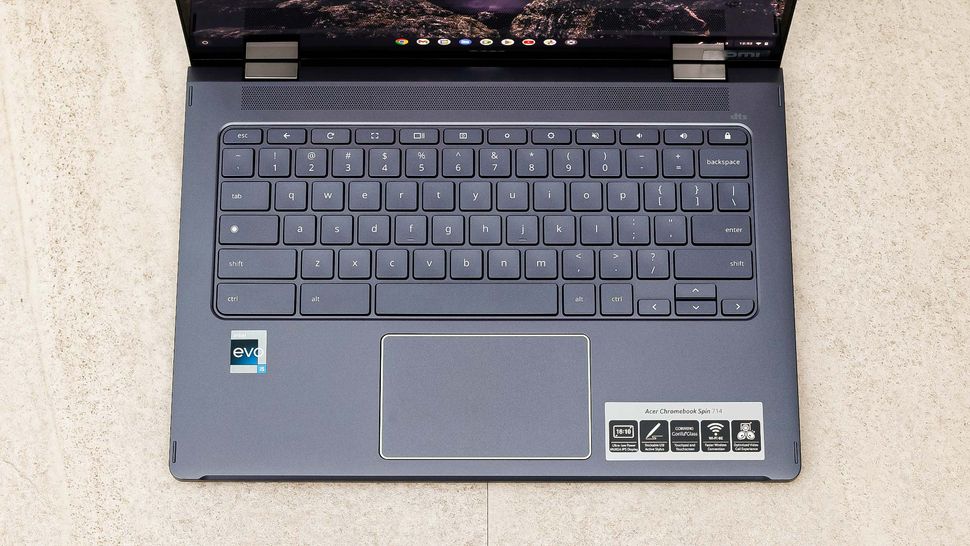 The keyboard on the Chromebook Spin 714 is backlit, showing both key outlines and keycap labels. It's a fairly typical laptop keyboard; it's usable but certainly not as crisp as a good desktop keyboard. If anything, the key throw feels a little on the squishy side. Being a 140-inch notebook, the keyboard may feel a little cramped to some users not accustomed to smaller travel laptops.
The touchpad underneath is very good. It's nicely smooth with just enough texture to give you tactile feedback as you move your fingers move about. The clicking action is decent, being just a tiny bit mushy.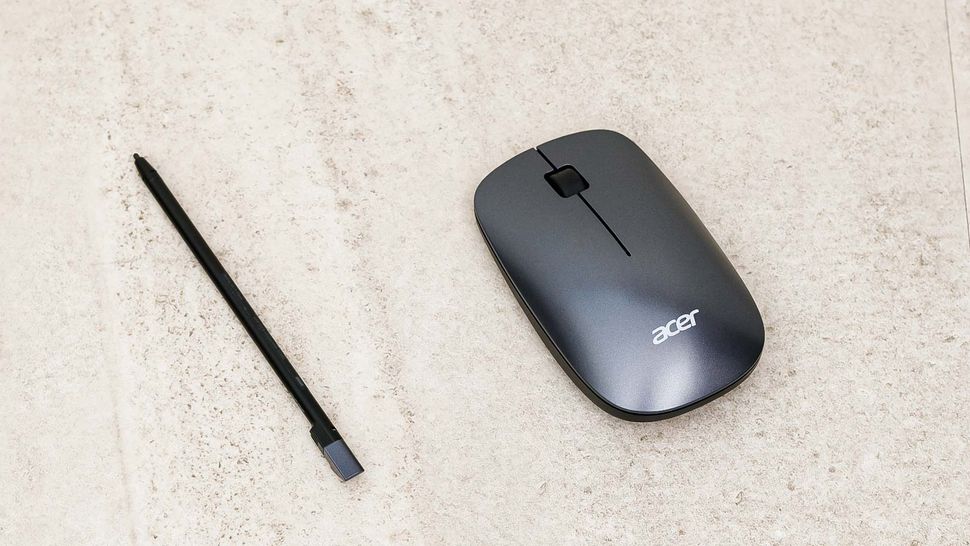 Acer also includes both a mouse and stylus with the Spin 714. The mouse is standard fare for what you'd see included with a typical all-in-one PC. It's fairly low and flat, easy to pack in a bag for travel, but perhaps not ergonomically comfortable for long sessions.
The top of the mouse is held on by a magnetic latch, under which is a AA battery and a compartment for the USB dongle. The mouse is USB only, no Bluetooth, which means the mouse monopolizes the lone USB-A slot on the Spin 714 (unless you're using a dock).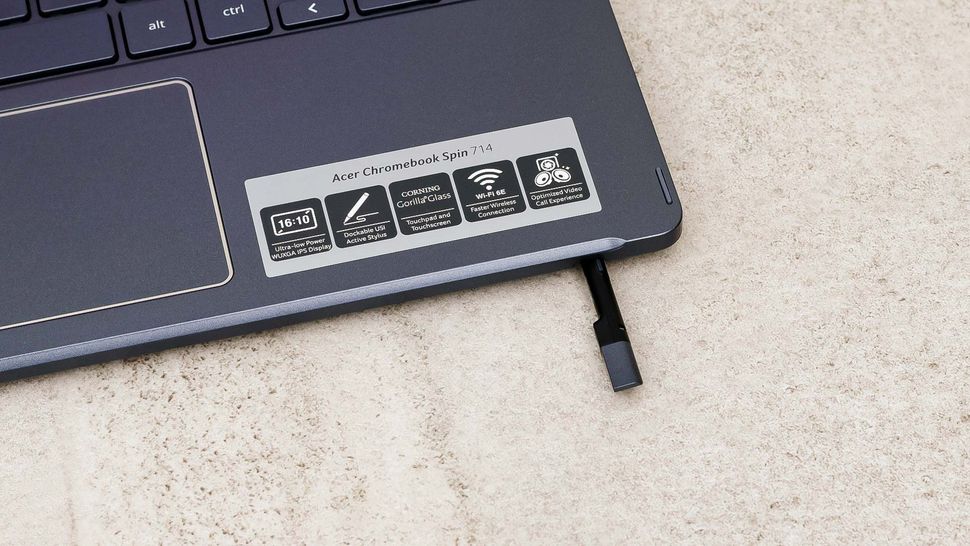 A notch under the keyboard, accessible from the front side, holds the included active stylus. While stowed, its internal battery recharges off the notebook.
Acer Chromebook Spin 714 review: Battery life
Acer claims the 3-cell battery in the Spin 714 can last 10 hours. Our testing of mixed web browsing workloads (conducted by tasking the laptop with endlessly browsing the web via Wi-Fi until it dies) showed a consistent result of 10 hours 45 minutes, slightly exceeding Acer's claim. However, it's worth noting that the older Acer Chromebook Spin 713 we previously tested actually lasted a bit longer (11:54) in the same test.
The Spin 714's 16:10 display is also more media friendly than the Spin 713's 3:2 ratio. For those who like to binge watch TV and movies, the 714 can stream an entire season of The Expanse on a single battery charge. The Spin would also be great for long flights, giving you plenty of hours of playback for pre-downloaded shows and movies.
Acer Chromebook Spin 714 review: Webcam
The Spin 714 sports an integrated webcam with privacy shutter at the top of the display, flanked by two microphones. At only 1.2MP, detail is somewhat lacking and picture quality could be better. It tends to get overexposed and blown out, and image sharpness suffers.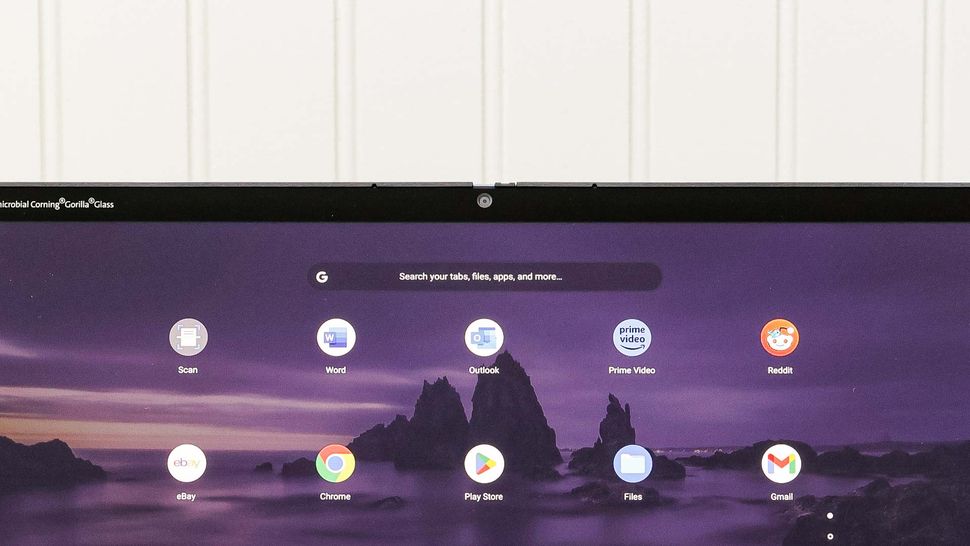 It's certainly better than many budget laptop webcams, and is perfectly sufficient for 720p video chats and work conferencing, but not much more than that.
Acer Chromebook Spin 714 review: Heat
Under typical office use and media consumption, the Spin 714 stays cool to the touch and the cooling fan noise is unobtrusive, especially if you're using headphones. Under heavier tasks, the underside can get a little warm, but usually doesn't reach uncomfortable levels.
At max loads, like running benchmarks while it's plugged into the wall, the underside will get quite toasty and you'll feel some heat in the keyboard. However, these sorts of tasks are done almost exclusively at desks and workstations, not while you're holding it in your lap, so it's not an issue to worry about.
In our heat test, which tasks the laptop with playing a demanding HD video for 15 minutes before we scan it with a heat gun, we discovered the Spin 714 gets as hot as 97.9 degrees on its underside. That's definitely noticeable, but not so hot that you should worry about getting your lap scorched.
One reason the Spin stays relatively cool is because the hot air from the heatsink is blown out a vent on the top, just in front of the display hinge. The vents on the bottom are instead used to pull fresh air into the cooling system. As with any laptop, be sure the intake vents have enough breathing room when using it on your lap or couch.
Acer Chromebook Spin 714 review: Verdict
The Acer Chromebook Spin 714's $729 MSRP is a fair price to pay for the hardware you get.
The HDMI out and USB-A port mean you still have basic connections without needing a dock or adapter cables, but USB-C and Thunderbolt 4 are also on tap for current- and next-gen devices. The 16:10 display looks good in person and is bright enough, even if it can't compete with other premium Chromebooks in that department. The included mouse and stylus give you lots of options for getting work done in either laptop or tablet mode. And with Wi-Fi 6E, you're set up to take advantage of the fastest wireless networks. Most importantly, the battery should last you an entire workday.
The question remaining is whether a "premium" Chromebook serves you best. If you don't get it on sale, the $700+ Spin 714 is priced to compete with some very competent Windows laptops, including the latest Dell XPS 13. While Chrome OS has certainly improved over the last few years (adding Android app support really expands its usefulness) it's hard to argue it's more versatile than Windows 11, which has its own burgeoning Android app support.
But if you're already neck-deep in the Chrome ecosystem and your daily workflow doesn't need anything outside web browser tabs and mobile apps, you'd be hard-pressed to find a Chromebook with better performance for the price than the Spin 714.