The Pixel Fold arrived at Google I/O 2023 earlier this month amid big expectations for the new device. You can certainly understand why — not only is the Fold Google's first attempt to build a foldable device of its own, it's also the first real rival poised to take on the Samsung Galaxy Z Fold 4.
Naturally, that's going to spark a lot of interest in a Google Pixel Fold vs. Galaxy Z Fold 4 comparison — specifically, what Google's new foldable can do that the well-established Galaxy Z Fold 4 cannot. To put it another way, the Pixel Fold launch was Google's opportunity to explain what it could bring to the foldable phone table and establish some compelling contrasts with Samsung's devices, as it looks to offer one of the best foldable phones.
On that front, the Google Pixel Fold fell short of the mark.
That's not to say that the Pixel Fold is doomed before it even goes on sale next month. There's a lot that's promising about the device, as my colleague Mark Spoonauer discovered during his Google Pixel Fold hands-on time. A thin design and powerful cameras are some of the more promising highlights of our time with the Pixel Fold, and I imagine more of those strengths will emerge as we roll up our sleeves and actually test the device more thoroughly.
But if you went into the Pixel Fold launch hoping to see something that stood out from the Galaxy Z Fold 4 or signaled a departure from what Samsung's planning for the upcoming Galaxy Z Fold 5, you probably went away disappointed. As portrayed by Google, the Pixel Fold seems to share more in common with the Galaxy Z Fold than deviate from Samsung's game plan.
A me-too foldable?
It doesn't help that the Pixel Fold shares the same basic design as the Galaxy Z Fold 4. Both devices look like regular phones with outer displays where you can check messages, get directions and interact with other apps. But when it's time to do serious work — including multitasking with multiple apps — you open up the phone to reveal a larger display. In fact, that's a 7.6-inch interior display for both phones — that's how similar this setup is.
Now to be fair to the Pixel Fold, there are some different approaches to design. The outer screen on the Fold has a wider aspect ratio than what you get with the Galaxy Z Fold 4. That makes it easier to type out messages, and things certainly feel less cramped on the Fold. Google's also to be commended for making the device so thin — the Pixel Fold is 0.2 inches thin when opened up compared to 0.25 for the Galaxy Z Fold. And yes, those 0.05 inches make a significant difference when you're using the phone.
But in other areas, the Pixel Fold really feels like a first-generation product, with the sorts of flaws that Samsung worked out long ago for the most part. At 10 ounces, the Pixel Fold is a heavy device, heavier even than the 9.28-ounce Galaxy Z Fold 4, which no one's going to confuse with a waif. As much as I appreciate the thinness that the Pixel Fold brings to the table, it doesn't do much to reduce bulk if your phone is still tipping the scales with that kind of weight.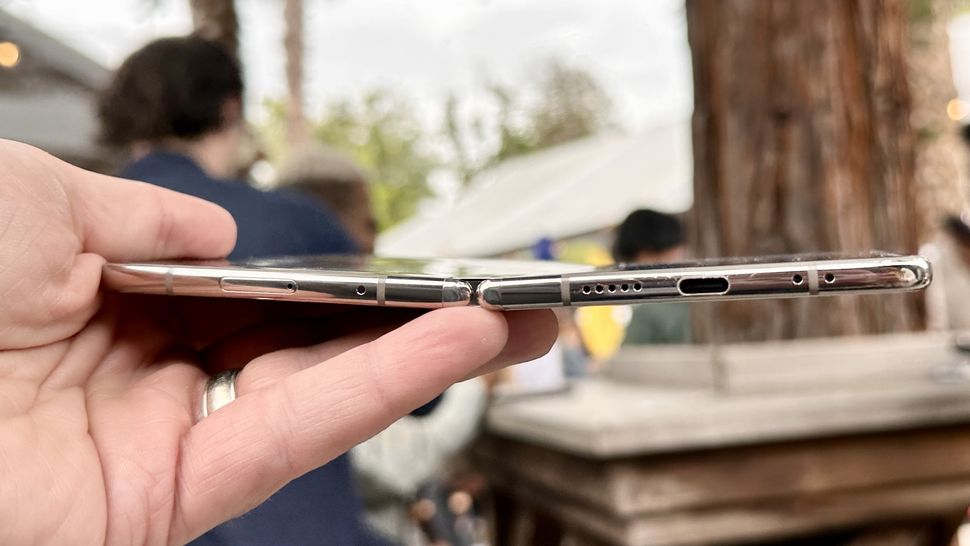 Speaking of tables, get prepared for the Pixel Fold to not lie flatly on yours — when I played around with Google's phone, I noticed that it didn't quite open all the way so that it's never fully flat. And the crease that appears on the display of nearly every foldable phone is certainly visible on Google's device. (All right, so some of these problems, Samsung hasn't worked out yet.)
You want how much for a Pixel Fold?
But I think the biggest disappointment comes down to the price of th Pixel Fold. Google has a tradition of undercutting the competition with its phone pricing, with the Pixel 7 and Pixel 7 Pro costing $200 and $100 less, respectively, than comparable phones.
That didn't happen with the Pixel Fold, which costs $1,799. That's exactly what Samsung charges for the Galaxy Z Fold 4 now and what the Galaxy Z Fold 5 is likely to cost when it debuts later in the year.
"When we thought about this phone and we worked on it, we really wanted to make sure we brought the best of Google forward," said George Hwang, product manager for Google Pixel, in an interview with Tom's Guide. "And so we balanced everything from the design to the camera to the hinge. Our focus was on ensuring that we brought the best device all around."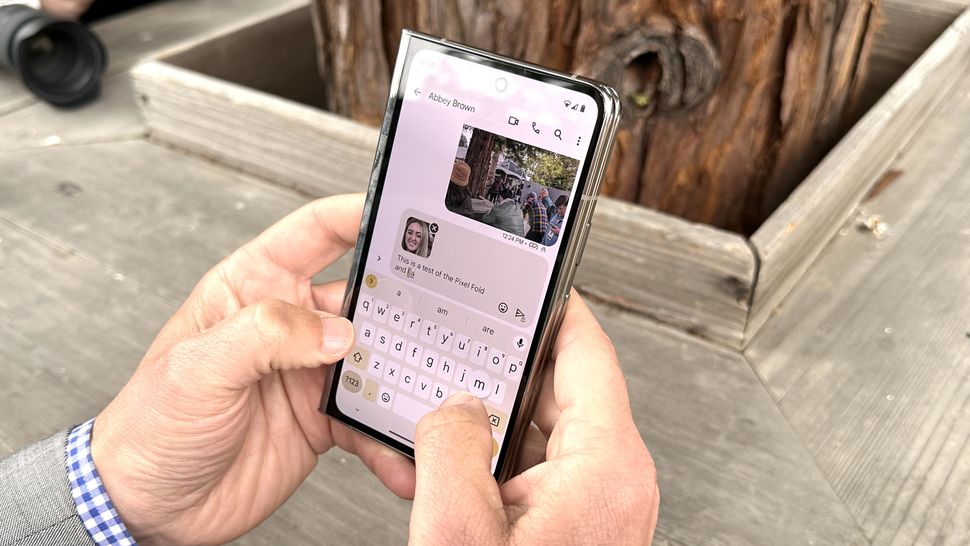 In other words, the Pixel Fold's price tag reflects the features and capabilities of the phone — or so Google seems to be arguing. And once we get a chance to fully test the phone, perhaps that argument will hold up.
Still, it feels like a real missed opportunity for Google not to come up with a device that beat the Galaxy Z Fold's price by a couple hundred dollars. That might have helped the Pixel Fold stand out from the competition instead of feeling like a variation on a theme.
Making the case for the Pixel Fold
It would also help the Pixel Fold stand out if Google can successfully do something that's eluded other foldable phone makers up until now — convince more people that foldable phones are worth twice what they'd pay for a flagship phone with a more conventional design.
If anyone's well-positioned to make that case, it's Google, which not only designs this particular foldable phone but also creates the software that runs on it. To that end, Google is adding features to Android that make the most of devices with bigger screens like tablets and foldables. And the company says it's optimized more than 50 of its own apps to better use the Pixel Fold's expansive screen.
We're going to need spend some time with the Pixel Fold and those apps to see if that makes all the difference in convincing us that Google is on to something with its latest hardware. And that's good news for the Fold's future prospects. You may never get a second chance to make a first impression, but play cards right and you can show people like me why that first impression was off the mark.
More from Tom's Guide