The new Samsung Galaxy Book 3 Ultra is a surprisingly good gaming laptop. I know that sounds strange given how it's not marketed as such. In fact, it's mostly being compared to the MacBook Pro 16-inch 2023. But when testing the machine during my Samsung Galaxy Book 3 Ultra review, I became convinced it's one of the best gaming laptops — even though it doesn't look like one.
Samsung's new notebook packs up to a 13th Gen Intel Core i9 CPU, an RTX 4070 laptop GPU, 32GB of RAM and 1TB of storage. The entry-level model, with its Core i7 processor, RTX 4050 graphics card, 16GB of RAM and 512GB, is also quite capable of playing the best PC games.
Specs alone make this a great gaming machine. But there are other factors that potentially make the Galaxy Book 3 Ultra better than dedicated gaming laptops. Here's why this is a surprisingly great laptop for gaming enthusiasts.
Awesome gaming performance
Let's get the obvious one out of the way: the Galaxy Book 3 Ultra is a gaming beast.
The laptop I reviewed came with a 13th Gen Intel Core i7 CPU, an RTX 4050 laptop GPU, 16GB of RAM and 1TB of storage. Because of that, I tested a couple of graphically-demanding titles to see how they performed on Samsung's notebook. I was not disappointed.
As I said in my review, Doom Eternal ran marvelously on the Galaxy Book 3 Ultra. During my own testing, frame rates remained between 115 fps and 119 fps. Marvel's Spider-Man had frame rates mostly in the 50s with performance-boosting DLSS features enabled. However, frame rates dropped to the mid-40s whenever I fought enemies. At medium settings, Cyberpunk 2077 ran close to 60 fps but would drop to the low 40s when there was more happening in the environment.
We also benchmarked a handful of titles during our lab tests. At 1080p resolution, games like Assassin's Creed Valhalla, Grand Theft Auto V and Shadow of the Tomb Raider all ran around 55 frames per second. Sid Meier's Civilization VI managed to hit an impressive 94 fps at 1080p.
Swipe to scroll horizontally
| Header Cell - Column 0 | Samsung Galaxy Book 3 Ultra | Alienware x14 | Asus ROG Zephyrus G14 (2022) |
| --- | --- | --- | --- |
| Assassin's Creed Valhalla | 54 | 57 | 73 |
| Grand Theft Auto V | 56 | 70 | 70 |
| Shadow of the Tomb Raider | 54 | 62 | 62 |
The Alienware x14 and Asus Zephyrus G14 ran the games listed in the table above at higher frame rates than the Galaxy Book 3 Ultra. The fact these games almost hit 60 fps on Samsung's machine is still very impressive. Overall, the Galaxy Book 3 Ultra can hold its own against regular gaming laptops.
Thinner than many gaming laptops
Gaming laptops tend to have bulky designs. Many of these machines also feature RGB lighting on their keyboards and chassis. You can generally identify a dedicated gaming laptop at a glance. This is a selling point for some users.
Though I appreciate bold designs, I prefer electronics with subdued aesthetics — especially if I'm out and about. I don't like drawing needless attention to myself if I can help it.
This is why I'm a fan of the Galaxy Book 3 Ultra's design. It's a sleek and elegant laptop that's well-suited for work and play. Aside from a discreet Samsung logo on its lid, this machine doesn't have any major distinguishing features. You can play games in public without anyone being the wiser.
At 13.9 x 9.8 x 0.6 inches and weighing 3.9 pounds, the Galaxy Book 3 Ultra is very thin and light compared to a gaming laptop like the Alienware m15 R4, which weighs over 5.4 pounds and measures 15.3 x 12.0 x 1.0 inches. To be fair, 3.9 pounds isn't exactly light — especially compared to the Acer Swift 5 which weighs 2.6 pounds. Of course, Acer's notebook can't run games as well as the Galaxy Book 3 Ultra.
Though Samsung's laptop isn't light, its weight distribution doesn't make it feel weighty. As such, it's easy to slip into your bag and carry it around wherever you go. That's not something I can do with most gaming laptops since they're usually so big and heavy.
Great value for the power you get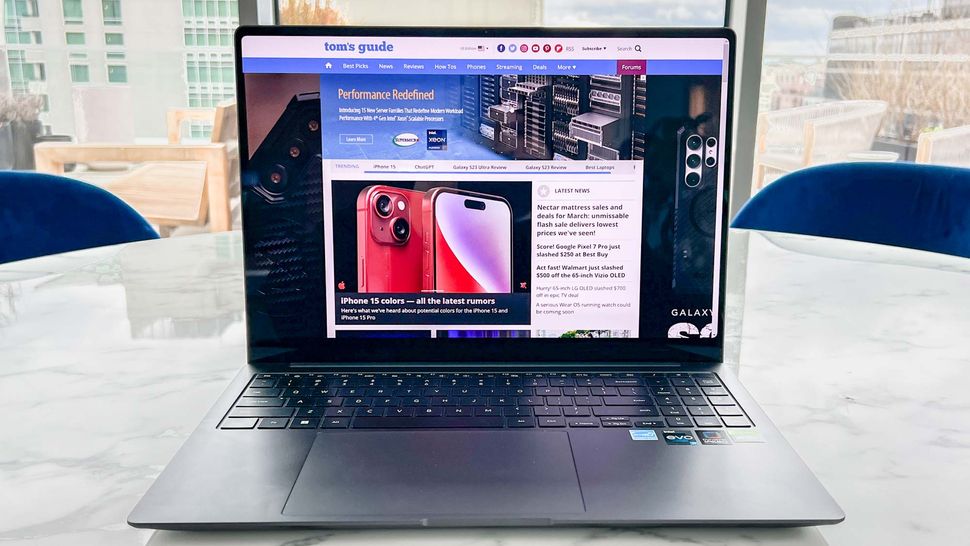 Like many high-end gaming laptops, the Galaxy Book 3 Ultra commands a premium price. The entry-level model costs $2,199 while the most decked-out configuration will set you back $2,999. Those prices are certainly steep, but I'd argue that you're getting your money's worth.
For instance, the Galaxy Book 3 Ultra is pricier than the entry-level MacBook Pro 14-inch 2023 and MacBook Pro 16-inch 2023, which cost $1,999 and $2,499 (respectively). While Apple's laptops outperformed Samsung's in our lab tests, you can't play games like Doom Eternal and Cyberpunk 2077 on them. Resident Evil Village is awesome on current MacBooks, but support for modern graphically-demanding games is still rare for Macs. As a Windows 11 laptop, the Galaxy Book 3 Ultra can play the full range of games from online gaming storefronts like Steam and GOG.
Gaming laptops have a wide range of prices — from $780 for an Acer Nitro 5 all the way to $2,899 for the Razer Blade 18. The Galaxy Book 3 Ultra might not beat a traditional laptop in terms of price. However, if you're like me and you value aesthetics as much as performance, the Ultra's graceful design gives it added value. A svelte gaming laptop I wouldn't be embarrassed to be seen with in the wild? I think that's worth the price of admission.
The Galaxy Book 3 Ultra is a great gaming laptop
As far as I'm concerned, the Galaxy Book 3 Ultra is the best gaming laptop currently available. Not only does it have plenty of power for high-end gaming, but it does so with class thanks to its sophisticated, nondescript design. And though it costs a lot, it offers great value for what it provides. There's a reason Samsung's laptop earned the Tom's Guide Editor's Choice badge. It's just that good.
If you're in the market for a new gaming laptop, don't overlook the Samsung Galaxy Book 3 Ultra. It might be the best low-key gaming machine you've ever owned.