We're almost halfway through 2023, and it's already been a pretty incredible year for new games. And while the likes of Resident Evil 4 and Hogwarts Legacy have enjoyed the spotlight, EA Sports PGA Tour was a little overlooked when it hit the links in early April.
That's a real shame because the golfing simulator is an impressive virtual recreation of the sport, and it's a title I've been regularly returning to over the last couple of months. I'm far from a golfing fanatic — although I did enjoy Full Swing on Netflix — but EA Sports PGA Tour has still managed to hook me thanks to its impressive level of authenticity and its rewarding (and pretty darn challenging) gameplay.
If you're curious, but not fully sold, then now is your chance to try out EA Sports PGA Tour for free. EA is running a free access trial through the weekend on both PS5 and Xbox Series X. This allows you to sample the entire game through Sunday, June 18. So even if you've never swung a golf club in your life, there's no excuse not to give it a go. You can download the free-to-play trial on each console's respective digital stores right now, but you will need PlayStation Plus or Xbox Live Gold to participate.
This free weekend is well-timed as it coincides with the U.S. Open Championship which begins today (June 15) at the Los Angeles Country Club. And the game has just received a massive update that adds the L.A. golf course among various other improvements. So, you can watch the likes of Rory McIlroy and Scottie Scheffler compete for a major championship and then play the same greens from the comfort of your own home.
If the free play period convinces you to pick up the full game, you're in luck as EA Sports PGA Tour is currently on sale. The golf sim is 40% off on the PlayStation Store and the Microsoft Store, and it's also been discounted at various major game retailers including Amazon and GameStop.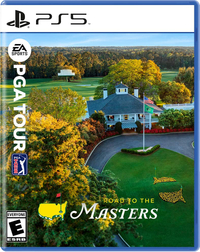 EA Sports PGA Tour: was $69 now $47 @ Amazon
Take to the green in EA Sports PGA Tour. This impressive golfing simulator is the home of the majors with the exclusive license to several real-world tournaments including the iconic Masters series. There are more than 30 courses to play and a full career mode that is sure to hook you. Be sure to play the current free weekend on PS5 and Xbox Series X if you want to try before buying.
Why you should play EA Sports PGA Tour
EA Sports PGA Tour is the publisher's first return to the green since 2015, and even though I absolutely suck at it, I can't stop playing regularly. That's partly because it does a marvelous job of simulating the sport, but it's primarily because the feeling of satisfaction that comes when you sink a long-range putt is equal to defeating a fierce boss in Elden Ring or besting your opponent in Street Fighter 6.
I've spent most of my time with the game in recent weeks playing the career mode which lets you create your own character, and then slowly make your way to the top — or the lower middle of the pack in my case so far. Light RPG elements are thrown into the mix as you upgrade your character over time, and this makes even failures feel rewarding as you're always making some progress.
Naturally, fans of golf will get the most out of EA Sports PGA Tour and will be pleased to hear the level of authenticity is on par with the likes of the FIFA and Madden franchises. You get a large collection of real-world tournaments, digital recreations of some of the world's most iconic courses, and can play as real-world players including Scheffler, Jordan Spieth and Nelly Korda.
Whether you know your drivers from your wedges or are a complete golf novice, EA Sports PGA Tour is definitely worth trying out. You just might be surprised how much you enjoy hitting the greens. And thanks to this free-to-play weekend, you can try it without spending a single penny. Don't make the mistake of overlooking this game.
More from Tom's Guide