We're well overdue for a new MacBook Air, so much so that we reckon Apple's next laptop needs to be the MacBook Air 2022, though we may still need to wait a bit before that happens.
Nevertheless, while the current MacBook Air 2020 has plenty of power and remains one of the best MacBooks you can buy, it's starting to look a little dated compared to competing laptops from the likes of Dell and Asus.
Current MacBook Air 2022 rumors point towards a new design with thinner display bezels, an Apple M2 chip and a slew of new colors. Read on for everything we know so far about the MacBook Air 2022.
MacBook Air 2022 news and rumors (updated May 25)
MacBook Air 2022 release date and price speculation
Bloomberg's Mark Gurman has suggested that the MacBook Air 2022 could launch at WWDC in June, alongside a second unspecified Mac — possibly the MacBook Pro 2022 or Mac mini 2022.
And the leaker LeaksApplePro also says that the new MacBook Air and Mac mini could launch at WWDC (opens in new tab) in June, but that doesn't mean it's a done deal.
When it comes to price, the currently MacBook Air starts at $999. We'd expect Apple to mostly stick with that pricing in order to keep competitive with Windows laptops.
But like a lot of Apple devices, expect that price to jump up when additional RAM and storage are added in.
MacBook Air 2022 design
The reason why you should hold out for the MacBook Air 2022 over the MacBook Air with M1 is that the rumored next-gen model could have a redesign.
Slimmer bezels are expected and one of the 5 things we want from the next MacBook Air. However, that could also mean a notch in the top of the display for the camera, as seen on the MacBook Pro 2021 and suggested in a render by Jon Prosser.
But a more recent suite of renders, reportedly based on CAD designs from supposedly within Apple, show a MacBook Air 2022 with no display notch after all. This might be good news for people who are very anti-notch. But it could mean the next MacBook Air won't benefit from getting super-slim bezels, though this doesn't mean there'll be no slimming of bezels at all, just it might not be as significant as those on the latest MacBook Pros.
And the screen is tipped it use a mini-LED display like the iPad Pro 2021 and new MacBook Pros, which should see a boost in brightness and colors. However Ming-Chi Kuo disputes this, and notes that the laptop may come with a brand new form factor that doesn't include mini-LED.
More colors are also expected, seeing Apple move away from just Space Gray and Silver. Off-white has been tipped along with other colors that draw inspiration from the pastel hues of the iMac 2021.
There's no word on a keyboard or trackpad upgrade. But the Force Touch trackpad is one of the best around, and after Apple moved away from the Butterfly keyboard mechanism to re-adopting a scissor key mechanism, typing on MacBooks has been greatly improved.
A new suite of MacBook Air 2022 renders, based on the rumors, have given us another look at what a redesigned entry-level MacBook could look like. They paint a picture of an attractive entry-level MacBook with a suite of color options, including the new Alpine Green hue as seen on the iPhone 13.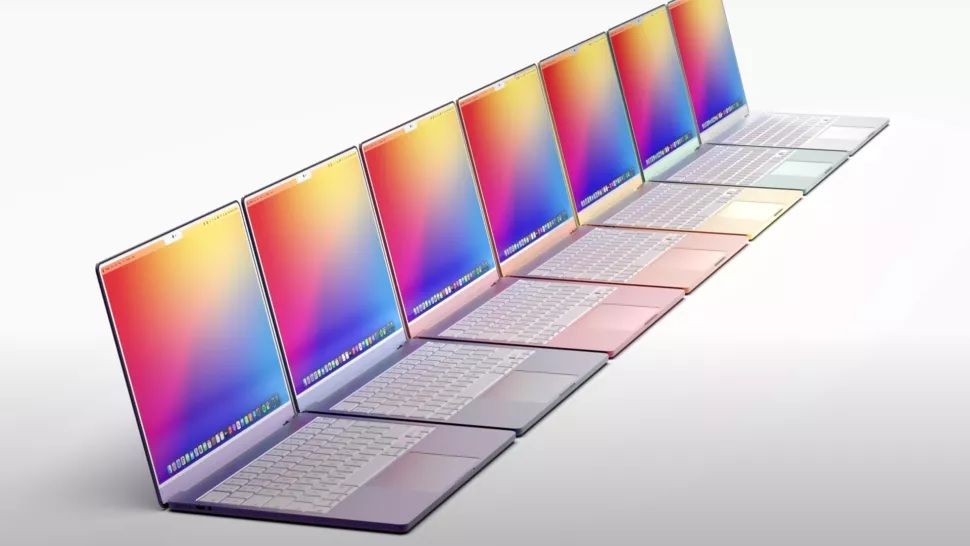 And ZoneofTech (opens in new tab), the source of the renders, is pretty confident the accuracy of these images: "I'm almost very certain I have a near 100% accurate picture as to how the new MacBook Air will be like."
MacBook Air 2022 MagSafe and ports
For longtime MacBook fans, MagSafe charging was seen as a defining feature, one that separated Apple from PCs. Unfortunately, Apple removed MagSafe following fire safety concerns (opens in new tab) and a switch to USB Type-C.
But with MagSafe now back on the new MacBook Pros, it's likely to make its way over to the next MacBook Air. And the rumors thus far have hinted at it coming back to the next-gen Air as well.
Ming-Chi Kuo's prediction of a whole new form factor would corroborate rumors that some of these changes are on the way. However he failed to elaborate on what sort of design the upcoming laptop will have, leaving us with little more than speculation.
It's also worth noting that, while the new MacBook Pros also got an SD card reader and HDMI port, one detailed leak claims that the MacBook Air could stick with USB-C ports only. That's wouldn't be a huge deal thanks to USB-C enabling a greater degree of connectivity, but people who want more port access might have to embrace the dongle life.
MacBook Air 2022 specs
The current MacBook Air made waves by coming with the Apple M1 chip, a slice of silicon designed in-house by Cupertino's engineers. It delivered impressive performance and long battery life.
The MacBook Air is tipped to use an Apple M2 chip. Rumored to use a 4-nanometer process node, the Apple M2 is expected to favor efficiency over the raw performance offered by the M1 Pro and M1 Max chips.
Bloomberg (opens in new tab) reports that Apple is testing "at least nine" new Macs with four different configurations of the upcoming M2 chip. The M2 chip reportedly has the same eight CPU cores as the M1, but with an additional two-to-three graphics cores, for a total of ten
RAM and storage are likely to start at the same amounts as the current Air, with 8GB of RAM and 256GB of SSD space. But we'd not be surprised if Apple were to offer 16GB of RAM and storage up to 1TB for the MacBook Air 2022.
MacBook Air 2022 outlook
While the current MacBook Air is rather good, it's arguably due for a redesign. And that's what the rumors are pointing towards for the MacBook Air 2022.
If we can get a better display with narrow bezels, as well as an upgraded chipset and MagSafe charging, we can see the next MacBook Air having some serious appeal. This is especially true since it'll likely be a lot cheaper than the new MacBook Pros.
With all that in mind, here are 5 of the biggest rumored upgrades for the MacBook Air 2022.