Best 13-inch Laptops: Quick Menu
1. The list in brief
2. Best overall
3. Best Windows 11
4. Best value
5. Best Chromebook
6. Best battery life
7. Best for DIYers
8. Battery life chart
9. How to choose
10. How we test
The best 13-inch laptops are slick ultraportables that tread the line between portability, power and battery efficiency.
Ideally, you'll have a slim laptop that has a great (if compact) display, some of the latest processors and a battery life that'll get you through a working day before gasping out for electrical juice.
The 13-inch laptops we've tested and listed below are all great picks for a portable and capable machine. They are also efficient enough to get you through a day of work. And when the day comes to an end, these machines have great little displays for watching movies on and playing some games; just don't expect to play high-end games.
Of course, there's a lot of choice on this list, but we'd suggest any one of these picks would be a good one. But read on to find the best 13-inch laptops you can buy today, whether you're a Windows, macOS, or Chrome OS user.
However, if you're considering making a purchase you may want to wait a little bit for the best Black Friday laptop deals to land!
Written by
Alex Wawro is a lifelong journalist who's spent over a decade covering tech, games and entertainment. He oversees the computing department at Tom's Guide, which includes managing laptop coverage and reviewing many himself every year.
The quick list
In a hurry? Here's a brief overview of the laptops on this list, along with quick links that let you jump down the page directly to a review of whichever laptop catches your eye.
The best 13-inch laptops you can buy today
The best 13-inch laptop overall
The MacBook Air M2 feels truly worthy of the Air name. And we're not saying that the previous MacBook Air M1 wasn't good — it helped introduce the world to the power of Apple silicon. It's just that cramming revolutionary performance in the same old chassis didn't feel (or look) like a leap forward.
The new MacBook Air is a breath of fresh you-know-what, and that's because Apple paired an even faster M2 chip with a design that's markedly thinner and lighter. Carrying this 2.7-pound notebook around and using it, this is a laptop that reminds us of the iconic original Air that Steve Jobs pulled out of a manilla envelope 14 years ago. Something this light can't be that powerful — can it? Yes it can.
You get stellar performance, a vibrant display and superb battery life all wrapped up in a design that is delightfully portable. If you need a great 13-inch laptop that you can carry all day without worrying about it running out of juice, this is a great choice.
Read our full MacBook Air M2 (2022) review.
The best 13-inch Windows 11 laptop
Judging by the name, you might think that the Dell XPS 13 Plus is a bigger version of Dell's iconic laptop. But it's actually quite the opposite. This is as minimalist a design as we've ever seen from Dell. There's just two ports. There's no headphone jack. And Dell even took away physical function keys, replacing them with a capacitive row. There's not even lines to denmark the touchpad; the entire area beneath the keyboard is one smooth piece of glass.
But the XPS 13 Plus isn't just a design statement. Dell managed to pack a 28W 12th gen Core i7 processor into this sleek 2.7-pound machine. And the result is a system that can outperform even the mighty MacBook Pro M2 on some tests. However, the short battery life and capacitive function row will give some pause. We also found the bottom gets a bit toasty when running at full power, so keep that in mind.
Read our full Dell XPS 13 Plus review.
Not interested in the Plus? Don't miss our Dell XPS 13 OLED review -- the base XPS 13 is still a great laptop that we recommend often.
The best value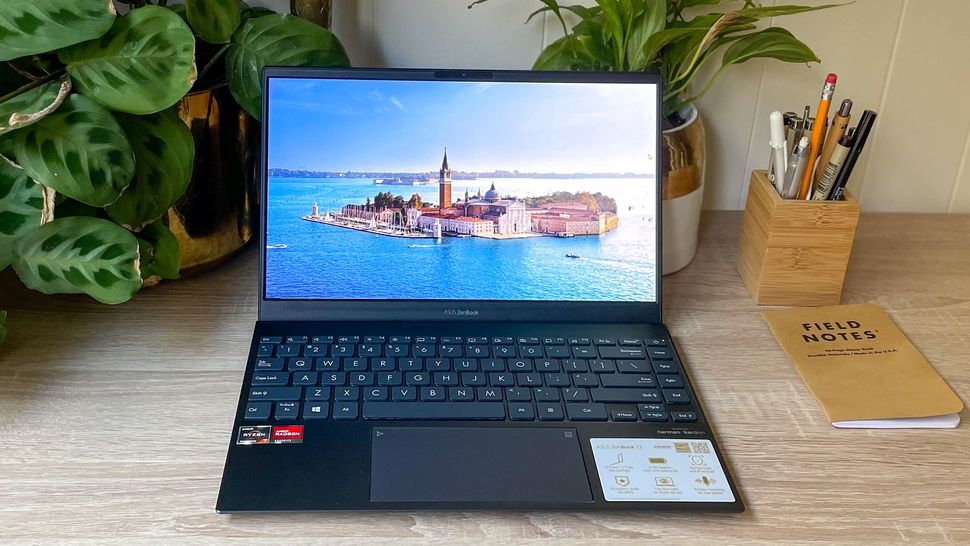 Don't let the name fool you: the Asus ZenBook Duo 14 is technically a 13-inch laptop (based on screen size) and it's an intriguing choice for anyone who wants a second screen but doesn't want an external display. It's also a great choice if you want to turn heads at the coffee shop, because it sports a 12-inch touch screen above the keyboard. This screen is great for your secondary windows, such as Spotify, Slack, Discord and more. It can also be used by creative apps from the likes of Adobe, who put touch controls there.
On top of that, its performance is speedy and competitive with the XPS 13, which it trades rounds with in head-to-head comparison. Plus, its battery life is long — especially when you realize it's got two screens to light up. The big downside, though, is that it has no wrist rest since the keyboard is bumped down to make room for the second screen, making the ZenBook Duo 14 a bit ergonomically unfriendly. But if you've got an external wrist rest, you should be good.
Read our full Asus ZenBook Duo 14 review.
The best 13-inch Chromebook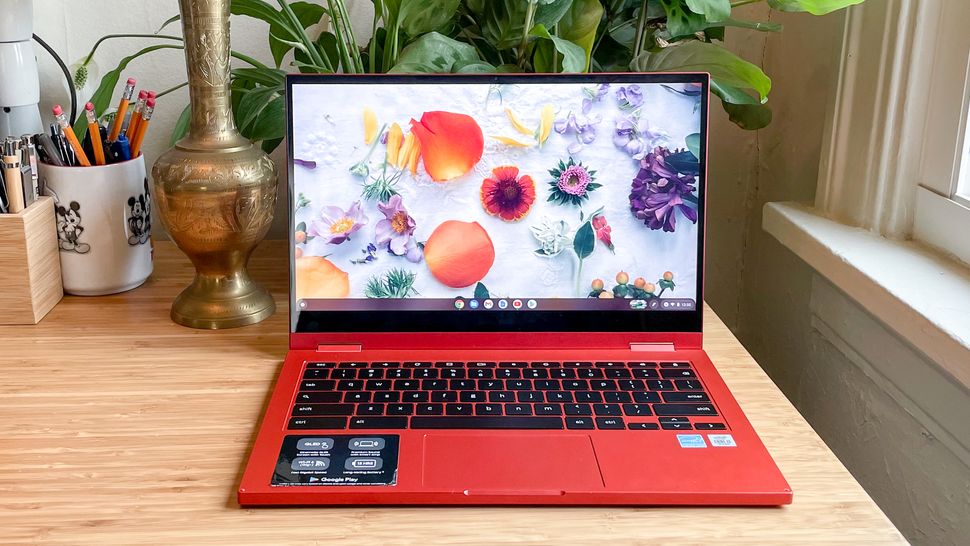 If you're willing to spend upwards of $500 for a great 13-inch Chromebook, Samsung's Galaxy Chromebook 2 is our top recommendation. Ditching the 4K display that graced the original Samsung Galaxy Chromebook was probably the best thing Samsung could have done while designing the Galaxy Chromebook 2. Now it's way more affordable, but still sports a great QLED display and longer battery life — 7:50 vs the previous gen's 5:55. It's also going to sound great, plus its Core i3 configuration provides a ton of speed for Chrome OS.
We weren't as happy with the vertical travel in its keyboard, which is a bit shallow. This creates a slight learning curve you'll adapt to over time. But to get a Chromebook that looks this good — wow that Fiesta Red color option stands out in a sea of silver Chromebooks and PCs. Plus, at $549 (Celeron) or $699 (Core i3), the Galaxy Chromebook 2 is a pretty good value.
Read our full Samsung Galaxy Chromebook 2 review.
Best 13-inch laptop for battery life
The 13-inch MacBook Pro 2022 (from $1,299) was the first M2-powered Apple laptop to hit the market. And based on our tests, the M2 chip delivers, offering performance that destroys competing Windows laptops. The M2 also beats the M1 chip by a significant margin in various benchmarks.
Plus, the new MacBook Pro 2022 delivers some of the best battery life we've seen from a modern laptop, surpassing 18 hours of runtime. If you care about not having to plug in, this is the best 13-inch laptop for you.
However, while this notebook sports a new slice of Apple silicon, the design shows its age. You get the same form factor, same ports, same display and same webcam as older pre-notch MacBook Pros.
Read our full MacBook Pro 13-inch (M2, 2022) review.
The best 13-inch laptop for DIYers
The Framework Laptop is the anti-MacBook, a modular 13-inch laptop that promises to let you customize, repair, and upgrade it to an unprecedented degree, all while remaining affordable and ultraportable. Each laptop Framework ships comes with a screwdriver so you can crack open the case and swap out parts yourself, and everything from the memory to the screen bezel to the mainboard is user-replaceable.
It's not for everyone, but if you're the DIY type and love the idea of being able to tinker with your laptop's innards this is the best laptop for you. The Framework laptop is currently only available for purchase from the Framework website, and the price tag starts at $1,099 — though you can pay as low as $849 for the DIY Edition if you're willing to assemble your laptop yourself and provide your own memory, storage, operating system, and Wi-Fi card.
Battery benchmarks: comparison
Battery life is one of the key things you should look at when deciding which laptop to buy, which is why we run every laptop we review through a series of battery tests to see how long it lasts on a full charge.
These tests do not reflect real-world use patterns since we have to set every laptop to the same settings in order to do fair comparisons. Thus, while the times listed here are accurate and useful as a comparison point, your own experience with a laptop's battery life will likely vary.
This is because when we run our battery test we set the laptop's display to 150 nits of brightness and have it endlessly browse the web via Wi-Fi until it dies. However, when you use your laptop you're likely adjusting brightness on the fly, doing all sorts of different tasks while perhaps listening to music or watching a video at the same time, and generally putting the machine through more of a workout than it gets in our test.
So while I stand by our testing and the battery life results we compare in the chart below, I want to be clear that your own experience will vary!
Swipe to scroll horizontally
| | |
| --- | --- |
| Laptop | Battery life (tested) |
| MacBook Air M2 | 14:06 |
| Dell XPS 13 Plus (2023) | 6:20 |
| Dell XPS 13 OLED | 7:59 |
| Asus Zenbook 13 OLED | 15:00 |
| MacBook Pro 13-inch (M2, 2022) | 18:20 |
| Framework Laptop | 10:17 |
| M1 MacBook Air | 14:41 |
| MacBook Pro 2021 (14-inch) | 14:09 |
| Microsoft Surface Laptop Studio | 10:30 |
| Samsung Galaxy Book3 Ultra | 10:01 |
| Microsoft Surface Laptop 4 | 10:46 |
| Acer Swift 3 | 11:09 |
| Microsoft Surface Pro 8 | 9:06 |
| Dell XPS 15 OLED | 6:58 |
| MacBook Pro 2021 (16-inch) | 15:31 |
| Lenovo Yoga 9i | 11:15 |
| Lenovo ThinkPad X1 Nano | 12:00 |
| Alienware m15 R4 | 4:01 |
| HP Elite Dragonfly | 12:25 |
| Asus Zenbook Duo 14 | 10:37 |
| Lenovo IdeaPad Chromebook Duet | 12:47 |
| Google Pixelbook Go | 11:29 |
| Acer Chromebook Spin 713 | 11:54 |
How to choose the best 13-inch laptop for you
What kind of power do you need? If you only need something basic for surfing the web, consider a Chromebook like the Galaxy Chromebook 2 or a cheap Windows laptop If you want something that feels speedy and can handle more than basic browsing and typing, consider starting specs such as a Core i5 CPU, 8 to 16GB of RAM and a 256GB to 512GB SSD. Most of the laptops on this list are at least this powerful, since they're the best 13-inch laptops we've yet reviewed.
What kind of games do you want to play? Most mainstream laptops feature integrated graphics, which may be able to run simple, well-optimized games like Minecraft and Fortnite but can't handle graphically-demanding games or heavy visual work. For that, you'll want a laptop with a discrete graphics card, and we don't currently have one on this list.
Do you want Chrome, macOS, or Windows? Windows is the most common operating system, while macOS is more ideal for folks already tied into Apple's ecosystem. Chrome OS is a lightweight operating system built to allow for cheap, fast systems, though it has gotten a bit more robust over the years with support for full Android apps.
Whichever system you decide on, you may also want to consider investing in the best mouse and best keyboard for your needs so you can have some more ergonomic options for getting work done on your new laptop.
I also recommend getting yourself an affordable laptop stand, as a $45 stand revolutionized the way I work on the go.
How we test the best 13-inch laptops
Our path to finding the best 13-inch laptops for you is littered with test results. To help us better compare and recommend the best machines for you, we run every laptop we review through a rigorous suite of benchmarks and real-world tests to gauge how it will perform during everyday use.
We measure the average brightness and color quality of each laptop's display using our in-house light meter and colorimeter. For general performance, we run our machines through tests that include Geekbench 5 (CPU performance), as well as various 3DMark tests to measure graphics capabilities. We also run a file transfer test to measure how fast a machine's hard drive is, plus a video editing test to see how good it is at crunching video and a custom battery test that has the machine browse the internet over Wi-Fi until it runs out of juice.
We know many people also love to play games on their laptops, so we test the gaming horsepower of every laptop we review by putting it through the Sid Meier's Civilization VI: Gathering Storm graphical benchmark. This is an ideal test for us to use on 13-inch laptops because almost none of them have discrete graphics cards, which means they have a hard time running more modern or graphically-demanding games. Civilization VI is also one of the few relatively modern games with a graphical benchmark that runs on both Windows and MacOS, meaning we can easily compare the performance of MacBooks against that of Windows machines.