Pride Month is here, queer and full of cheer for the LGBT community and their allies. When you're not attending Pride events in your area, you can celebrate by watching movies centering the queer experience.
LGBT representation on screen has grown significantly in the last decade. In 2022, GLAAD reported that one in five major studio releases featured at least one LGBTQ character. Some of the biggest and most acclaimed movies had key queer roles, including Marvel's Eternals, West Side Story and Best Picture Oscar winner Everything Everywhere All at Once. Still, the industry still has a long way to go before it can truly be considered inclusive.
In the meantime, here are 15 excellent LGBTQ movies to watch during Pride Month, on some of the best streaming services including Max, Hulu, Prime Video and Netflix.
Moonlight (2016)
Beautifully filmed and deeply moving, Moonlight delicately portrays what it means to be a Black gay man in America. Director Barry Jenkins deftly moves through three chapters in the life of Chiron (Alex R. Hibbert, Ashton Sanders and Trevante Rhodes). As a child, he's abused and bullied; as a teen, he's hazed and arrested; and as a man, he grapples with how those experiences shaped him.
The elegant handling of toxic masculinity and sexuality, as well as a knockout performance by Mahershala Ali as Chiron's mentor, propelled Moonlight to win the Best Picture Oscar. As such, it can be considered one of the most important LGBTQ+ films of all time. - Kelly Woo
Watch on Max
Portrait of a Lady on Fire (2019)
This captivating, passionate love story has as many layers as the paintings made by young artist Marianne (Noémie Merlant) of her subject, Héloïse (Adèle Haenel). At the end of the 18th century, Marianne is commissioned by Héloïse's mother to paint a portrait of her daughter, to send to a prospective husband in Milan.
Except Héloïse refuses to be painted, because she doesn't want to get married. Marianne slowly earns Héloïse's trust and the two form a deep bond that turns romantic. But as Marianne gets close to finishing the portrait, what does the future hold for the couple? This is an achingly bittersweet depiction of the difficulty of queer love in a different era, yet it still resonates now. - KW
Watch on Hulu
Paris Is Burning (1991)
Considered quintessential viewing for the LGBTQIA+ community, Paris Is Burning is a feature-length documentary that offers up the history of voguing in particular and the New York City drag scene as a whole, all set against the backdrop of rampant transphobia, homophobia, racism, the AIDS epidemic, and extreme poverty.
So many historic drag features appear in the film, including Venus Xtravaganza and Willi Ninja to Dorian Carey and Pepper LaBeija, just to name a few. It's heartbreaking in places but joyous overall — a true celebration of the origins of the drag-ball scene. - Jennifer Still
Watch on Max
Brokeback Mountain (2005)
When it was released in 2005, Brokeback Mountain drew considerable attention largely because it starred two of the biggest actors of the time, Heath Ledger and Jake Gyllenhaal. However, the critically acclaimed movie's quiet and considered narrative made all the hype surrounding it totally warranted.
Ledger and Gyllenhaal play Ennis and Jack, sheep herders who tend to pastures on Brokeback Mountain together and become lovers after a heavy night of drinking. While their passionate affair is anything but smooth-sailing, the sadness and shame both men experience in the fall-out will break your heart. - JS
Watch on Prime Video
Carol (2015)
Any lesbian worth her salt has likely read and adored Patricia Highsmith, and this big screen adaptation of her novel of the same name is a must-see. Starring Cate Blanchett, Rooney Mara, and Sarah Paulson among other great actors, Carol is a 1950s dream, complete with gorgeous costumes, old time-y cars, and clandestine lesbian love affairs.
Of course, it's not all fun and games — there's plenty of drama and pain involved in the relationship between Therese (Mara) and Carol (Blanchett). That said? Seeing the way they look at one another makes it all worth it. - JS
Watch on Netflix
Fire Island (2022)
Jane Austen's novels have been adapted many times, but never in such a wonderfully queer way as Fire Island. This modern take on Pride and Prejudice stars comedians Joel Kim Booster and Bowen Yang as gay best friends who head to the titular beach locale for a week of boozy partying. Yass, rosé all day!
Noah (Booster) is set on finding a hookup for shy pal Howie (Yang). A steamy romance seems to be in the cards when Howie vibes with kind pediatrician Charlie (James Scully). Unfortunately, Charlie's taciturn friend Will (Conrad Ricamora) is an overprotective buzzkill who dares to insult Noah! What a total Mr. Darcy. Well, you know how this story goes so expect for them to clash, then smash. - KW
Watch on Hulu
Flee (2021)
The first movie ever nominated for Best International Film, Animated Film and Documentary Oscars in the same year, Flee is the remarkable true story of an Afghan man who flees his country seeking safety — not just from war and strife, but from persecution as a homosexual.
Under the alias Amin Nawabi, he chronicles his harrowing journey via boats, shipping containers and night marches as he and his family look for a new home. Though Amin ultimately survived, the trauma still afflicts him enough that he's never shared his experiences. Until he sits down with director Jonas Poher Rasmussen, a friend from their teenage years. - KW
Watch on Hulu
Tangerine (2015)
We don't often get to see stories about transgender men and women in the movies, especially played by trans actors, which is one of the things that makes Tangerine so refreshing (another is that the whole thing was shot on iPhone 5s).
The 2015 comedy-drama follows transgender sex worker Sin-Dee Rella (Kitana Kiki Rodriguez) who's just gotten out of prison to find out that her boyfriend and pimp Chester (James Ransone) has been cheating on her with a cisgender woman. Tangerine is a fast-paced journey through the tumultuous and at times hilarious lives of Sin-Dee and those closest to her. - JS
Watch on Max
The Handmaiden (2016)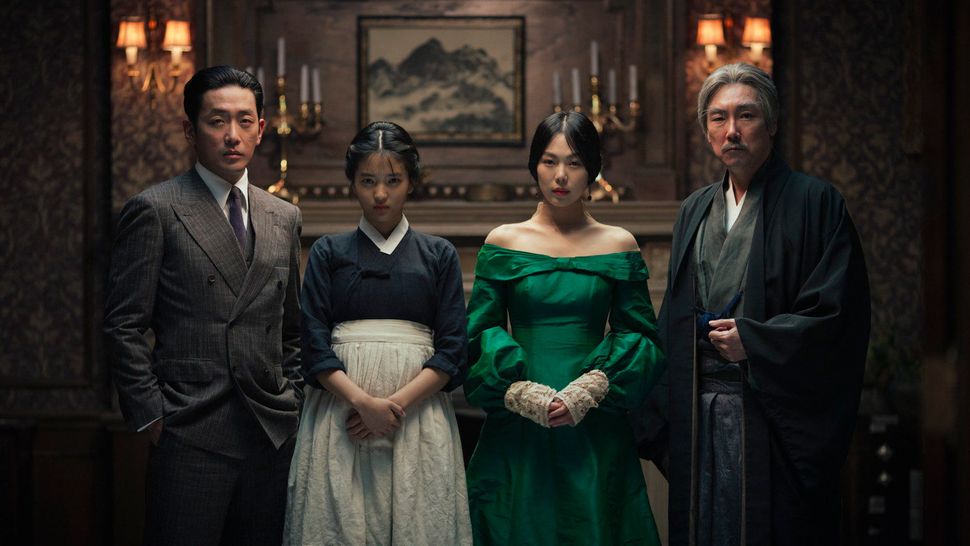 The words "lesbian erotic thriller" aren't usually strung together, but that's the perfect descriptor for The Handmaiden, a 2016 South Korean take on Sarah Waters' 2002 novel Fingersmith. In addition to featuring some pretty stunning cinematography, the story, which is told in three parts, will keep you on the edge of your seat.
The Handmaiden focuses on a con man (Ha Jung-Hoo), who teams up with a female pickpocket (Kim Tae-Ri) in order to try and seduce a rich Japanese woman (Kim Min-hee) and steal her inheritance. Of course, things don't go quite to plan. While seeing how things pan out is incredibly satisfying, the journey to get there is so enjoyable that you'll never want it to end. - JS
Watch on Prime Video
Call Me By Your Name (2017)
The final installment of director Luca Guadagnino's "Desire" trilogy, Call Me By Your Name follows 17-year-old Elio Perlman's (Timothee Chalamet) burgeoning relationship with 24-year-old grad student Oliver (Armie Hammer) over the summer of 1983 in northern Italy.
It's heartbreaking and tender to see the push and pull between the two men and will no doubt remind you of the longing and intensity of first love. While there's sadly no happy ending in store here, the messy, open-ended conclusion and the brutally honest portrayal of desire is devastating in all the best ways. - JS
Watch on Netflix
To Wong Foo, Thanks for Everything! Julie Newmar (1995)
For many people, this road trip comedy was their first introduction to drag queens. In the '90s, queer representation on screen was growing with movies like Philadelphia, The Birdcage and the other drag road adventure, Priscilla: Queen of the Desert. And while the trio of protagonists would be played by transgender actors today, back then it was notable that the roles were taken by "masculine" stars Patrick Swayze, Wesley Snipes and John Leguizamo.
Drag queens Vida, Noxeema and Chi-Chi head from New York City to L.A. to compete in a pageant. But after running into some trouble with a sheriff on the way, they end up stranded in a small town. There, they decide to give the locals something of a makeover. - KW
Watch on Prime Video
Blue Is the Warmest Color (2013)
Based on the 2010 graphic novel of the same name by Jul Maroh, Blue is the Warmest Color is a French language film starring Lea Seydoux and Adele Exarchopoulos as teenagers who embark on an intense love affair after Adele spots blue-haired aspiring painter Emma walking by and is immediately attracted to her.
A beautiful exploration of what it means to come to terms with your own sexuality and how that informs your relationship with your peers and ultimately yourself is what follows. The drama level is high and the sex scenes are hot, but what really clinches this movie as memorable is the vulnerability of the two lead characters. - JS
Watch on AMC Plus or free on Tubi
Love, Simon (2018)
The adaptation of a popular YA novel isn't the first coming-of-age gay love story to hit the screen, but it is one of the first to be made by a major studio and see mainstream success.
Simon (Nick Robinson) is a closeted teen who befriends, then falls for an anonymous gay classmate over email. When a school play castmate threatens to out Simon by releasing those emails, Simon is forced to overcome his fears about telling his family and friends the truth of who he is. And he must gather the courage to seek out his mysterious crush. - KW
Watch free on Tubi
A Fantastic Woman (2017)
Admittedly, A Fantastic Woman (Una Mujer Fantástica) is one of the most frustrating films you're ever likely to see, not least because the tragic story of Marina (Daniela Vega), a transgender woman whose male partner dies of a brain aneuryism early on in the movie. Marina is treated so terribly by his family and friends in the aftermath of his death that you'll want to scream at the screen.
However, Marina's tenacious spirit and dogged refusal to give up are downright inspiring and will give you something to root for the whole time. The ending isn't necessarily a happy one, but it does bring a sense of closure that allows audiences to finally release the breath they've been holding for the past 90 minutes. - JS
Watch on Starz
Ammonite (2020)
Don't be fooled by the relatively miserable (if not still beautiful) setting along the English coastline of Lyme Regis in Dorset — there's more to Ammonite than mere moodiness. Kate Winslet plays British paleontologist Mary Anning in this fictionalized biopic that sees her develop a romantic relationship with geologist Charlotte Murchison (Saoirse Ronan).
While the two were indeed friends in real life, no affair between the two was ever proven. That being said, you'll be grateful for the speculation put forward by writer and director Francis Lee. - JS
Watch on Hulu
More from Tom's Guide