Not sure what to do while we wait for The Witcher season 3 part 2? We've got your back.
Yes, the best Netflix shows range from a now iconic sci-fi series about a group of nerdy adolescents to a steamy historical drama that explores a powerful family of nobles in the 19th century. But Netflix's reputation as one of the best streaming services is also earned because of its treasure trove of worthwhile shows that are a little less exposed.
That's why we're rounding up some of the best Netflix shows that you're (probably) not watching right now. From a darkly comedic road-trip comedy focused on two runaway teenagers with a nihilistic worldview to a quiz show where constants are encouraged to lie if they don't know the answer, this list covers seven excellent Netflix shows that deserve a larger audience.
Here are our picks for the best Netflix shows that you're not watching, but really should be.
Full Swing (2023)
Don't have any interest in golf? Neither did I until I watched Full Swing on Netflix. Much like the streamer's hugely successful Drive to Survive series, this eight-part sports documentary places the focus on the human stories that take place behind the scenes during the most high-pressure golfing tournaments in the world. This makes the show a compelling watch even if you don't know the difference between scoring a Birde, Eagle or Albatross.
Centered on the grueling PGA Tour season, Full Swing features some of the biggest names in the sport including Rory McIlroy, Scottie Scheffler, Jordan Spieth, Justin Thomas and Brooks Koepka. Plus, the show also tackles the controversial creation of the Saudi Arabian-backed rival LIV Golf tour, which adds an extra element of melodrama to the mix. Don't be surprised if after watching you feel the urge to hit up your locate driving range, or at the very least nearest mini golf course.
Genre: Sports documentary
Seasons: 1 (8 episodes)
Rotten Tomatoes score: 100%
Watch now on Netflix
Love (2016 - 2019)
If Love was to debut on Netflix now, I'm fairly confident that it would have been axed after a single season. Fortunately, it premiered back in 2016 when the streamer was a little less trigger-happy with its cancellations. While it was never a mainstay on the most-watched list, it legged it out across three seasons and 34 total episodes. An appropriate length for this charming rom-com with a splash of drama.
Focusing on the budding romance between an unlikely pair, Mickey (Gillian Jacobs) and Gus (Paul Rust) are easy to root for as individuals and as a couple, even if both of them are highly dysfunctional in just about every conceivable way. Yes, this is very much a boy-meets-girl TV show, and it doesn't really evolve past its simple formula, but thanks to strong writing, an excellent supporting cast (Claudia O'Doherty as Mickey's roommate Bertie is a standout) and well-developed character arcs, Love is a show that is very easy to…love.
Genre: Comedy/drama
Seasons: 3 (34 episodes)
Rotten Tomatoes score: 94%
Watch now on Netflix
The End of the F**king World (2017 - 2019)
Another boy-meets-girl show, but with a razor-sharp edge, The End of the F**king World opens with protagonist James (Alex Lawther) declaring that he's pretty sure he's a psychopath and decides he wants to try out killing another human. And after meeting the rebellious Alyssa (Jessica Barden), he thinks he's found his victim.
What follows is a bleak but humourous journey as James and Alyssa run away from home and embark on a road trip that very quickly goes south. Despite the show's brash name and the cynical outlook of its two leads, there's actually a spark of hope to this show that is surprisingly touching. The second (and confirmed final) season is of a similarly high quality and introduces a new lead character, Bonnie (Naomi Ackie), who adds an extra dimension to the show. As the name suggests this isn't one for the whole family, but if you like your comedies a little on the dark side, The End of the F**king World is sure to delight.
Genre: Comedy/drama
Seasons: 2 (16 episodes)
Rotten Tomatoes score: 94%
Watch now on Netflix
Copenhagen Cowboy (2023)
Created by Nicolas Winding Refn the polarising director of Drive and Only God Forgives, Copenhagen Cowboy is a Danish-language noir-thriller with all of Refn's trademarks. Gorgeous neon-drenched visuals? Check. Moments of intense violence? Check. A surreal narrative that will likely confuse some viewers? Check. For better or worse, depending on your perspective, this is pure Refn without compromise.
Released back in January, the six-part show follows a young psychic named Miu (Angela Bundalovic) who is on a quest for revenge after a lifetime of slavery. While navigating the Copenhagen criminal underworld she meets an assortment of characters, some friendly, some decidedly less so. But most importantly she meets Rakel (Lola Corfixen) a threatening figure who appears to have similar powers to Miu — and the two are destined to become sworn enemies.
Genre: Noir-thriller
Seasons: 1 (6 episodes)
Rotten Tomatoes score: 68%
Watch now on Netflix
Everything Sucks! (2018)
One of the most tragic victims of Netflix's overzealous approach to cancelations, Everything Sucks! lasted for only a single 10-episode season, but it still managed to leave a strong impression on anybody who watched back in 2018. That's why even more than five years later, you'll still see it appear on lists of Netflix shows canceled too soon.
Set in the 1990s, in the real-life town of Boring, Oregon, Everybody Sucks! follows a group of outcasts as they attempt to navigate the trials and tribulations of growing up in a world without smartphones and social media. It's a simple premise, but the strength of the core cast carries the show. The performances from Peyton Kennedy, Jahi Di'Allo Winston and Sydney Sweeney are particularly strong.
Everything Sucks! definitely covers a lot of familiar ground, but it's so well constructed that watching these misfits bands together and find comradery in each other never fails to illicit a smile. Plus, the handling of one young character's questioning of their sexuality is impeccably well done and deserves real applause.
Genre: Comedy/drama
Seasons: 1 (10 episodes)
Rotten Tomatoes score: 72%
Watch now on Netflix
Bullsh*t the Game Show (2022)
One of my favorite Netflix shows of last year was Bullsh*t the Gameshow. This came as a big surprise to me as I don't really have a fondness for the format. But this wonderfully watchable trivia show hooked me from the start thanks to its unique premise. In this gameshow, when you don't know the right answer, the game isn't over so long as you can bullsh*t your way out.
Contestants answer multiple-choice trivia questions, with each right answer worth an increasingly large amount of money. So far so normal. Things get interesting when a contestant doesn't know the answers. Instead of just guessing and hoping they get lucky, contestants must instead convince a panel of three judges they actually know what they're talking about. If they're able to hoodwink one of the panel members, they will progress to the next question even if the answer they gave was completely wrong.
It's a great setup for a gameshow, and the show is also very wholesome with host Howie Mandel and the competing contestants all sharing plenty of good-natured banter. It's somewhat ironic that a show with a curse word in its name is among the most easy-to-watch on all of Netflix.
Genre: Reality TV
Seasons: 1 (10 episodes)
Rotten Tomatoes score: N/A
Watch now on Netflix
Derry Girls (2018 - 2022)
Inspired by creator Lisa McGee's own experiences growing up in Derry, Northern Ireland, Derry Girls is a sitcom full of witty writing and charming characters. The show follows a group of five teenagers as they attend a Catholic secondary school and get up to all sorts of hijinks in their local community in the 1990s. All against the backdrop of the Troubles that plagued Northern Ireland during this time period.
The show concluded in 2022, after just three short seasons comprised of only 19 total episodes that are each less than 25 minutes in length. But this quality-over-quantity approach is admirable in a landscape where popular TV shows can be stretched well beyond breaking point. Derry Girls is a pretty special series that is surprisingly relatable even if you didn't happen to grow up in 90s Northern Ireland.
Genre: Comedy
Seasons: 3 (19 episodes)
Rotten Tomatoes score: 99%
Watch now on Netflix
Borgen
The conversations in this Danish political drama are as gripping as any action sequences. Birgitte Nyborg Christensen (Sidse Babett Knudsen) is a minor centrist politician who, against all odds, becomes the first female prime minister of Denmark. Her unexpected ascent puts Birgitte in the thick of managing the conflicting interests of various factions, the pressures of the media and the personal sacrifices required of any high-level leader.
At first, Birgitte's husband, Phillip (Mikael Birkkjær), puts his own career aside for her sake, but cracks begin to form in their marriage and within their family. As good as she is at her job, Birgitte discovers that maybe a powerful woman truly can't have it all. - Kelly Woo
Genre: Drama
Seasons: 3 (20 episodes)
Rotten Tomatoes score: 100%
Watch now on Netflix
On the Verge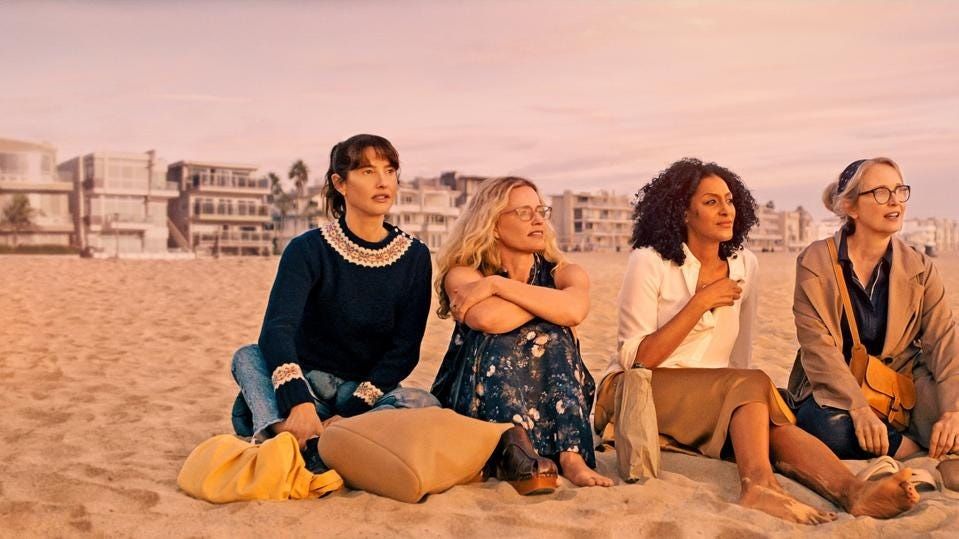 Think Girls, but they're middle-aged and living in Los Angeles. On the Verge, created by and starring Julie Delpy, follows four fortysomething friends dealing with various crises in their lives. Sadly, the show never got much critical or audience traction and was canceled after one season.
Despite that, I enjoyed its balance between playful humor and heavy "what does the future hold?" melodrama. Delpy's Justine is a famous chef whose marriage is seemingly on the rocks. Yasmin (Sarah Jones) is attempting to rejoin the workforce after a decade away, while Anne (Elisabeth Shue) coasts on her trust fund. Then there's Ell (Alexia Landeau), who has three kids by different dads and desperate for funds. - KW
Genre: Comedy/drama
Seasons: 1 (12 episodes)
Rotten Tomatoes score: 60%
Watch now on Netflix
More from Tom's Guide