CES 2023 may have wrapped up earlier this month, but the impact on virtual reality from some of the products on display should be felt for some time. We saw new devices from across the mixed-reality spectrum — PlayStation brought a new VR gaming experience, Lumus surprised us with augmented-reality glasses and HTC unveiled a mixed-reality headset designed to compete with the Meta Quest Pro.
Luckily, we were able to go hands-on with a few of these VR and AR devices, and there are a couple of others that still managed to catch our eye. Here are the five biggest VR and AR announcements from CES 2023 that have us excited about where VR is headed this year and beyond.
CES 2023: PS VR2 hands-on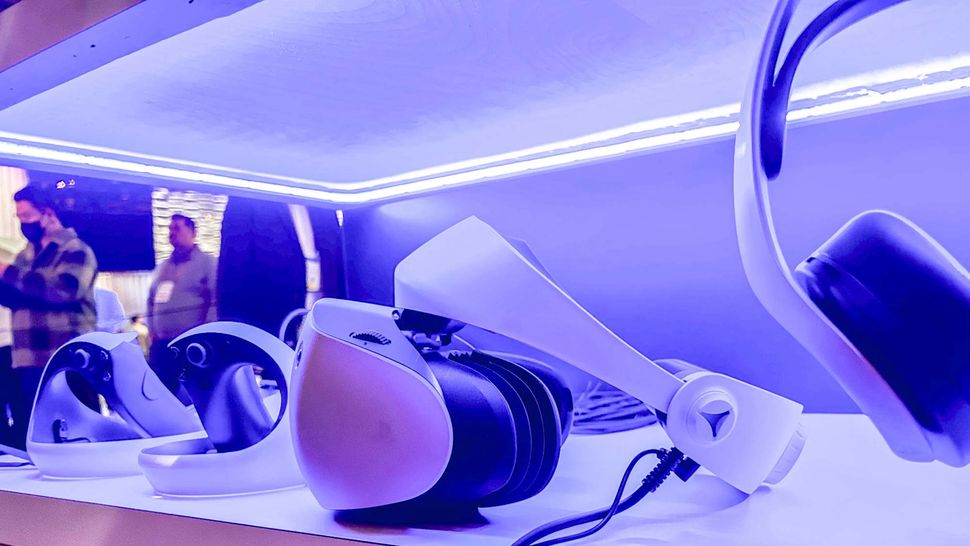 We managed to go hands-on with the yet-to-be-released PlayStation VR2 and we came away decently impressed — at least with the performance of the VR gaming headset.
The VR2 eliminates the need for the PlayStation camera that the original PlayStation VR required and upgrades the old PlayStation 3 Move controllers to new PS VR2 controllers that are more in line with modern VR controllers. Add in the increased processing power, higher resolution and wider field of view, and there is a lot to like about this version.
Unfortunately, there are some glaring negatives. To harness that processing power, the PS VR2 needs to be tethered to the PlayStation 5 and the cable doesn't detach. Plus, you need to own a PS5 to use the headset — a requirement which will set you back hundreds of dollars on top of the $549 you need to spend on the PS VR2 headset itself.
Ultimately though, the performance improvements compared to the previous generation and competitors like the Meta Quest 2 combined with the support of the PlayStation ecosystem give this gaming headset a real chance to make a splash. If you can get past the expensive barrier for entry, the PS VR2 could be a great way to get into VR.
CES 2023: HTC's new Vive XR Elite
PlayStation wasn't the only new VR headset that came to play at CES 2023. HTC announced a new Vive headset in the lead-up to CES 2023 and then unveiled it during the tradeshow. As a mixed reality headset allowing for augmented reality (AR) passthrough, the HTC Vive XR Elite seemed to be taking aim at the new Meta Quest Pro that was released this past fall.
Once we were able to go hands-on with it though, the latest Vive seems like it may be closer to a Meta Quest 2 competitor, which makes its $1,099 price tag a little concerning. The AR passthrough has a delay due to its high resolution which really hurts its AR productivity potential for working with it at a desk or walking around a room. The hand tracking also glitches on occasion, impacting the experience when it does.
But there are plenty of positives about the HTC Vive XR Elite. The 1920 × 1920 pixels per eye resolution is excellent, it's light and comfortable to wear for over an hour at a time. And while the content so far isn't impressive access to Steam VR through a PC connection allows you to have a portable VR gaming experience that graphically should look better than the Meta Quest 2 (we have yet to test them head-to-head). The real killer feature for some may be the adjustable IPD sliders that allow those with vision issues to use the headset without glasses — currently my personal biggest complaint about the Meta Quest 2.
CES 2023: Lumus AR glasses
Despite shifts toward mixed reality and Apple Tim Cook's pronouncement that AR is Apple's end goal, the AR market has felt relatively quiet compared to VR and mixed reality.
However, CES 2023 did have a standout AR device — Lumus Z-Lens. This set of Google Glasses-like AR glasses are a little bulk but could probably be mistaken for normal glasses if they weren't a relatively bold purple. Unfortunately, though, these are just a prototype because Lumus isn't actually selling the glasses — it's selling the technology behind them.
This technology, called wavelength guide (or waveguide) technology pushes out and manipulates projections from the top corners of the glasses frame. Then the lenses move the projections so they are centered in your vision and you can see the full projection even with just one eye.
While Lumus is not the only company to use this wavelength guide technology, it promises that its waveguide lenses are brighter — five to 10 times brighter — than the competition. Our own Kate Kozuch agreed: she said she's never seen AR in such clarity and that she felt present enough using the glasses to still engage with her surroundings as needed.
CES 2023: TCL RayNeo X2 AR glasses
Another entrant into the AR glasses market is TCL, which has quietly been in the market for some time. Back in 2021, we covered the Nxtwear G smart glasses, which allowed the user to plug into a compatible device and view contents in their glasses as AR projections.
A cable running from your head isn't exactly subtle. This year, however, TCL unveiled the RayNeo X2 AR glasses and thankfully no cable is required to use them. The AR glasses feature full-color microLED waveguides with 1.000 nits peak brightness — notably four times less bright than the 4,000 nits Lumus promises with its waveguide technology.
Still, the RayNeo X2 promises to look like conventional glasses (it largely does) and serve as a powerful smart assistant with navigation, translation, and music playback capabilities. It also promises to allow for creating "next-level content" with an integrated hands-free camera that can take photos and videos.
The promise of AR glasses is certainly enticing, and if it weren't for "Glassholes" maybe we would already be there. But between the Lumus, TCL and the rumored Apple Glasses (which aren't expected until 2026), that future may finally be back on track.
CES 2023: Holoride's Retrofit kit
Finally, we get some VR car news from CES 2023, which admittedly is a niche within a niche. Still, Holoride's Retrofit kit was definitely one of the most interesting pieces of VR tech announced at CES this year. This kit comes with a Retrofit VR sensor that senses a car's motion and position to offer motion-synced VR in your vehicle, a subscription to Holoride's VR entertainment service, a 8BitDo Pro 2 controller and an HTC VIVE Flow VR headset. Oh, and a safety strap because, let's not forget, you're playing VR games in a moving vehicle.
This isn't the first time Holoride has put VR technology in a car. This past summer Audi cars began support for Holoride to allow you to play VR games in the back of an Audi. This was through the Audi MIB 3 infotainment system, so it operates slightly differently than the Holoride Retrofit — but not much different.
While we struggle to advocate for playing VR games in the back of a moving vehicle for a multitude of reasons (users do so at their own risk), and we certainly don't advocate doing so if you are the driver, it is admittedly cool to see this truly unique use case for VR gaming.