It's a battle of the best handheld gaming consoles as we pit the Steam Deck, Asus ROG Ally and AyaNeo 2S against one another.
Steam Deck ushered in a new era for powerful gaming handhelds, with a slew of competitors rushing in to challenge Valve's device. Of the many handhelds capable of playing the best PC games, the Asus ROG Ally and AyaNeo 2S rank among the elite — as evidenced by the high scores we awarded the systems.
Given how we've tested all three devices, we thought it wise to directly compare them to determine the overall best. Between the Steam Deck, Asus ROG Ally and AyaNeo 2S, which handheld wins? Read on to find out.
Steam Deck vs Asus ROG Ally vs AyaNeo 2S: Specs
Swipe to scroll horizontally
| Header Cell - Column 0 | Asus ROG Ally | Steam Deck | AyaNeo 2S |
| --- | --- | --- | --- |
| Price | $699 ($600 model coming Q3 2023) | $399 to start, $649 for 512GB model | $1,139 (starting), $1,299 (reviewed), $1,499, $1,849 |
| Chipset | AMD Ryzen Z1 Extreme | Custom AMD Zen 2 APU | AMD Ryzen 7 7840U |
| Storage | 512GB | 64 - 512GB | 512GB (starting), 2TB (reviewed), 4TB |
| Memory | 16GB | 16GB | 16GB, 32GB (reviewed), 64GB, DDR5 |
| OS | Windows 11 | SteamOS | Windows 11 |
| Display | 7-inch 1080p LCD touchscreen @ 120Hz | 7-inch 720p LCD touchscreen @ 60Hz | 7-inch LCD touchscreen (1200p @ 60Hz) |
| Ports | 1x USB-C port, 1x PCIe port, 1x headphone jack | 1 USB-C, 1x 3.5mm audio jack, 1 microSD card reader | 2x USB-C Type 4, 1x USB-C 3.2, 1x 3.5 mm audio jack, 1x microSD card reader |
| Size | 11.0 x 4.4 x 0.5 inches | 11.73 x 4.6 x 1.93 inches | 10.4 x 4.1 x 0.8 inches |
| Weight | 1.3 pounds | 1.5 pounds | 1.4 pounds |
| Battery life | 1 hour 43 mins (tested) | 1 hour 40 minutes (tested) | 1 hour 52 minutes |
Steam Deck vs Asus ROG Ally vs AyaNeo 2S: Price
Both the Asus ROG Ally and AyaNeo 2S cost more than Steam Deck, but the AyaNeo 2S could cost more than both combined, depending on the configuration.
Asus' handheld is available now for $699 at Best Buy. This configuration packs a 7-inch 120Hz 1080p LCD display, an AMD Ryzen Z1 Extreme APU, 16GB of RAM and 512GB of SSD storage. A $599 configuration with an AMD Ryzen Z1 chip is also listed on Best Buy and is expected sometime in Q3 2023.
The Steam Deck has three models, though the only difference between them is their respective storage sizes and displays. Storage options include 64GB for $399, 256GB for $529 and 512GB for $649. The latter model also has an anti-glare etched-glass display. All configurations come with a black carrying case that has a Steam Deck logo on top. The $649 unit's carrying case has gray lining on the inside and also comes with a cleaning cloth.
I won't mince words here — the AyaNeo 2S is expensive. The Windows 11 handheld starts at $1,139 for 16GB of RAM and 512GB storage, and can cost up to $1,849 for the top-tier model with 64GB of RAM and 4TB of storage. The kitted-out model will certainly make your wallet whimper, but even the entry-level is almost three times the cost of the baseline Steam Deck.
If you get in early and order as part of AyaNeo's Indiegogo campaign ahead of the full retail release, you can grab the handheld starting at $949. That's still more expensive than the ROG Ally and Steam Deck, but somewhat more reasonable. As with all early-bird offers, these are in 'while-stocks-last' limited numbers.
In the end, the Steam Deck is the more affordable option even if you get the high-end model.
Steam Deck vs Asus ROG Ally vs AyaNeo 2S: Design
All three handhelds share a similar design but there are important differences between them.
The ROG Ally features an all-white design that's a stark contrast to the all-black Steam Deck. The AyaNeo 2S, comes in your choice of black or white. The Windows-based handhelds also have RGB lighting underneath their respective analog sticks — a feature the Steam Deck lacks. However, neither machine has an equivalent to the touchpads beneath the Steam Deck's sticks.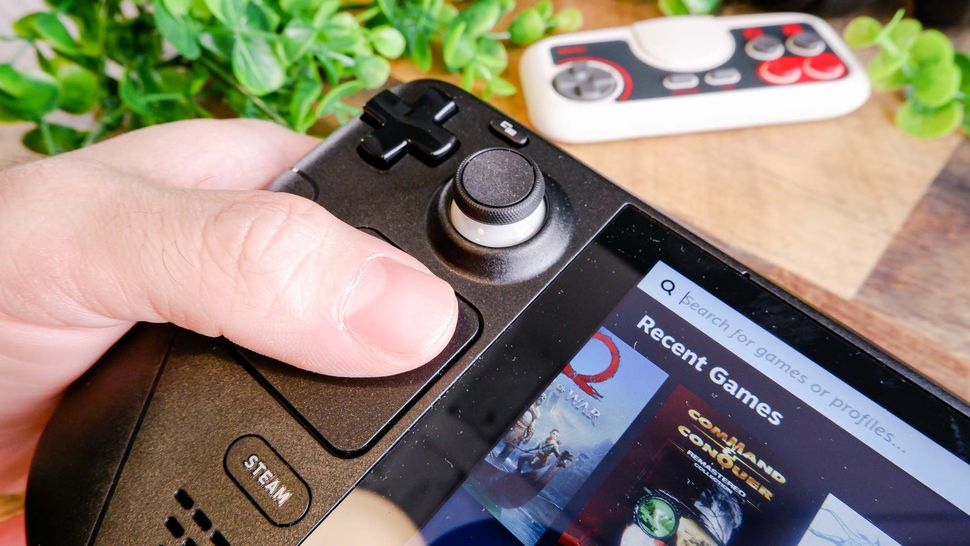 All three systems have four face buttons, two analog sticks, a d-pad and four small buttons used for navigating through their respective User Interfaces. The Ally has two back buttons whereas the Steam Deck has four. The AyaNeo 2S has no back buttons whatsoever but includes two small hotkey buttons on its top edge (set to bring up the touchscreen keyboard and task manager by default).
Asus' handheld measures 11.0 x 4.4 x 0.5 inches and weighs 1.3 pounds. The Steam Deck measures 11.73 x 4.60 x 1.93 inches and weighs 1.5 pounds, while the AyaNeo 2S measures 10.4 x 4.1 x 0.8 inches and weighs 1.4 pounds. The Ally is the smallest and lightest of the three, while the Steam Deck is the biggest and heaviest. That said, each handheld is comfortable to hold for long stretches of time.
You'll find all of the ROG Ally's ports along its top. This includes a USB-C port, a PCIe port, a mini SD card reader and a headphone jack. The Steam Deck has a USB-C port and a headphone jack up top, with an SD card reader on its bottom. Both handhelds have their respective volume and power buttons on the top. Their air vents are also situated up top.
The AyaNeo 2S has three USB-C ports (two along the top, one on the bottom), along with a microSD card slot beside a headphone jack on the bottom. A big air intake grill sits on the back to help keep things cool, while a large exhaust vent pumps hot air out the top edge.
It's hard to pick a winner in this category since style and comfort are so subjective. Plus there are trade-offs. The ROG Ally has a striking appearance thanks to its white chassis and RGB lighting, but it also feels somewhat plasticky. On the flip side, the Steam Deck looks big and bulky but feels sturdier. The AyaNeo 2S combines the best of both worlds with its black or white casing and sturdy feel. Of the three, I prefer the AyaNeo 2S' overall design, but you might have a different opinion.
Steam Deck vs Asus ROG Ally vs AyaNeo 2S: Display
The Steam Deck is still the best handheld I've ever owned but I'll be the first to admit that its display can't match the competition. I'm not saying games look bad on the Deck's display, but when it comes to visual fidelity, the ROG Ally and AyaNeo 2S deliver more eye-pleasing results.
All three handhelds have 7-inch LCD displays. The AyaNeo 2S' display tops out at 60Hz like Steam Deck but it has a higher resolution of 1,920 x 1,200 compared to 1,280 x 800. The ROG Ally doesn't have a 16:10 aspect ratio like its rivals, but its 1,920 x 1,080p display can top out at 120Hz.
Swipe to scroll horizontally
| Header Cell - Column 0 | Asus ROG Ally | Steam Deck | AyaNeo 2S |
| --- | --- | --- | --- |
| Nits (brightness) | 465 | 169.7 | 497 |
| sRGB | 108.6% | 68.5% | 140% |
| DCI-P3 | 76.9% | 48% | 100% |
| Delta-E | 0.17 | 0.25 | 0.1 |
How did the handhelds fare in our lab tests? Pointing our Klein-10A colorimeter at the ROG Ally, we found that its display achieved an average of 465 nits of brightness. That's slightly dimmer than the AyaNeo 2S' 497 nits of brightness but much brighter than the comparatively dim 169.7 nits the Steam Deck achieved in the same test.
In terms of color reproduction and accuracy, the ROG Ally delivered 108.6% of the sRGB color gamut and 76.9% of the DCI-P3 color gamut (closer to 100% is best) with a Delta-E score of 0.17 (closer to 0 is best). The AyaNeo 2S delivered slightly more saturated colors (140% / 100%) and similar color accuracy (0.1 Delta-E).
In comparison, the Steam Deck's display achieved 68.5% of the sRGB color gamut and registered 48% of the DCI-P3 color gamut, with a Delta-E of 0.25. Our testing confirmed what my eyes saw — that the Steam Deck's display isn't all that great when stacked up against its rivals.
Steam Deck vs Asus ROG Ally vs AyaNeo 2S: Performance
The three handhelds have powerful AMD APUs under their respective hoods. Because of that, they deliver overall great performance for what are effectively handheld PCs.
The ROG Ally's Ryzen Z1 Extreme chip is a custom Zen 4 RDNA3 4nm APU, as is the AyaNeo 2S' AMD Ryzen 7 7840U CPU. Each has eight Zen 4 cores and 12 RDNA 3 compute units. The Steam Deck also uses an AMD APU, but its CPU is based on Zen 2 architecture while the GPU uses RDNA 2. This chip has four Zen 2 cores and eight RDNA 2 compute units.
On paper, both the AyaNeo 2S and ROG Ally are twice as powerful as the Steam Deck. However, based on our testing, we found that the Steam Deck held its own against its more powerful rivals.
During my qualitative testing, I found the Ally performed better at 720p resolution at medium settings with the refresh rate locked to 60Hz. Doom Eternal was the big winner, with frame rates remaining in the high 50s and low 70s, depending on how much action was happening on screen. Frame rates tumbled at 1080p, where they ranged between 35 to 45 fps. That's close to what I saw on Steam Deck, which tops out at 720p. Switching between 120Hz and 60Hz didn't affect performance, though 120Hz made the game feel smoother to play.
Marvel's Spider-Man and Cyberpunk 2077 are both open-world games so it wasn't surprising that neither achieved similar performance to Doom Eternal. Spider-Man fared best out of the two, with framerates gliding between 35 to 55 fps at 720p and the high 20s and low 30s at 1080p. Cyberpunk 2077 mostly stayed within the 35 to 45 fps range at 720p but barely managed to hit 30 fps at 1080p. The frame rates I experienced at 1080p on the Ally are comparable to the Steam Deck.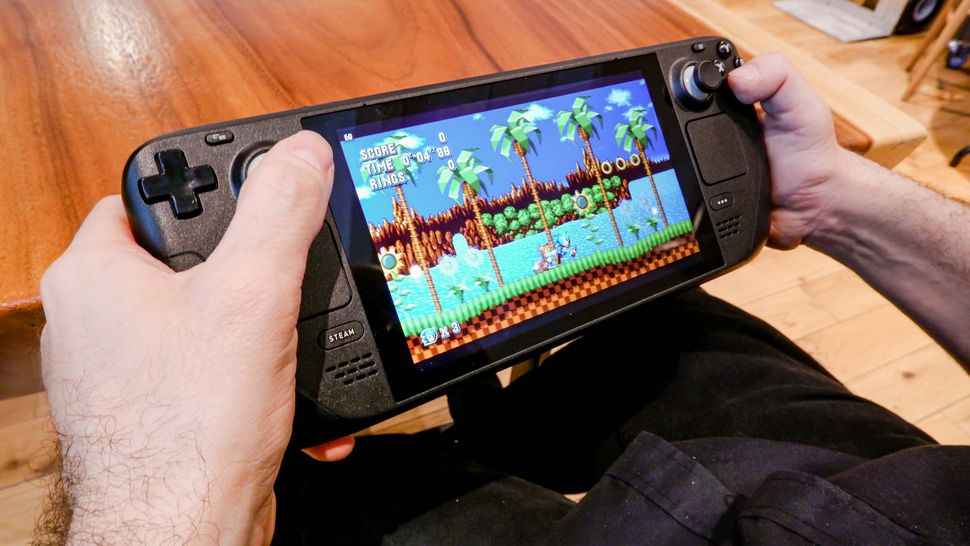 Despite its power, the ROG Ally sometimes struggles to achieve smooth, playable framerates at its native 1080p resolution. Of course, optimization plays a major role in a game's performance. Steam Deck-verified games typically run great on the system since they've been optimized for SteamOS and the Deck's hardware. While the Ally can run Windows-compatible games, there's no comparable optimization initiative in place at the moment. Perhaps if developers optimize their games for this device it will deliver better performance.
As said in our AyaNeo 2S review, we got the 2D roguelike Hades to run at a smooth 60fps at 1080p. The open-world Grand Theft Auto V ran at 55 fps at 1,200p at normal settings, which is also quite good. At 1,200p resolution and medium settings, games like Horizon Zero Dawn, Cyberpunk 2077 and Elden Ring got close to 60 fps, which is phenomenal.
The AyaNeo 2S' TDP (thermal design power, which effectively relates to how hard you can drive the CPU before cooling and battery limitations come into play) can scale from as low as 3W to a high of 33W, and can be set at any point on that scale using a control in the user interface. To get the frames per second mentioned above, we generally set the TPD at 22W. The Steam Deck tops out at 15W while the ROG Ally can get as high as 35W.
I mention the above so that you're not thrown off by our lab results, where we run benchmarks on systems as they would be out of the box.
Swipe to scroll horizontally
Frame rate test results

| Header Cell - Column 0 | Asus ROG Ally (1080p) | Steam Deck (720p) | AyaNeo 2S (1200p) |
| --- | --- | --- | --- |
| Borderlands 3 | 23 | N/A | 18 |
| Cyberpunk 2077 | 24 | 29 | 28 |
| Dirt 5 | 45 | 40 | 36 |
| Grand Theft Auto V | 28 | 53 | 41 |
| Shadow of the Tomb Raider | 26 | 42 | 22 |
When running their respective in-game benchmarks, Cyberpunk 2077 and Dirt 5 ran at 24 and 45 fps (respectively) at 1080p on the ROG Ally. On the AyaNeo 2S, the games ran at 28 and 36 fps at 1,200p. Those values aren't far off from the Steam Deck's. There's an even wider gulf between Grand Theft Auto V and Shadow of the Tomb Raider, as you can see in the table above.
Despite their beefier hardware, the Ally and AyaNeo 2S don't overshadow the Steam Deck in terms of framerates. But it's important to keep in mind that we're comparing games running at 1,080p and 1,200p against 720p on the Steam Deck.
Steam Deck vs Asus ROG Ally vs AyaNeo 2S: Battery life and heat
In our battery test, which involves continuous web surfing at 150 nits of screen brightness, the ROG Ally lasted for 5 hours and 51 minutes. When we ran the more graphically demanding PCMark 10 benchmark to simulate how long the Ally would last while gaming, the time dropped to 1 hour and 43 minutes.
The AyaNeo 2S was only off by a few minutes in each test, making it comparable to the Ally. The Steam Deck also had similar battery life while gaming, but less so when surfing the web. In this case, I'll call the three systems' battery lives even in terms of gaming.
Swipe to scroll horizontally
Battery test

| Header Cell - Column 0 | Web surfing test | Gaming test |
| --- | --- | --- |
| Asus ROG Ally | 5:51 | 1:43 |
| Steam Deck | 3:50 | 1:40 |
| AyaNeo 2S | 5:46 | 1:52 |
Each handheld naturally runs hot when gaming. When running Metro Exodus: Enhanced Edition, the AyaNeo 2S topped out at a blistering 121 degrees Fahrenheit in the upper right corner of the screen, near the top air vents. The ROG Ally peaked at 115 degrees near the charging port up top, while the Steam Deck hit 109 degrees on its underside near the vents.
Though the handhelds can run hot, you'll never feel more than mild warmth when playing since the controls are far from any of the hottest portions.
Steam Deck vs Asus ROG Ally vs AyaNeo 2S: Software
The Asus ROG Ally and AyaNeo 2S can run any Windows-compatible game or application right out of the box. This is both their strength and weakness.
The Steam Deck runs on SteamOS, which has a dedicated controller-friendly UI that's easy to navigate. Armoury Crate and AyaSpace are the Ally and AyaNeo 2S' respective equivalents, but they're not as fluid or as intuitive to use. AyaSpace is arguably the worst since it often reverts to its Chinese-language setting after every update. Where SteamOS is seamlessly integrated into the Steam Deck experience, Armoury Crate and AyaSpace can sometimes feel tacked on with tape and bubble gum.
Steam Deck runs on SteamOS 3.0. The OS supports Proton, which is a compatibility layer that lets Microsoft Windows-developed games run on the Linux-based SteamOS. The Steam Deck can run a slew of games, although not all titles are compatible or optimized for the handheld.
Instead of a UI similar to Steam's Big Picture mode, Steam Deck instead uses a modified version of the Steam desktop client that works well with controller inputs. If you're familiar with Steam's interface or the UI of any modern-day console like the PS5 and Xbox Series X, then you'll have little trouble navigating through its menus and sub-menus.
This is another area where the Steam Deck has an advantage. SteamOS is specifically designed to work harmoniously with the handheld. The same isn't true about Armoury Crate and AyaSpace.
Steam Deck vs Asus ROG Ally vs AyaNeo 2S: Game library
As Windows 11 devices, you can install games from a wide range of launchers on the ROG Ally and AyaNeo 2S. This includes (but is not limited to) Steam, GOG, Ubisoft Connect, Xbox Game Pass, EA Origin and many others. This gives you access to thousands of the best PC games — all of which get sorted in the aforementioned Armoury Crate and AyaSpace apps.
Basically, these handhelds' game libraries consist of the PC titles you already own — which is also one of Steam Deck's selling points.
As for Valve's handheld, its library consists of titles available on Steam. Right now, there are more than 2,000 "Verified" games for Steam Deck. This includes games like Elden Ring and Spider-Man Remastered.
Four compatibility categories exist for Steam Deck. "Verified" titles, such as Elden Ring, run correctly right out of the box. "Playable" games, such as Team Fortress 2, may require you to select a community controller configuration or may require you to use touch controls to navigate a launcher. "Unsupported" titles, such as the VR-based Half-Life Alyx are currently not functional on Steam Deck. Lastly, games such as Day of Defeat are designated as "Unknown."
This category is tricky. Though the Windows 11-driven ROG Ally and AyaNeo 2S ostensibly have a wider range of titles they can run, there aren't yet any specific titles optimized for the systems. And while the Steam Deck's library primarily consists of Steam titles (at least out of the box), you're guaranteed a slew of games that are optimized for the handheld.
Steam Deck vs Asus ROG Ally vs AyaNeo 2S: Which handheld wins?
Both the Asus ROG Ally and AyaNeo 2S are excellent Windows 11 handhelds featuring gorgeous displays, solid performance and access to virtually any Windows-based game out there. But as great as these gaming handhelds are, they can't top the humble Steam Deck.
Even if Valve's machine falls short in terms of performance and display quality, its dedicated OS that works seamlessly with the handheld's controls is something its competitors haven't quite matched. There's also the fact that Steam Deck has hundreds of games optimized to run on it, unlike the ROG Ally and AyaNeo 2S. And perhaps most importantly, the Steam Deck costs less than its Windows 11-based rivals.
Right now, the Steam Deck remains the best handheld for playing your PC games on the go.
More from Tom's Guide