Although the Ear (2) earbuds look identical to the transparent original, this next-gen model moves things along. The re-engineered earbuds introduce both personalized sound and ANC, and boasts hi-res audio LHDC support, too. There's no denying the Ear (2) packs in plenty of flagship features for a remarkably attractive price, and Nothing has made sure they cost the same as the model they replace.
For
Attractive drop-stem design
Good sound balance
Effective personalized sound profile
Strong Transparency mode
Against
High frequencies sound brash
Personalized sound profile needs refinement
Mediocre ANC performance
Apple's next-gen AirPods Pro 2 bring significant upgrades to the popular original to take performance to the next level. Externally, they look pretty similar to the first generation, but battery life has been increased to offer 6 hours on a single charge from the earbuds and a further 30 hours from the wireless charging case. Not only are the earbuds IPX4-rated, but now too is the case itself.
For
World-class noise cancellation
Volume controls right on the stem
Dolby Atmos spatial audio
Improved battery life
Against
Audio performance needs finessing
Lackluster call quality
Lanyard costs extra
With the AirPods Pro 2 launching in 2022, it was only a matter of time before Nothing launched its next-gen ANC model with a feature set that rivals the most popular and best wireless earbuds in the world.
We pitched the original AirPods Pro against the Nothing Ear (1) when they launched in 2021, and now it's time to update the conversation.
With a similar drop stem design that looks a lot the AirPods Pro and a similar generational shift to personalized sound and active noise-cancelation features, the Nothing Ear (2) significantly undercut the main competition by $100.
This comparison breaks down both models to help you choose the right noise-canceling model for your budget. Read on to discover the best wireless ANC earbuds for you in our Nothing Ear (2) vs. AirPods Pro 2 analysis.
Nothing Ear (2) vs. Apple AirPods Pro 2: Specs compared
Swipe to scroll horizontally
| Header Cell - Column 0 | Nothing Ear (2) | Apple AirPods Pro 2 |
| --- | --- | --- |
| Price | $149 / £129 / AU$219 | $249 / £249 / AU$399 |
| Wireless charging case | Yes | Yes |
| Chip | Not stated | H2 |
| Battery life (rated) | 4 hours (ANC on), 22.5 hours (ANC on with charging case); 6.3 hours (ANC off), 36 hours (ANC off with charging case) | 5.5 hours (Spatial Audio and Head Tracking on) 6 hours (ANC on); 7 hours (ANC off); 30 hours (charging case with ANC on); 34 hours (charging case with ANC off) |
| Water resistance | IP54 (buds), IP55 (case) | IPX4 (buds and charging case) |
| Size | 1.1 x 0.8 x 0.9 inches (per bud); 2.3 x 2.3 x 0.9 inches (charging case) | 1.22 x 0.86 x 0.94 inches (per bud); 1.78 x 2.39 x 0.85 inches (charging case) |
| Weight | 0.2 ounces (per bud), 2 ounces (charging case) | 0.19 ounces (per bud); 1.79 ounces (charging case) |
| Special features | Personalized ANC, adaptive ANC, transparency mode, EQ, personalized sound profile, dual connection, Ear Tip Fit Test, find my earbuds | ANC, adaptive transparency mode, adaptive EQ, personalized spatial audio, automatic switching, Ear Tip Fit Test, physical volume controls, audio sharing, announced messages with Siri, Find My (AirPods), "Hey Siri" voice-activated assistance, Live Listen, MagSafe charging case with built-in speaker, Apple Watch charging, lanyard loop support |
Nothing Ear (2) vs. AirPods Pro 2: Price and availability
The pricing matches the company's recently announced price increase for the Ear (1), which saw it jump by 50% to $149. Still, that puts the Nothing Ear (2) firmly within budget noise-canceling earbud territory compared to its closest personalised sound ANC rivals, and makes it $100 cheaper than the Apple AirPods Pro 2.
The Nothing Ear (2) ANC earbuds are on sale now priced at $149 / £129 / AU$219 directly from the Nothing store. They are also available at the Nothing Store Soho, London, and select Kith stores around the world.
Apple's AirPods Pro (2nd Generation) ANC earbuds are on sale priced at $249 / £249 / AU$399, which is the same amount the original AirPods Pro launched at in 2019. They are available from the Apple Store at the full asking price, but they can also be found regularly discounted at online retailers.
Winner: Nothing Ear (2)
Nothing Ear (2) vs. AirPods Pro 2: Design and fit
Most tech-savvy people will recognize Apple's AirPods from anywhere, and there's not much about the AirPods Pro 2 design that has changed from the original, or that hasn't already been discussed.
Likewise, the Nothing Ear (2) have a remarkably similar design to the first generation Ear (1). As with the original, there's plenty of an attention to detail on the Ear (2) that you just don't see on many earbuds, from the tiny printed lettering on each stem to the clearly visible touch sensors and three microphones in each earpiece.
Comfort levels were high during my testing, and I barely noticed the Ear (2) inserted into my ears during my listening sessions. The pre-fitted mid-size eartips worked well for my ears, and the Ear Tip Fit Test confirmed that they were indeed the correct size and achieved a good seal in my ears.
The slightly oval shape helped to make them feel surprisingly secure during my gym workouts, too, although it's important to point out that as with all earbuds, the fit of the Ear (2) may be more secure for some wearers than others.
The earbuds have been upgraded from the IPX4 rating of the original to IP54 that makes them better protected from dust and resistant to sweat and moisture to the same level as the AirPods Pro 2.
Apple changed very little with regard to the AirPods Pro 2's earbud design but its flagship earbuds do now come with skin-detect sensors. Everything else is remarkably similar to the original, from the all-plastic frame to the angled sound port that easily slides into the canal. Further testing showed us the AirPods Pro 2 are a more practical alternative for running than the first-gen model, with the new tip kit providing a tighter grip. The Ear Tip Fit Test helps achieve optimal fit.
Both the Apple and Nothing charging cases are compact and portable-friendly. The AirPods Pro 2's case has built-in tracking, while the Nothing ear (case) is smaller than the original and has a strong build quality. I like the presentation case styling with a clear lid that shows off the Ear (2) earbuds, and it has a more sophisticated look than the AirPods Pro 2 charging case. The Nothing Ear (case) is rated to IP55 dust and water resistance, and in this case makes the charging case better protected than the AirPods Pro 2 case enjoys.
Winner: Tie
Nothing Ear (2) vs. AirPods Pro 2: Controls
I found Nothing's touch controls to be more responsive than the AirPods Pro 2 when it came to registering tap and swipe gestures, and you get good sence of tactile feedback. A single press input gives play/pause, answer/hang up calls, while a double press enables skip forward or reject calls and a triple press works as a skip back. Pressing and holding on either the left or right earbud switches between Active Noise Cancellation and Transparency Mode, while volume adjustment and manual voice assistant activation on your playback device can be assigned to either earbud via a double push-and-hold command.
Apple added touch volume controls to the Force Sensor, which operate flawlessly on the AirPods Pro 2, using slide gestures to seamlessly adjust volume instead of pressing the sensors. You can still activate commands through single, multi-, and long-press gestures, which execute commands with precision. Motion detection is available to initiate auto-pause when taking out one bud. "Hey Siri" wake word functionality completes the package to enjoy excellent hands-free digital assistance.
Winner: Tie
Nothing Ear (2) vs. AirPods Pro 2: Sound quality
The Nothing Ear (2) introduces a personalized sound profile and fully customizable EQ rather the presets of the Ear (1). Each earpiece is fitted with an 11.6mm dynamic driver that has been tuned by Nothing to give a balanced and rewarding sound across the frequency range right from the off.
Sound quality is great even without any EQ tinkering, with a rich and powerful bass line and open and natural sounding vocals. It's not all good news though, and the slightly hard tuning makes treble frequencies sound harsh with all kinds of content, and can serve to highlight codec deficiencies with digital artefacts/nastiness under certain conditions. There's also no spatial audio support.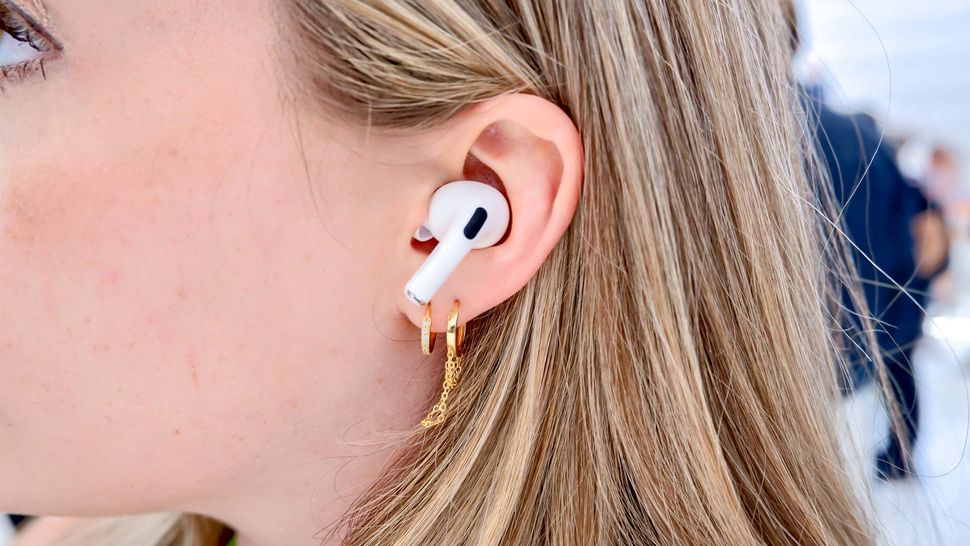 The AirPods Pro 2 have adaptive EQ, new drivers and custom amplifiers for richer, energetic sound. You can still tweak audio performance by switching between numerous EQ presets in iOS. Lastly, you get Personalized Spatial Audio with dynamic headtracking. This updated version scans your ears and head to create a personalized sound profile that enhances 3D effects when listening to Dolby Atmos-supported content.
The overall sound balance is one of total balance across the frequency range, giving tracks the punch and delicacy they deserve in equal measure. The AirPods Pro 2 may max out at 320kbps using the AAC codec, but it always sounds smooth and is a master at disguising any digital artefacts caused by low data transmissions of audio signals over Bluetooth.
Winner: Apple AirPods Pro 2
Nothing Ear (2) vs. AirPods Pro 2: Active noise cancelation
Apple claims that active noise canceling for the AirPods Pro 2 has been significantly improved, and can "reduce up to two times more unwanted background noise." That's difficult to accurately assess, but subjectively the ANC feels improved and is very effective. Outdoor listening was peaceful, as the buds tamed low- and mid-frequency noises. Plus, they reduce high-frequency noises and wind presence better than their predecessor; the soundstage won't be affected as much by whisking effects or blaring noises. Adaptive Transparency is another new feature introduced on the AirPods Pro 2 that greatly increases awareness of surroundings.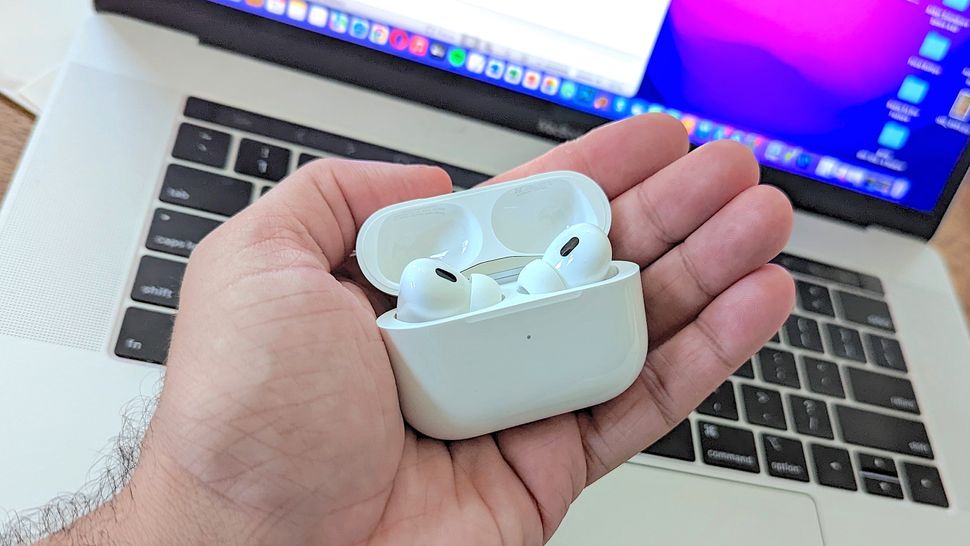 Nothing has upped its game with ANC capabilities and has introduced Personalized and Ambient Adaptive ANC, as well as a Transparency mode. Noise canceling isn't nearly as effective as Apple's AirPods Pro 2, and their ANC performance won't rival the best noise-canceling earbuds, but it was welcome all the same at reducing the sound of trains or talkative colleagues in the Tom's Guide office.
The number of levels has increased from two on the Ear (1) to three levels on the Ear (2), with High, Mid, and Low, plus Adaptive. During my testing I had them mostly set to High or Adaptive. The repositioned mics make picking up speech easier in Transparency mode without inadvertently boosting other sounds. They were also pleasantly untroubled by wind noise when stood on a blowy train station platform.
Nothing Ear (2) vs. AirPods Pro 2: Special features and app
The Nothing X app is a vital download for Ear (2) users, providing access to touch control customization, Noise Control, Ear Tip Fit Test, Find My Earbuds (within range), Personal Sound Profile, Dual Connection, and Firmware Updates.
Google Fast Pair and Microsoft Swift Pair are also on board, and you get on-ear detection, which works flawlessly. Music is paused almost instantly upon removing an earbud, and resumes quickly once it's back in place.
The AirPods Pro 2 have an even longer list of features, incluidng ANC, adaptive EQ, announced messages with Siri, audio share, automatic switching, control customization, Ear Tip Fit Test, EQ, Find My support, "Hey Siri" voice activation, Live Listen, Personalized Spatial Audio, and Transparency mode.
The AirPods Pro 2's charging case sends out a tone through the speaker that indicates charging statuses, low battery, pairing or to help locate the case when misplaced, which is tracked through the Find My app. These buds operate on Bluetooth 5.3 for faster, high-bandwidth connectivity when paired to iOS/macOS devices and can achieve up to 45 feet of wireless range. Not to mention they operate on the new H2 chip. Overall? Control via iOS is flawless.
Winner: Tie
Nothing Ear (2) vs. AirPods Pro 2: Call quality
Calls using the Nothing Ear (2) were strong, with both ends of the calls sounding clear and intelligible. Background noise was kept to a minimum and, once again, wind noise on calls made outside barely put in an appearance.
The Bluetooth 5.3 connection was robust throughout, and I could wander to different parts of my home without suffering dropouts.
Most calls made on the AirPods Pro 2 sounded a little muffled compared to those taken on my iPhone speakerphone. The H2 chip does help eliminate some background noise through audio processing. Headtracking support for FaceTime calls makes conferencing chats feel more in-person when speaking in quiet settings.
Winner: Tie
Nothing Ear (2) vs. AirPods Pro 2: Battery life
Nothing says it has extended battery life of Ear (2) by using a chip that optimizes overall power consumption. With ANC on, though, the battery life remains the same as the original earbuds at a mere 4 hours, which is lower than the AirPods Pro 2. The charging case pushes things closer to the industry average, with playback up to 22.5 hours with ANC or 36 hours without.
A 10-minute fast charge claims to give up to 8 hours of use with ANC off.
The AirPods Pro 2 upped their playtime to 6 hours with ANC on and 7 hours with ANC off, and when using spatial audio they last around 5.5 hours. A 5-minute quick charge gets you 1 hour of use, and the MagSafe charging case gives up to 34 hours.
Winner: Apple AirPods Pro 2
Nothing Ear (2) vs. AirPods Pro 2: Verdict
Swipe to scroll horizontally
| Header Cell - Column 0 | Nothing Ear (2) | Apple AirPods Pro 2 |
| --- | --- | --- |
| Price and value (5) | 5 | 4 |
| Design (15) | 13 | 13 |
| Controls (10) | 9 | 9 |
| Sound quality (20) | 13 | 18 |
| Active noise cancellation(20) | 13 | 18 |
| Special features and apps (15) | 11 | 14 |
| Call quality (5) | 4 | 3 |
| Battery life (10) | 6 | 7 |
| Total score (100) | 74 | 86 |
The personalization features of the Nothing Ear (2) score big for this next-gen model, but the battery life still feels short compared to rivals at the price. While I was very impressed by the slick app, personal sound profile, and the overall sound balance of the Ear (2), the lack of refinement on some audio elements was disappointing.
Despite giving Apple's AirPods Pro 2 a very good run for the money in some areas, it's the mediocre noise cancelation performance that ultimately scores against them here. There's no doubt, though, that the Nothing Ear (2) are a remarkable set of earbuds worthy of consideration if you can overlook that fact that you're not getting the ultimate performance in some areas.
The AirPods Pro 2 are the better noise-canceling model overall and have a more balanced sound. The increases in playtime are greatly appreciated, and while the H2 processor makes the AirPods Pro 2 more futureproof, the Personalized Spatial Audio takes immersive listening to the next level. All these benefits place the AirPods Pro 2 at the top of Apple's true wireless pyramid, and for that reason are the noise-canceling earbuds to beat.
More from Tom's Guide