Since the release of the Barbie movie, the internet has been asking just one question: "Can I buy that awesome "I Am Kenough" hoodie that Ryan Gosling wears during the film's finale?" And we're very pleased to report that yes, you can indeed score yourself an official Ken-inspired hoodie and proudly display your extreme levels of Kenergy to the whole word.
So, hop into your plastic pink Corvette and head over to the Mattel online store, where you can order an "I Am Kenough" hoodie for $60 right now. Just be aware that this is technically a pre-order and the item isn't expected to ship until September 29. However, at least you'll have it in time for the cooler fall months and the colder winter season ahead.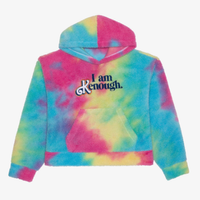 "I Am Kenough" Hoodie: $60 @ Mattel
Designed to accurately replicate the hoodie worn by Ryan Gosling's Ken in the Barbie movie, this official piece of Mattel merchandise is ideal for displaying your Kenergy. It's a unisex hoodie with a tie-dye color scheme and is embroidered with the phrase "I Am Kenough." Expected to ship on September 29, get yours pre-ordered now just in time for the winter months ahead.
Mattel is currently selling the hoodie in a variety of sizes from small up to 3XL, and it's been labeled a unisex piece of clothing. Remember, if you want a baggy look — which I've been told by my more fashionable friends is in style — you might want to size up. The hoodie comes in a single color scheme, tie-dye, in order to mimic the one seen in the movie, and is made from 100% polyester. The "I Am Kenough" text on the front is also embroidered so should hold up even after several washes.
We've also spotted several other websites selling unofficial versions of the already-iconic hoodie, but we'd advise sticking to the one linked above from the Mattel shop. The quality of a third-party version could be spotty, and the design may not accurately reflect the hoodie as seen in the Barbie movie. Yes, it sucks having to wait until September to receive your hoodie, but better to wait for the genuine article than rush to buy a lackluster alternative. That's what Ken would do after all.
Released last week, the Barbie movie has quickly become a box-office sensation. The pink-drenched comedy grossed a remarkable $155m in the U.S. over the weekend (per Variety), smashing expectations to become the biggest theatrical debut of the year. Naturally, Barbie merch is now in high demand and alongside releasing the hoodie, Mattel is also taking pre-orders for an "I Am Kenough" t-shirt, cap and mug.
More from Tom's Guide