I don't care what your morning routine is, a steaming mug of coffee (or tea, if you like) will make things immeasurably better. Most mornings, I turn to my Ember Smart Mug for a hot cup of joe. And, luckily for you, this exact model is currently on sale at Amazon as part of early Black Friday deals.
Right now, the Ember Smart Mug 2 (10 Oz) is down to $99 at Amazon which is a 23% discount on its regular price. It's at the lowest price I've seen, and given how much I use my own version, I wanted to let you know about it. I also can't say for sure how long this deal will remain live, so if you've been debating upgrading to an Ember, now's the time.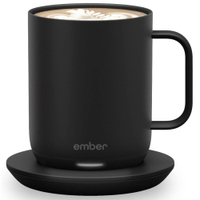 Ember Smart Mug 2: was $129 now $99 @ Amazon
The Ember Smart Mug is the second generation app-controlled mug that keeps your drink at your preferred temperature (between 120°F - 145°F) for up to 80 minutes on a full charge. You can also keep it on the charging coaster for all-day heat. The Ember Mug 2 is IPX7 rated and made of premium ceramic.
If you've never used a smart mug before, allow me to enlighten you. The device will keep your coffee warm for up to 80 minutes thanks to the built-in battery and you can set your preferred temperature via the companion app on iOS or Android. Once your drink has reached the right temperature, you'll get a notification it's ready to drink and the mug will keep it primed at exactly that heat.
In my case, the coaster (which charges the mug via a pair of small, gold pins) sits in the kitchen so I rely on the battery when I take the mug to my desk. But if you set the coaster on your workstation and leave the mug on it when not drinking, it'll stay warm all day. It's a game changer if you're frequently interrupted (or absorbed) at work and end up letting your coffee go cold.
Granted, this mug doesn't come with a lid so it can't function as one of the best travel coffee mugs. But if you're a regular home worker, having an Ember close to hand is about as good as coffee drinking gets. The device is ceramic so feels extremely premium in the hand. It's IPX7 water resistant but will need to be washed by hand rather than in the dishwasher. Thanks to a small LED light on the front of the mug, you'll be able to see at a glance if your drink is ready or when the mug needs charging.
Stay tuned to our Black Friday deals coverage for all the biggest price drops on the best tech right now.