There are plenty of amazing Prime Day deals available to shop today, but to be perfectly honest with you, mattresses aren't really amongst them. There's one exception: 30% off the Casper Original mattress. I review mattresses for a living and have been covering sales events like this one for several years now, and this is the only Prime Day mattress deal I've spotted so far that I'd personally recommend.
It's not all doom and gloom, though, because this really is an excellent deal. If you're looking for a super, affordable all-rounder of a mattress at a bargain price, this is it. Casper has a reputation for being one the best mattress brands in the US, and it's certainly one of the best mattresses on Amazon. The medium-firm, all-foam Original is its most popular model. The 30% off Prime deal takes the price of a queen down to $906.50. Head to Casper direct, and there's only 20% off as part of an extended 4th of July Casper sale.
Day 2 update: The excellent Original deal is still available, but there's now another horse in the race. The Casper Element mattress is now 25% off, which means a queen size is now $446.25. That's incredible value, and the most affordable Casper mattress around. If you're on a tight budget, this is one of the best cheap mattresses around.
You do need to be an Amazon Prime subscriber to claim this deal, but if you're not sure it'll suit you, be aware that you can use the free trial and cancel it later. Read on for a closer look at the deal, and who we'd recommend this mattress to. Or, if you're happy to venture outside of Amazon, check out our ranking of the best Prime Day rival mattress deals.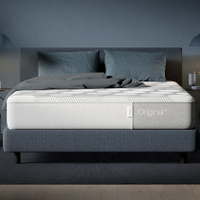 Casper Original Foam mattress
Queen size was: $1,295
Now: $906.50 at Amazon

Overview: The Casper Original is a 10-inch tall, all-foam mattress with a soft knit cover. It includes joint-cradling memory foam alongside a more bouncier foam layer to make the sleep surface more responsive. The medium-firm sleep feel should suit any sleep position and a wide range of body types.
Price history: This year, the biggest discount we've recorded on the Casper Original is 20% off (compared to the 30% off Prime Day deal). That's the offer you can currently get if you buy direct from Casper, and crops up around national holidays and sales events – otherwise, it sells at full price. Currently a queen size at Amazon will cost you $906, whereas the previous best price was over $100 more, at $1,036.
Extras: The extras are a little different if you choose to buy via Amazon rather than direct from Casper. Officially, you'll still get the same 100-night trial, but do check exactly how that works if you're claiming via Amazon rather than Casper direct – there may be extra hoops to jump through. If you change your mind before unpacking the mattress, it's eligible for return (and either refund or replacement) within 100 days of receipt. Buying direct from Casper includes free, no contact delivery, but the options are slightly better at Amazon: regular delivery is free (with your Prime subscription) but you also get the option to upgrade your delivery to include haul away and unpacking, if you need it. The warranty situation via Amazon is unclear.
Buy it if...
✅ You need a versatile all-rounder: The Casper Original has a medium-firm sleep feel that should provide that balance of cushioning and support that'll work for any sleep position (side, back, stomach). This mattress also offsets sink-in memory foam with a more responsive, bouncier foam, which will likely suit a range of tastes (some people find the quicksand feel of traditional memory foam a little off-putting).

✅ You're a restless sleeper: The best memory foam mattresses typically offer excellent motion isolation, which means movements won't reverberate across the surface. That can help restless sleepers have a more refreshing night's sleep, as well as being good news if you share a bed with a wriggler.
Don't buy it if...
❌ You sleep hot: All-foam mattresses can have a habit of trapping body heat. Although the Casper Original has features geared towards combatting this, hot sleepers might want to consider upgrading to the Casper Snow (currently 25% off on Amazon for Prime subscribers – matching the lowest price we've recorded on this mattress – or 20% off at Casper). This is a hybrid, so it has a layer of coils as well as foams (these will add bounce and breathability), as well as cooling tech designed to move heat 20% faster than the brand's non-cooling models. Alternatively head to our best cooling mattress guide for more alternatives at a range of price points.
❌ You're on a really tight budget: With the 30% off Amazon deal, the Casper comes in at the top of the lower mid-range price bracket. If you're on a tighter budget, consider the Element, discounted further for day 2 of Prime Day, and currently 25% off at Amazon, taking the price of a queen size down to $446.25. This mattress isn't available direct from Casper. It compares very favorably to the rest of the best cheap mattresses under $500. If you're on a really tight budget, check out our best sub-$400 Amazon mattress roundup, too.