I remember the first time I put the Under Armour Infinity High sports bra on for a workout, and it would be hard to ever go back now. So it's great news because the hugely popular sports bra just went on sale with Black Friday deals.
The Infinity High model is hands down the best sports bra I've worn in years, and I've since topped up my supply with a few more to keep me going. Having religiously worn the likes of Lululemon or Gymshark, it would be hard to steer me away from my favorite brands. Until now!
You can now save on this sports bra with the early Black Friday deal below, and I'll be on the lookout for further discounts as we climb towards Black Friday on November 24. This is one deal you don't want to miss, so I recommend grabbing it fast.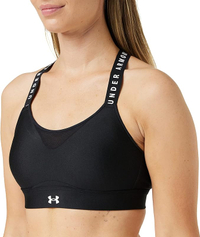 Under Armour Infinity High sports bra: was $60 now $39 @ Amazon
The UA Infinity High sports bra is now just $39 with this 33% discount during early Black Friday sales. The super comfortable and high-support bra delivers during any workout, and I've put it to the test over and over to prove the fact. It has been tailored for high impact and features a molded PU-injected one-piece padding, along with mesh panels to help your body breathe and a sweat-wicking band. If you have a larger bust, this bra is one of the best I've ever tested.
The Under Armour Infinity High sports bra has been rated best in class for runners in our best sports bra buying guide. I can see why, as I enjoy a mix of running, CrossFit and yoga and would wear this model to all and any of those workouts.
The bra delivers seriously high in-built support, which is perfect if you have a bigger bust and find other bras lacking in that department (and there are a frustrating number of them, let's face it). The sizes range from XS to XXL, so anyone can find a fit that works for them.
There are a few standout features, including the hook-and-eye fastening and adjustable straps for quickly dressing or undressing, and the cross-back design for even more support. If you prefer high-intensity training, the mesh panels offer breathability during sweatier sessions in the gym or outdoors while remaining super comfortable.
It's also worth mentioning that the bra requires you to convert your normal cup size into XS-XXL sizing. If you're unsure, you can find a size converter on the Under Armour website.
As with any of the best sports bras, you can make adjustments if you need to, and the thick straps brilliantly hold the bra in place during burpees, technical lifts, explosive sprints, or longer runs. I haven't yet found an exercise that would cause me to swap this bra out.
I understand that most people develop a brand favorite over time. I'm usually a Lululemon lover, but I find many of their sports bras lack the support needed for bigger busts. That said, if Under Armour isn't for you, the Lululemon Energy Bra High Support has been rated our best high-impact sports bra, and our editor loves it.
For me, the Under Armour Infinity High sports bra doesn't budge an inch and delivers strategic support that doesn't reduce with washing, and the bra dries quickly after use. So, if you have your eye on Black Friday deals, this is the sports bra I'd recommend shopping for.
Not for you? Keep an eye on more Black Friday deals as we update our page daily with the latest sales.