As a fitness editor and a marathon runner, I know exactly what I'm looking for when it comes to selecting the right sports bra for my workout. I want a bra that will keep me feeling supported as I clock up the miles, that won't chafe, and equally as importantly, won't require me to spend five minutes getting out of it once I've crossed the finish line. It's my job to test the best sports bras so you don't have to, and one of my favorites just dropped in an early Black Friday deal.
The lululemon Energy Bra just dropped to $39 from $58 in the brand's We Made Too Much sale. At the time of writing, the bra is still available in a number of different colors and sizes, but don't hang around, as it's unlikely to be for long.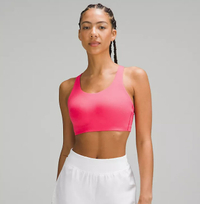 lululemon Energy Bra High Support: was $58 now $39 @ lululemon
In order to find the best price on this high-impact sports bra, you'll need to take a look through all the different colorways in your size to find the best deal. At the time of writing, there's still plenty of sizes available, and you're able to choose your regular bra size, not your size in lululemon kit.
I've run two marathons wearing this sports bra, and find it one of the best on the market when it comes to lightweight, but high-impact support. The bra kept everything in place as I clocked up the miles, and didn't rub or chafe under my armpits, letting me get on with the all-important task at hand, rather than worrying about my skin. The straps on the back are fully adjustable, allowing you to get a really tight, supportive fit, and the fabric itself is buttery-soft against the skin.
Did you know you're meant to replace your running sports bra every six to 12 months to ensure it's offering the right amount of support? Once the Cooper's ligaments in your breasts stretch, they don't stretch back, so it's important to wear the right level of support when exercising.
High-impact bras fall into two different categories — encapsulation and compression. An encapsulation sports bra will look like an everyday bra, with two separate cups for targeted support that minimizes the movement of each breast.
A compression bra will often look more like a crop top, and work by pressing the breasts against the chest to prevent movement. Compression bras are often comfortable for smaller-breasted women. This lululemon bra is an encapsulation bra, giving it a high level of support for women from a B to a DD cup size.
Not for you? Keep an eye on the best Black Friday deals here at Tom's Guide, as well as 19 of the best early Black Friday deals in the lululemon sale here.