The Z Fold 3 is an amazing device. It's one of the best Samsung phones ever made, and one of the best phones in general. If you've been looking for a deal on this foldable, we've got good news for you.
Today only, the unlocked Samsung Galaxy Z Fold 3 is on sale for $1,349 at Amazon. That's a huge savings of $450 off its original price, making it one of the best smartphone deals of the year. And that's not all, either — you'll also get a pair of Samsung Galaxy Buds 2 for free with your purchase.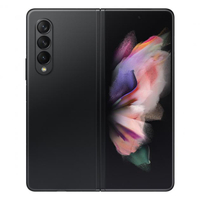 Samsung Galaxy Z Fold 3: was $1,799 now $1,349 @ Amazon
Plus free Galaxy Buds 2: The Galaxy Z Fold 3 is powered by Snapdragon 888 and features a 7.6-inch internal display and a 6.2-inch external display (both with an adaptive refresh rate of up to 120Hz). This particular configuration also sports 256GB of storage and 12GB of RAM. It includes a free pair of Samsung Galaxy Buds 2 earphones.
The Samsung Galaxy Z Fold 3, for our money, is the best foldable smartphone. It multitasks like a pro, it's waterproof, and it supports the S-Pen (sold separately.)
In our Samsung Galaxy Z Fold 3 review, we were impressed with its durable yet stylish design, improved multitasking features and the display quality. Using it is a breeze. And the fact that you can run three apps at a time, side-by-side on your screen, means you could triple your productivity.
For $1,349, you'll get a top-of-the-line phone that also extends into a mini tablet. With dual displays with an adaptive refresh rate of up to 120Hz, it easily beats the previous model, the Galaxy Z Fold 2. It also has IPX8 water resistance, a more powerful Snapdragon 888 processor and an under-display front camera.
Don't get us wrong, the Z Fold 3 isn't perfect — the 8-hour battery life means you may have to carry a charger with you if you use it frequently during the day, and foldable phones are bulkier than regular smartphones by nature. But if you're ready to take the leap into the future of smartphones, we're sure you won't be disappointed by the Samsung Galaxy Z Fold 3.