If you've been paying attention to the latest and greatest in TVs over the past year, you'll no doubt be familiar with the excellent LG C2 OLED – our pick for the best TV money can buy right now. So imagine our surprise to discover these stunning discounts on the top-rated LG C2 in a number of sizes.
Until 11:59pm on Friday, March 3, adding the code 20TELEV at checkout via The Good Guys' online store will save you an extra 20% off the already-discounted LG C2 OLED in five sizes – bringing the cost of this premium set to prices even lower than those we saw for Black Friday and Boxing Day.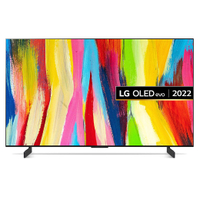 LG C2 65-inch OLED TV | AU$4,095 AU$2,556 at The Good Guys (save AU$1,539 with code)
Taking out top spot in our list of the best TVs, the LG C2 OLED delivers outstanding picture quality, immersive Dolby Atmos audio and an eye-catching number of gaming-friendly features. Sure to tick all the right boxes and impress anyone, this telly is pretty compelling at this price. Already discounted by AU$900, adding code 20TELEV at checkout before 11:59pm on Friday, March 3 will get you an extra 20% off and a total saving of more than AU$1,500 on this 65-incher.
Discounts available in other sizes:
• 42-inch: AU$2,295 AU$1,196 (save AU$1,099 with code)
• 55-inch: AU$3,195 AU$1,756 (save AU$1,439 with code)
• 77-inch: AU$7,995 AU$4,796 (save AU$3,199 with code)
• 83-inch: AU$9,995 AU$6,396 (save AU$3,599 with code)
Upping the ante on the already-excellent LG C1, the LG C2 benefits most from the inclusion of the powerful Alpha 9 Gen 5 processor, which makes subjects on screen stand out more, and adds dynamic tone mapping for improved HDR clarity and colour. There's also LG's OLED Evo technology on board to help the C2 achieve a peak brightness that's up to 20% more than its predecessor.
Elsewhere, the C2 carries on the legacy of the C1 by maintaining the four HDMI 2.1 ports we saw in its predecessor, on top of a generous native refresh rate of 120Hz, 1ms response time, and a genuinely impressive surround sound profile boosted by the C2's ability to upscale stereo content into 7.1.2-channel sound.
While the lack of HDR10+ support with the C2 might be a mild disappointment for some, it could be a non-factor for the everyday buyer, and the sheer quality of the C2's display could quickly ease any concerns afterwards.
Whether you're looking to pair a new home TV with the likes of the PS5 and Xbox Series X, or watch the latest movies in the best quality possible, the LG C2 OLED is a top choice even before taking these outstanding savings into account.