OLED TV prices have plummeted in the past few years. 8K TVs, however, have generally remained expensive. But leave it to Best Buy to start the 8K TV price wars.
For a limited time, you can get the Samsung 55-inch QN700B Neo QLED 8K TV for just $999 at Best Buy. That's $1,000 off and one of the best TV deals around right now. Although we've seen 8K TVs for $999 before, it's still a very rare occurrence, especially for an 8K TV from Samsung.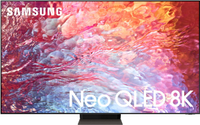 Samsung 55" QN700B Neo QLED 8K TV: was $1,999 now $999 @ Best Buy
Best Buy is knocking $1,000 off this Samsung 8K TV. The QN700B Neo QLED 8K TV offers full array local dimming, HDR10 Plus support, and four HDMI 2.1 ports. It also has built-in Amazon Alexa/Google Assistant/Samsung SmartThings support. AI processing can upscale content to 4K and you can stream Xbox games to your TV without needing a console via Samsung's free Gaming Hub service. This is the least-expensive 8K TV we've ever seen.
It's worth noting that there's not a lot of compelling reasons to buy an 8K TV. With little content other than travelogues and nature videos, 8K is somewhat of a ghost format. Nevertheless, if you're interested in 8K but have been put off by the prices, this deal could be for you.
First, let's start by saying that the crown for the best 8K TV on the market currently belongs to the Samsung QN900A Neo QLED. The newer Samsung QN900C Neo QLED is lined up to take its place with multiple upgrades. However, the 900 series Samsung TVs have a high asking price, and the Samsung QN700B Neo QLED on sale today is the more affordable alternative.
Using Quantum Dot technology, the Samsung QN700B Neo QLED promises superior brightness and color range. Dolby Atmos support was missing from the Samsung QN900A Neo QLED, but no worries this time around — it's included this time and makes for more immersive, 3D sound. The use of the Slim One Connect box keeps this TV looking slick, and makes for easier cable management too.
Running on Tizen OS, this TV has access to all the best streaming apps, from Disney Plus to Netflix to Prime Video. The downside is that these streaming services aren't offering much in the way of 8K content yet, but this TV's processor can upscale 4K content to 8K. The QN700B also has support for Amazon Alexa, Google Assistant, and SmartThings, so you'll be able to control the TV with your voice and integrate it with your other smart devices.
The Samsung QN700B Neo QLED is now one of the most affordable ways to bring 8K visuals to your home, so now's the time to pick one up if you've been thinking about making the leap to 8K. Looking for more options? Make sure to follow our 8K TV deals coverage.