4th of July sales are a great way to score the best tech for less, and Best Buy's 4th of July sale is full of great deals. And one of them is a deal on an 8K TV for less than $1,000.
Right now, you can get the Samsung 55-inch QN700B Neo QLED 8K TV for just $999 at Best Buy. That's $600 off and one of the best TV deals around right now. We occasionally see 8K TVs for $999 before, but it's a very rare occurrence. Especially for an 8K TV from Samsung, which makes many of the best 8K TVs out there.
But here's the thing — you might want to pass on it. Let's get into why.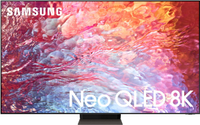 Samsung 55" QN700B Neo QLED 8K TV: was $1,599 now $999 @ Best Buy
This Samsung 8K TV comes loaded for less than $1,000. The QN700B Neo QLED 8K TV offers full array local dimming, HDR10 Plus support, and four HDMI 2.1 ports. It also has built-in Amazon Alexa/Google Assistant/Samsung SmartThings support. AI processing can upscale content to 4K and you can stream Xbox games to your TV without needing a console via Samsung's free Gaming Hub service. This is the least-expensive 8K TV we've ever seen. The only problem is it's too small to reap the benefits of 8K.
This is a great 8K TV — but it's too small
First off, there are not a lot of compelling reasons to buy an 8K TV in the first place. Aside from travel and nature videos, nobody is making 8K content yet. But logically, 8K is likely to one day be the future of TVs, and a great deal is a good way to plan for the future.
And this deal seems really good at first. While the Samsung QN700B Neo QLED isn't the top 8K TV we've tested — that honor goes to the Samsung QN900C Neo QLED 8K TV — it's loaded with features and gets a Quantum Dot Neo QLED display panel.
It also comes loaded with other features. Dolby Atmos support is included for more immersive, 3D sound. The use of the Slim One Connect box is greater for easy cable management and keeps the TV looking slick when it's on display in your living room. The QN700B also has support for Amazon Alexa, Google Assistant, and SmartThings, so you'll be able to control the TV with your voice and integrate it with your other smart devices.
Plus with Tizen OS, this TV has access to all the best streaming services, from Disney Plus to Netflix to Prime Video. Of course, as previously mentioned, these streaming services aren't offering much in the way of 8K content yet, but the Samsung QN700B Neo QLED's processor can upscale 4K content to 8K. You also get 4 HDMI 2.1 inputs and an ATSC 3.0 TV tuner to ensure you're future-proofed and getting access to the best display resolution no matter what you're watching.
All this would make for an amazing TV deal — if the TV was a bit bigger.
In our guide to shopping for an 8K TV, we warn against buying an 8K TV that has a display size of less than at least 75 inches. To reap the benefits of an 8K TV's increased pixel density, you need to be even closer to your TV than with a 4K TV — nearly twice as close! So unless you're about a foot or two from your TV, an 8K TV less than 75 inches will look no different than a 4K display, and some people argue it can even look worse sometimes.
This is still an incredible deal, so if you ultimately get it, I won't blame you. Just don't expect to realize any of the benefits an 8K display would provide. Personally, I'd recommend looking through our best TV deals instead and picking up an excellent 4K TV or an 8K TV with a larger display.