With Black Friday on the horizon, Black Friday deals are popping up left, right and center. We're already seeing some great prices on TVs, headphones and mattresses.
And while the big day is still a few weeks away, some unexpected sales have cropped up too, such as this one. You can now get the Dyson Zone headphones for just $507 ahead of Black Friday — that's a 27% discount on the MSRP of $699. But, considering this is still a hefty sum to spend, should you invest in these headphones? Here's what you need to know to make an informed decision.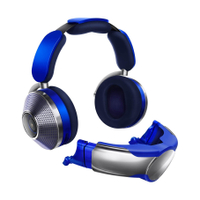 Dyson Zone headphones: was $699 now $507 @ Amazon
These noise-canceling headphones stand out for also functioning as a portable air purifier. The clip-on visor provides an ongoing supply of purified air while you travel in heavily polluted zones. The headphones will last for up to 50 hours before needing to be recharged, or four hours with the air purifier attachment. In our Dyson Zone review we said it's a smart contraption to own if you live in an area where your health could be harmed by air pollutants.
Should you buy the Dyson Zone headphones?
At just over $500, this is indeed the cheapest these headphones have ever been. And seeing that they were only released in April this year, it appears to be a generous discount. But, will these pricey headphones be to everyone's taste?
Looking at the pros and cons in our Dyson Zone review, it can be surmised as follows — a premium design with good sound quality, but overly heavy with a short battery life. They can come in use during times of heavy pollution, which is what Kate Kozuch, Managing Editor at Tom's Guide, found when wildfire smoke engulfed New York back in June. But, other than that, they're limited in their day-to-day use.
I personally tried them out for myself, and too was taken aback by the weight. At 1.47 pounds, it quickly feels like you're straining your neck. I found it all too easy to knock the visor loose as well — which could be very problematic depending on your situation. For instance, you wouldn't want it falling into a train track while traveling.
But, having said that, such innovation is rare to see and can have its uses. If you face heavy air pollution on a regular basis, it could be well worth the expense. In any case, if it's been on your wish list since it was released, now's your chance to grab the Dyson Zone at a great discount.
More from Tom's Guide