Black Friday deals are everywhere right now, with prices hitting the lowest they've ever been. And while a premium brand, Dyson is no exception. In fact, the popular, yet pricey Dyson Airwrap has just crashed to its cheapest price ever for Black Friday.
Right now you can get the Dyson Airwrap for just $479 @ Amazon; that's $119 off the MSRP of $599. You just need to tick the coupon box to get this discount. At such a price, it could make for a great holiday gift, or just a chance to treat yourself. If you need more encouragement — here's a quick breakdown on why the Dyson Airwrap is worth buying.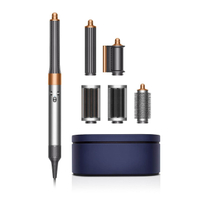 Dyson Airwrap Multi-Styler Complete Long: was $599 now $479 @ Amazon
LOWEST PRICE! You can now save $119 on the Dyson Airwrap in nickel/copper. Several tools are supplied with this bundle, including two different widths of barrel, a soft and firm smoothing brush, round volumizing brush and a smoothing dryer. All can be stored in the handy storage case. Note: This particular model is designed for long, wavy hair, but a Long Diffuse model is also available for long, curly or coily hair with the same discount applied at Amazon. Coupon needs to be applied to get this discount.
I've used the Dyson Airwrap for a few years now — it creates brilliant results with each use, drying damp hair into salon-like curls with something called the 'Coanda effect'. When you hold a piece of hair near to the barrel, the Airwrap draws it in and shapes it to dry around the tool, creating curls in seconds. And this drying method is naturally better for your hair versus some of the heat damage you get from traditional hair curlers.
It's intuitive to use, speedy to work your way around a full head of hair, and I can't emphasize how easy it is to curl the back if there's no one to help. There's plenty of additional tools for more styles as well, so you can smooth and volumize where required. One of my favorite things about the Dyson Airwrap is the natural results you create. It's not as hard a look as iron tools will produce, but instead gives you hair a much softer, more 'real' appearance.
Since the Airwrap has been updated (you can now switch directions of styling with one barrel), there's less tools to store. And with the supplied case, everything is kept neatly together. It may still seem like a steep price, but the technology here is innovative and impressive to watch. If you want to give you hair a break from the straighteners, now's your chance to shake up your routine. Check out my full Dyson Airwrap review to learn more.