While Samsung TVs may not currently take the top slot as our best OLED TV, they are a serious contender. Thanks to Quantum Dot technology, these OLED TVs produce excellent picture quality and incredibly accurate colors. And right now you can get a great one for the cheapest it's ever been.
For a limited time, you can get the Samsung 65-inch S95B OLED TV on sale for $1,597 at Amazon without needing to wait for Prime Day. And while Amazon may say it's only an 11% discount, the Samsung S95B OLED 4K Smart TV cost $2,999 at launch. That means right now you can get it for nearly half off — an over $1,400 discount. If you don't want to get it from Amazon, you can also get it from Best Buy right now for just $2 more.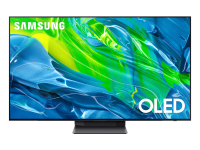 Samsung 65" 4K OLED TV: was $1,797 now $1,597 @ Amazon
The Samsung S95B is Samsung's first OLED and the first to combine OLED with quantum dots, resulting in a QD-OLED TV that promises the best of both technologies: superior color, brightness, and contrast in a single package. In our Samsung S95B OLED 4K Smart TV review, we said it largely delivers on its promise though it doesn't provide those perfect black levels of a pure OLED TV (especially if you're in a room with minor ambient light). Nevertheless, it's an amazing TV for movies, gaming, and everything in between. Check other retailers: $1,599 @ Best Buy | $1,649 @ Walmart
Before the Samsung S95C OLED TV took its place, the Samsung S95B QD-OLED was on our shortlist of the best OLED TVs on the market. And there's a good reason why — the picture quality is superb
In our Samsung S95B OLED review, the Samsung QD-OLED impressed us in our in-house testing. It covers 100% of the Rec. 709 color gamut and scored a Delta-E score of 3.0184. This TV replicates colors very accurately and with a surprisingly bright display. The S95B hit a peak brightness of 1,050 nits, which is incredible for an OLED TV. OLED TVs can turn off pixels completely, so they don't need to achieve high brightness levels, but this TV does it anyway.
And if you're not trying to shell out for one of the best soundbars we've ever tested, the 60-watt speakers on the Samsung S95B deliver a satisfactory audio experience. Sound effects, dialogue and music were crisp and distinct in our testing, and there's some decent bass on as well. While audiophiles may still want a separate sound setup, the S95B OLED sounds good enough right out of the box.
The Samsung S95B is also a great TV for gamers. We measured an extremely low lag time of 9.2ms, and with a 120Hz refresh rate, your 4K gaming will never look better. There's also support for all the major gaming features we look for: HDMI 2.1, FreeSync Premium, VRR and ALLM.
The biggest downside to the Samsung S95B is that sacrifices true blacks for its improved brightness. If you're craving perfect blacks, you may need to opt for something like the LG C3 OLED instead. But if you want an OLED TV you can actually use in a brightly lit living room, the Samsung S95B is it.
One other important note — Samsung and Best Buy were just hit with a class action lawsuit due to reportedly misrepresenting features. Specifically, certain TVs may not have actually featured Motion Xcelerator Turbo+, FreeSync and/or HDMI 2.1 ports, and the Samsung S95B OLED TV is potentially one of the models involved.
However, given we've reviewed and tested it out ourselves, we still stand by its excellent performance, and it's still a bargain at just $1,597. But if that caveat has put you off, make sure to check out the rest of our TV deals coverage to find the TV that's right for you.