Black Friday is here and now's your chance to get that Keurig coffee maker you've always wanted. Keurig Black Friday deals are now ripe for the picking.
Whether you're looking for a single-serve machine or one of Keurig's higher end machines, you can expect to save from $50 to $150 off these ubiquitous machines as a result of the best Keurig Black Friday deals of 2021.
If you're not sure which one to buy, check out the best Keurig coffee makers, so you know which one will suit your needs. Can't decide between Nespresso and Keurig? Make sure to check out our Nespresso vs. Keurig face-off to find out as well.
Top 5 Black Friday Keurig deals today
Keurig Black Friday deals — best sales right now
Keurig coffee maker deals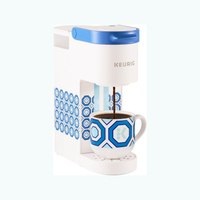 Keurig Limited Edition Jonathan Adler K-Mini Coffee Maker: was $99 now $49 @ Best Buy
If you want a coffee maker which will pop out on your countertop, then you might want to get the limited edition Jonathan Adler K-Mini design — which is even cheaper than the standard black model! It's a compact design, at less than 5 inches wide and can brew any cup size between 6-12 oz. This is pretty much as cheap as Keurig machines come.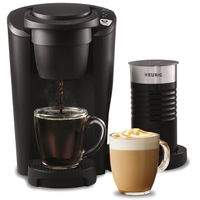 Keurig K-Latte Coffee and Latte Maker: was $89 now $59 @ Best Buy
Perfect your latte art making skills with the Keurig K-Latte Coffee and Latte Maker. The single-serve coffee and latte maker les you brew 6-, 8-, or 10-ounce cups of coffee, tea, or cocoa. It also lets you make lattes in three easy steps.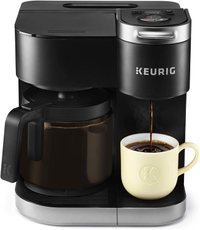 Keurig K-Duo Coffee Maker: was $99 now $79 @ Walmart
This Keurig coffee maker gives you the option of either brewing a single cup, or using grounds to make a small pot of coffee, up to 12 cups in size. It has a 60-ounce reservoir, and can be programmed up to 24 hours in advance.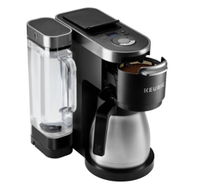 Keurig K-Duo Plus: was $229 now $199 @ Best Buy
This two-in-one coffee maker is on sale for $30 off. It has a massive water reservoir that supports making up to 12 cups of coffee a time. It also handles single-serve K-Cups for those times that you don't have a large group in need of caffeine.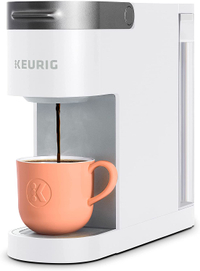 Keurig K-Slim Coffee Maker: was $119 now $99 @ Best Buy
This compact coffee machine can serve up to 12 ounces of coffee at a time using one of Keurig's pods. However it's still large enough to fit a travel cup underneath if you need to make your drink to go. It's $20 off for a limited time only, so make sure to grab yours while sales are still active.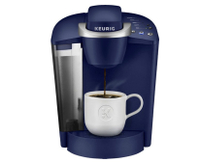 Keurig K-Classic Coffee Maker: was $139 now $99 @ Amazon
The Keurig K-Classic makes 6-, 8-, and 10-ounce cups of coffee, tea or hot chocolate. It features a 48-ounce water reservoir and has a strength control feature, which brews coffee that suits your taste. This speedy machine is Keurig's best-selling, no fuss coffee maker.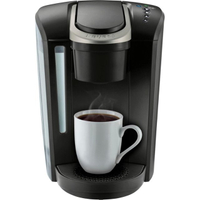 Keurig K-Select Coffee Maker: was $129 now $99 @ Amazon
This single-serve k-cup pod coffee maker boasts automatic shut-off and adjustable strength and volume, so you can turn a coffee pod into exactly the kind of drink you want. While it's one of the cheaper Keurig models, you're still getting programmable cup size here, as well as a removable water tank and auto shut-off.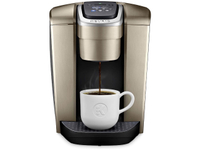 Keurig K-Elite Coffee Maker: was $169 now $119 @ Amazon
Perfect for summer, the Keurig K-Elite Coffee Maker offers a specific setting for iced coffee. It has the capacity to brew drinks from 4 ounces to a whopping 12 ounces. The K-Elite also benefits from Quiet Brew, which minimizes noise during brewing, and reminds you when it's time to descale as well.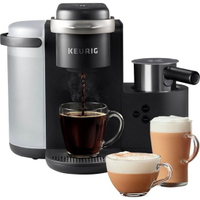 Keurig K-Cafe Coffee Maker: was $265 now $196 @ Walmart
The Keurig K-Cafe is for the pod coffee connoisseur. Boasting a built-in milk frother and speedy brewing, you'll be able to create your own lattes, cappuccinos and espresso with a range of brew strength controls as well.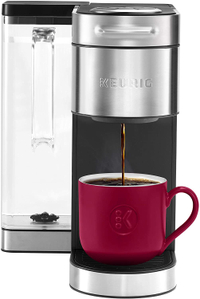 Keurig K-Supreme Plus Coffee Maker: was $189 now $168 @ Amazon
The K-Supreme lets you choose from three strength and three temperature settings, and save individual brewing preferences for up to three users. You can brew 4, 6, 8, 10, or 12-ounce cups of coffee, and a 78-ounce removable reservoir means you don't have to refill it as often. We also like its stainless steel finish.
Keurig coffee maker accessories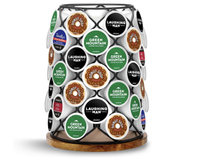 Keurig K-Cup Whirl Carousel: was $34 now $27 @ Amazon
Keep your K-Cups neat and organized with the Keurig Whirl Carousel. It can hold up to 49 pods and offers 360-degree rotation. It features a wood base with matte black metal accents. It's the perfect sidekick to any Keurig machine.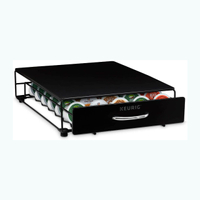 Keurig Under Brewer Storage Drawer: was $24 now $19
If you want to store your coffee pods neatly, this rolling drawer can hold up to 35 Keurig K-Cup Pods. You can sit it underneath your Keurig coffee maker for added convenience as well.
Keurig Black Friday deals — what to expect
Keurig Black Friday deals last year dropped prices as low as $49 for the company's basic machines. For instance, the Keurig K-Slim dropped to just $49 (normally $109), whereas full-featured models like the Keurig Elite (normally $169) hit $99. We expect to see similar drops this year with basic models selling for under $50, whereas Keurig's newer, premium machines will sell for around the $100 mark.