Amazon's Black Friday deals have arrived with a vengeance. The retailer has launched its selection of sales an entire week before "official" Black Friday on November 24. And, as you'd expect, its own hardware range has been given a healthy discount.
Right now, the Echo Show 8 (2nd gen) is on sale for just $49 at Amazon. That's a staggering $80 off the full $129 retail price, making this one of the best deals we've seen so far today on Amazon hardware.
Here's the elephant in the room: this device is a couple of years old now and has since been replaced by the Echo Show 8 (3rd Gen). Does that matter? We get into the differences between the Echo Show 8 (3rd Gen) vs Echo Show 8 (2nd Gen) here, but considering the sizeable $80 price drop on offer, we can overlook the fact it's a slightly older model.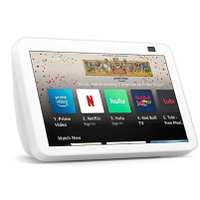 Echo Show 8 (2021): was $129 now $49 @ Amazon
The ideal smart home center piece, the Amazon Echo Show 8 crams a lot of features into a small package. Perfect as an alarm clock or a kitchen companion, you can watch videos, get news/weather updates and take video calls in seconds.
The Echo Show 8 (2nd gen) makes for a formidable smart home gadget. It's fronted by an 8-inch, HD display with a resolution of 1280 x 800 that acts as the window into your smart home. There's full Alexa voice assistant integration, and you can use it to check the time, weather, make to-do lists and more.
We put the Echo Show 8 (2nd Gen) into our list of the best smart displays on the market thanks to the ubiquity of Amazon's system. The Echo Show 8 includes a camera for video calls with friends and family, while you can also make quick calls to any other Alexa devices you have in your home
This isn't the first time the Echo Show 8 (2rd Gen) has gone on sale, but it's one of the lowest price drops we've seen. As mentioned up top, that may be because Amazon wants to clear out inventory of this older model. However, we'd see that as an opportunity to kit out other areas of your house with an additional Alexa system. Here's what happened when Tom's Guide's Anthony Spadafora bought an additional Echo Dot to help cool down his garage.
If there is a drawback to the Echo Show 8, it's that the audio quality from the built-in speakers isn't the strongest. We'd recommend opting for one of the best Bluetooth speakers if you want a device exclusively for listening to music, but if you're after something multifunctional, the Echo Show 8 is a great buy, especially now that it's fallen to a sub-$50 price point.