Many parts of the United States continue to suffer from poor air quality this week as the wildfires in Canada continue to burn. If you experienced that campfire smell inside your home — and want to get rid of it — the right air purifier can help. We've been looking for deals on the best air purifiers we've tested and Amazon has a noteworthy deal right now.
Currently, you can get the Honeywell HPA300 Air Purifier on sale for just $211 at Amazon. That's $58 off and one of the best air purifier deals we've seen for this unit right now. Note that it's been cheaper before, but Amazon has the lowest price right now. By comparison, Walmart and Best Buy have it for $249.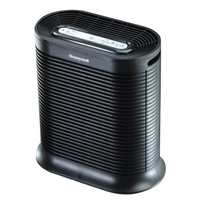 Honeywell HEPA Air Purifier (Extra Large): was $269 now $211 @ Amazon
The Honeywell HEPA Air Purifier (HPA300) is a good value pick among air purifiers. It has among the highest CADR ratings for smoke, dust, and pollen of the units we recommend, and it can filter slightly larger rooms effectively. It also has four speeds (compared with three on most units), a programmable timer, and adjustable control panel lights. In our Honeywell HPA300 review we said it's a reliable air purifier built for larger rooms (up to 465 square feet).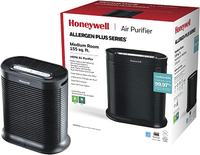 Honeywell HEPA Air Purifier (Medium): was $154 now $101 @ Amazon
If you need a unit for a smaller room, the Honeywell HPA100 is on sale for $101. It's built for rooms of up to 155 square feet.
It might look a bit plain, but the Honeywell HPA300 does what's it built to do — clean the air in your home. In Honeywell HPA300 review, we found it's especially great for larger rooms (up to 465 square feet). When put to the test to assess the Clean Air Delivery Rate (CADR), the HPA300 performed remarkably, removing a substantial amount of the dust, pollen, and smoke from the room with a score of 300, 320, and 300 respectively. This score is right behind that of the Blueair Blue Pure 211+ Auto, which was our top-performing air purifier.
A few things to keep in mind: while we found the HPA300 is easy to use, it can be mildly noisy and it'll take a fair amount of energy to run. Over the course of 24 hours on the middle setting, it chugged one whole kWh of energy. This thing could cost you upwards of $40 a year in energy upkeep. Additionally, the HPA300 comes with an activated carbon pre-filter and three HEPA filters that cost $34 to replace.
Otherwise, we found it's a powerful and reliable air purifier that cleans air effectively. If you have a large-sized room, this is the unit you want by your side.