Looking for the best TV for PS5 or Xbox Series X? You may finally be able to find the new consoles in stores, but your new PS5 or Xbox Series X might not look its best on an older TV. If you want a new TV now that will handle the 4K and 8K resolution and high-frame rate gaming the consoles offer, you might want to buy a TV that has a few key features. From higher refresh rates and resolutions to new connectivity standards and features, there are several specific details for any serious gamer to consider (and a few that can be safely ignored) when buying a new TV.
Even if you're browsing our list of the best TVs, you won't necessarily find your best bet, as not everything on the market matches the capabilities of the new gaming systems. From new connectivity standards to extremely high resolutions, even the best 4K TVs for gaming might come up short when you're getting ready for the latest gaming gear.
If you want to get the best from your new game console, you'll need a TV that can handle everything that the systems bring to the table. Here are the best TVs to get for your new PS5 or Xbox Series X.
What are the best TVs for the PS5 and Xbox Series X?
When it comes to gaming, there are plenty of great TVs to choose from. Our top pick is the LG CX OLED, which pairs a ton of gamer-friendly features with an impeccable OLED display. It's a little pricey, but it's easily the best for picture quality and game support.
The TCL 6-Series Roku TV (R635) is a lot more affordable, but the quantum-dot display, mini-LED backlight and THX Certified Game Mode make it a killer gaming TV at a very affordable price.
The Vizio OLED TV (OLED55-H1) offers the best deal we've ever seen for an OLED, and boasts the same HDMI 2.1 feature support you want to get the most from your new console.
And if HDMI 2.1 isn't getting you excited, there's always the Hisense H9G Quantum Android TV. It may not support the higher refresh rates and features that HDMI 2.1 offers, but it's still a great looking 4K TV with low lag and great picture quality, not to mention plenty of smart features.
Finally, if you want to splurge on 8K, the Samsung Q800T QLED 8K TV lets you do so without taking out a second mortgage. It's the most affordable 8K TV of the year, and offers full support for everything the PS5 or Xbox Series X can throw at it.
The best TVs for PS5 and Xbox Series X
Right now, our absolute favorite TV is the LG CX OLED, which also leads our list of the best TVs on the market. It's also the only one with full HDMI 2.1 implementation, where other manufacturers have offered only one port in four with HDMI 2.1 or offer limited implementations that omit important features. If you're buying a TV today and want something that will give you the best 4K gaming experience you can get from the upcoming game consoles, this LG is it.
It's also the best TV overall, with superb picture quality and perfect per-pixel illumination for amazing HDR performance. It's one of the smartest TVs available, as well, complete with a motion remote that lets you point and wave the remote for on-screen cursor control and voice interaction that includes both Google Assistant and Amazon Alexa built in.
Read our full LG CX OLED review.
The TCL 6-Series Roku TV (R635) is one of the best values in 4K TVs, but it's especially good for gaming. The TV boasts an impressive 4K QLED display with mini-LED backlighting for some seriously great color and contrast, and it's no slouch in the gaming department. The overall lag time is decently fast, HDMI 2.1 specs like Auto-Low Latency Mode (ALLM) and Variable Refresh Rate (VRR) are fully supported, and we were impressed with the picture and sound quality offered on the TV. The combination of performance and smart features offered by Roku TV make it a set that can compete with premium models, while selling for a more-attainable price.
The R635 is also the first to get THX Certified Game Mode, which not only strips out the extra video processing that would slow down the response time for the player, it also meets a bunch of other criteria for high-quality images. These stringent requirements look at everything from color quality and refresh rates to rise time, which looks at how quickly the TV can handle dark-to-light transitions, essential for fast-paced games. If you want the best value in gaming TVs, this is it.
Read our full TCL 6-Series Roku TV (R635) review.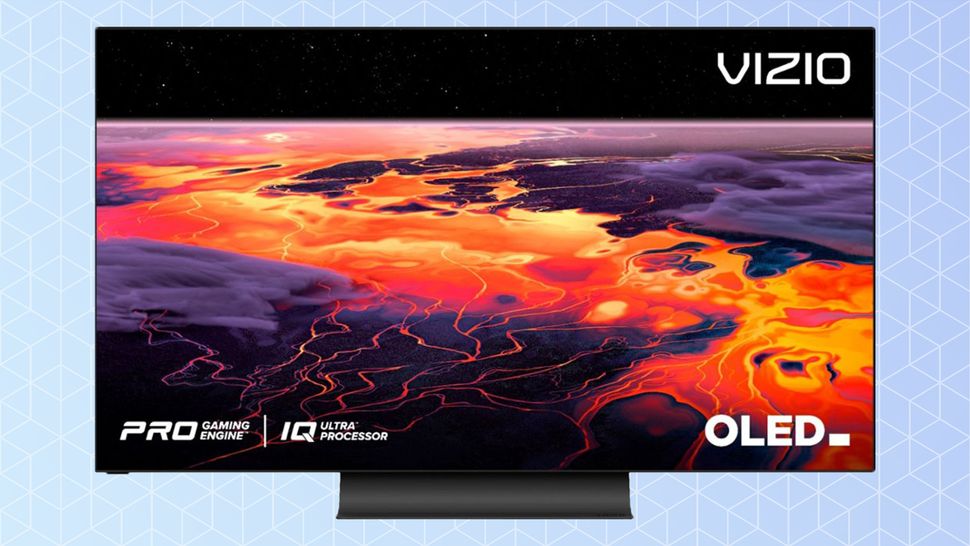 The Vizio OLED TV is the most affordable OLED TV on the market, and the first to offer a more budget-friendly alternative to offerings from LG and Sony in the United States. Selling for hundreds of dollars less than the competition, the Vizio OLED packs plenty of smart features alongside the 4K OLED display, and delivers the sort of premium picture quality that normally costs much more. Most notable is a slew of HDMI 2.1 features, like auto game mode, variable refresh rate and up to 120Hz refresh rate support for extremely smooth gaming.
Vizio's SmartCast smart TV platform has also expanded its app selection significantly, and all of the major apps you might want -- from Netflix to Disney+ -- are available right on the TV. The few that aren't offered on the home screen (HBO Max is the most glaring omission) can still be enjoyed through the TV's built-in Google Cast and AirPlay 2 support. Combine all of this with an improved remote control design and great sound with better-than-average bass, and you've got one of the best TV values of the year, and the easy pick for affordable OLED TVs.
Read our full Vizio OLED TV review. 
If all this talk of variable refresh rates and automatic game modes doesn't do much for you, you can always skip the HDMI 2.1 connection (and it's fancy features) and opt for a good looking 4K TV with low lag time. The Hisense H9G Quantum Android TV is an affordable pick that offers great color and brightness, and has enough smarts built in to satisfy the non-gamers in the house. Android TV offers a huge app selection, and built-in support for Google Assistant makes it the perfect addition to any smart home.
Picture quality is great, thanks to Dolby Vision HDR support and highly accurate, wide-gamut color. It also makes the most of the 4K resolution with superb contrast, thanks to a full array backlight with local dimming. The only downside on this TV was some slight color shifting when viewed at a steep angle, but this is less of an issue in gaming, where you tend to sit dead center in front of the screen. Most important, perhaps, is the price, which stays under $1,000 even for the larger 65-inch model.
Read our full Hisense H9G Quantum Android TV review. 
The Samsung Q800T QLED 8K TV is the most affordable of the latest 8K sets, and the one we recommend for gaming at higher-than-4K resolutions. Available in reasonable sizes, with 65-, 75- and 82-inch models, it's also one of the only 8K TVs that will fit into the average home, and offers full support for HDMI 2.1, with all of the bells and whistles, like auto-low latency mode (ALLM) and variable refresh rates (VRR). It's the latest 8K set from Samsung to feature quantum-dot enhancement for boosted color quality and deeper black levels, and it will look amazing for games and movies alike.
Samsung offers features and sound to match the impressive picture, with Object Tracking Sound technology, which makes sound effects and dialogue appear to come from the people and items on screen, and it has both Bixby and Amazon Alexa voice assistants built in.
What you need for gaming on PS5 and Xbox Series X
When it comes to gaming on the latest consoles, some things haven't changed. You want great picture quality, smooth motion handling and great responsiveness, so that your epic victory is never turned to defeat by input lag. But the new PS5 and Xbox Series X consoles have capabilities that demand more than many older 4K sets can match. From new connectivity standards to higher resolutions, faster refresh rates and convenient capabilities, the latest consoles play games at a higher level.
Support for 4K gaming was only introduced mid-way through the last generation of consoles, but it takes a big leap forward with the PS5 and Xbox Series X, which both offer 4K gaming for everything, as well as higher resolutions – even gaming at 8K.
That is due to HDMI 2.1 connectivity, which updates the basic HDMI connection with nearly three times the bandwidth (48 Gbps). That allows support for uncompressed 8K resolution at 60Hz, or 4K gaming at 120Hz, a big step up from the 60Hz maximum you could get over older HDMI.
Other cool features include variable refresh rate (VRR), which lets the TV adjust the refresh rate on the fly to match the output of the game console or graphics card it's connected to. This is the same sort of frame-rate-syncing technology offered by AMD FreeSync and Nvidia G-Sync for gaming monitors, and we're already seeing TV manufacturers jump on these technologies to take VRR a step further. Samsung TVs are now boasting AMD FreeSync, and LG's OLED TVs are the first in the market with G-Sync capability. But regardless of the branding involved, the result will be smoother, better-looking games, even from consoles.
The other is auto low-latency mode (ALLM), which detects when a connected game console is turned on, switching to game mode on the TV automatically when that happens. Game modes offer faster response times than standard and movie modes, but switching back and forth manually with the remote control is always a pain when you just want to jump into a game. The new feature does it all for you, giving you a better game experience automatically.
The only problem with HDMI 2.1 is that you'll need to have a new 2.1 cable in order to enjoy any of these advanced features. Older HDMI cables may look the same – they use the same connector and will still offer basic functionality when mixing older cables with newer ports – but the lower bandwidth will limit you to 4K resolution, lower refresh rates and none of the more advanced features.
While you may not be dead set on getting everything the new consoles will offer, like 8K gaming, it's still worth keeping these new capabilities in mind as you shop for your next TV.
Recommended HDMI 2.1 cables
We personally like the Belkin HDMI 2.1 ultra-high-speed cable. The Belkin name has a well-earned reputation for quality and reliability, and this cable's 2-meter length should give you enough slack to plug in your game console on all but the largest of TVs. It's also one of the only name-brand cables with an official HDMI 2.1 certification.