The best Sony headphones show one of the most established audio manufacturers at the top of its game. Whether it's a compact pair of wireless earbuds or noise-cancelling over-ears, these are the best Sony models we've tested.
Even though they has been superseded by the Sony WH-1000XM5, the Sony WH-1000XM4 are still available and continue to be one of the company's most popular noise-cancelling models. Similarly, the Sony 's flagship earbuds have just been updated, discover how they compare in our Sony WF-1000XM5 vs. Sony WF-1000XM4 face-off.
If you're looking for an alternative to Bose, Sennheiser, or even Apple headphones, read on to discover which Sony model we rate most highly right now.
The best Sony headphones you can buy right now
Best Sony over-ear headphones
Sony's new flagship headphones are the ultimate all-rounders, offering superb noise-cancelling, exceptional sound performance, tons of comfort, intuitive controls and plenty of special features. So, pretty much like the previous XM4s did, then.
These Sonys are a confident, convincing and enjoyable listen in every respect: low frequencies are muscular but agile, highs are well managed and there's plenty of detail across the range. Noise cancelling — always an XM-series strong point — banishes pretty much all external sound, and the excellent Sony Headphones Connect app allows you to personalize your audio according to taste.
The touch controls and battery life (30 hours with ANC on, 40 with it off) also beat the competition and though the design tends towards the bland, the fact that both the headphones and packaging are made almost entirely from recycled materials is a further mark in its favor.
The XM4s are still around, and cost less, but the XM5s are the new headphones against which to judge all others. If you're still not convinced then check out our Sony WH-1000XM5 vs. WH-1000XM4 face-off to see how they compare.
Read our full Sony WH-1000XM5 review.
Top-quality ANC? Personalized audio via the Sony Headphones Connect app? Outstanding battery life? The Sony WH-1000XM4 has all these and more, for a lower price than its rivals: the Bose 700 and Apple AirPods Max.
Sound quality in general is rich, deep and detailed, as you'd expect from the successor of the WH-1000XM3 headphones. Sony has fine-tuned the sound signature even more for this latest model, and integrated a motion sensor into the left ear cup for smart gesture controls. It's a brilliantly complete package, and easily the best headphones Sony has ever made. Find out how to get the best sound from your Sony WH-1000XM4 headphones.
Read our full Sony WH-1000XM4 review.
Since they've been replaced by the outstanding Sony WH-1000XM4, the WH-1000XM3 can no longer claim the top spot, but it's still a great set of cans that pumps out well-balanced sound highlighted by dynamic bass response. You're also given the option to customize the sound profile via the Sony Headphones app, though we're confident you'll enjoy the default sound setting.
The inclusion of Sony's QN1 processor elevates not only sonic performance but also noise cancellation, effortlessly silencing most high-frequency noises such as crying babies and police sirens. One of its most underappreciated features is the touch panel on the right ear cup, which operates responsively through the use of slide gestures. Lastly, the cans spoil you with a solid 30 hours of wireless listening with noise cancellation on.
Read our full Sony WH-1000XM3 review.
Best Sony earbuds
Sony's XM-series earbuds go from strength to strength with each new generation. As the latest flagship, the WF-1000XM5 wireless earbuds are smaller and lighter, yet they're equipped with some of the strongest features and performance we've ever seen from a pair of 'buds. They have some of the most dynamic and engaging sound we've heard, and their noise-canceling performance easily matches that of the Bose QuietComfort Earbuds 2 or Apple AirPods Pro 2.
Battery life hasn't been stepped up over the outgoing XM4 predecessor (below). But at 8 hours with ANC enabled, these top-tier Sony wireless earbuds still outperform close rivals and have some of the highest battery life of any set of more recently launched earbuds. There's LDAC support for higher-quality music, adaptive listening mode, Google and Alexa digital assistant support, and full EQ customization. Call quality is greatly improved, thanks to a new noise reduction engine with AI that's able to make voices clear even in noisy surroundings. Wind noise was kept to a minimum too, thanks to the mesh on the feed forward microphone helping to reduce its influence during calls. Ultimately, these are Sony's best ever and the best wireless earbuds package around right now.
Read the full Sony WF-1000XM5 review.
The Sony WF-C700N may be an entry-level set of ANC wireless earbuds, but they have many similar features and a brand experience as you get with the company's flagship WF-1000XM4. Despite the budge price tag, the adaptive ANC technology works particularly well. It learns your behavior and tweaks noise neutralization to your environment, while the 20 levels of ambient listening is boon for everyone who needs to maintain a level of awareness while wearing earbuds. These are IPX4 water resistance, too, which gives them the same level of protection as Apple's AirPods Pro 2.
When it comes to sound balance with music, you're in good hands. During our tests, the Sony's punchy low end handled complex bass-filled tracks with ease, while the Headphones Connect app provided plenty of sound customization via EQ and DSEE to boost fidelity on lo-fi recordings. Upgrades to battery life and the overall performance make these buds a sweet pickup for brand enthusiasts.
Read the full Sony WF-C700N review.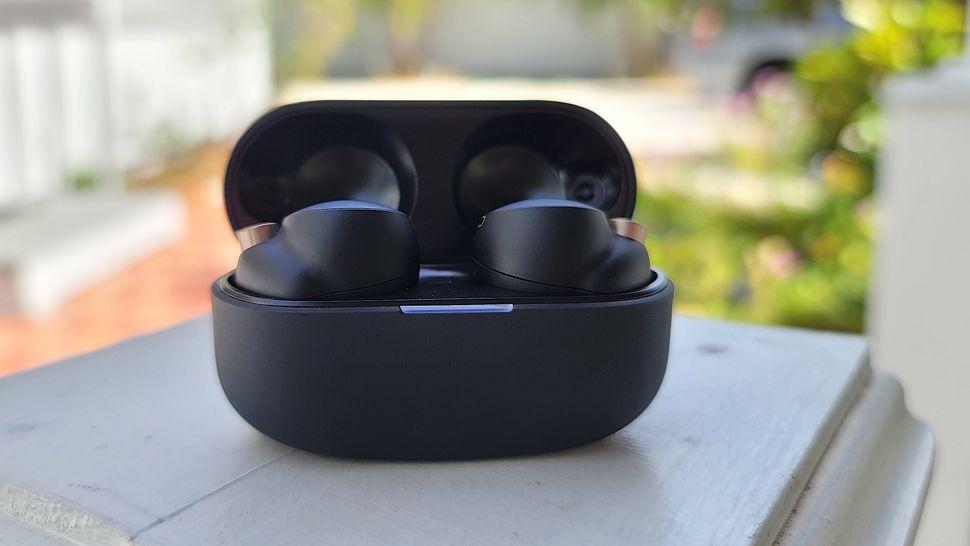 The Sony WF-1000XM4 may have been superseded by the WF-1000XM5 (above), but the former are still available while stocks last and are a great value alternative. When the XM4 launched in 2021, they improved on just about everything about the old WF-1000XM3, from reworking the design to enhancing ANC and tweaking the sound signature for better frequency balance. Check out how the Sony WF-1000XM4 vs. Sony WF-1000XM3 compare.
These are a particularly well-featured set of wireless earbuds. There's LDAC support for higher-quality music, a highly customizable ambient listening mode, support for all three of the big digital assistants and full EQ customization. Want to bring back the WF-1000XM3's bass-heavy sound? No problem.
Read our full Sony WF-1000XM4 review.
Although the Sony WF-1000XM4 is likely on the way, it's absolutely still worth picking up Sony's current-gen flagship earbuds. It remains on our best wireless earbuds list for good reason.
The WF-1000XM3 blends together spacious sound with the feature we once never thought could be done properly on a truly wireless model: noise cancellation. Sony adding a second mic to each bud helps optimize noise neutralization for peaceful listening on the go. Screeching train tracks and shouting passengers will go unheard. Crisp, full-bodied sound will channel through the ear canal. The buds are even capable of improving the fidelity on low-res recordings. Up to 6 hours of battery life with noise cancellation on is a blessing, too, while disabling the feature allows an extra 2 hours of use.
Read our full Sony WF-1000XM3 review.
Released in 2022, the LinkBuds S neatly bridges the gap between the polarizing LinkBuds WF-L900 and premium WF-1000XM4 (above) with active noise cancellation and comfort for all-day wear. The LinkBuds borrow in-brand features from the company's higher-end headphones, and although ANC performance isn't the strongest, they have a great transparency mode and can even detect whether you're moving and change the ANC/transparency toggle automatically for you.
The sound quality balance when listening to music isn't quite up to the high standards set by the WF-1000XM4, but it's engaging all the same and you change EQ settings via the Sony Headphones control app. They support Sony's LDAC codec for higher quality audio streams over Bluetooth and they also support Sony 360 Reality Audio. The lightweight design is what sets these earbuds apart, though, and are a truly practical option when it comes to keeping them in your ears for hours at a time.
Read our full Sony LinkBuds S review.
Sony's WF-C500 earbuds may not wow you with their looks, but arguably these are the best wireless earbuds under $100. Music sounds punchy and although their profile might not be as depth-filled as Sony's WF-1000XM4, you can expect powerful lows and crisp highs, along with under-emphasized mids. Should you want to tweak the sound, there's the Equalizer feature in the Sony Headphones Connect app to manually adjust frequencies or select from nine presets that prioritize different sonic elements, depending on the music genre or content.
The WF-C500 isn't perfect, though, with slightly impractical controls that can inflict some discomfort when attempting to activate, and mediocre capacity from the charging case. However, these are trivial complaints when factoring in the level of sound Sony has managed to engineer into these tiny buds, and they're a bargain-priced model that really shouldn't be overlooked.
Read our full Sony WF-C500 review.
How to choose the best Sony headphones for you
5 things to consider
Many factors come into play when shopping for the best headphones, but your decision should always come down to intended use. That being said, you'll want to take the following categories into account before settling on any pair.
1. Design: Are you looking for in-ear, on-ear or over-ear headphones? Wired or wireless? Luxury or sporty? Since these are headphones that will be used for multiple occasions, you want something that suits your lifestyle. Whatever type you choose, make sure the headphones are well built, easy to carry, and comfy to wear for about 1 to 2 hours daily.
2. Sound quality: Different models offer different sound, and since you're buying a pair to enjoy music individually, it's important to find headphones that match your sound preference, be it heavy bass or distinctively clear to where you can hear the littlest nuances in recordings. Some models offer personalized sound via companion app, which allows the user to create their own profiles and tweak EQ levels to their hearing.
3. Battery life: Sony's battery life has stayed pretty consistent over the years, and offer some of the strongest playback times we've seen across the over-ear and earbuds sectors. Wireless over-ears typically manage around 30 hours of playback time with ANC, while wireless earbuds can last 10 to 12 hours but offer extended playtime with their bundled charging cases.
4. Accessories: It's disappointing spending money on a new pair of headphones only to find that you need to buy the accessories separately. For wired models, the manufacturer must include the aux cable, and any headphones that come with a carrying case, charging cable, user guide, and extra ear cups or tips are solid purchases.
5. Pricing considerations: Obviously, price is a big consideration when looking for the best headphones. Although there are always exceptions, big-name brands will typically command a bit extra, but generally speaking, the less you spend on a pair of headphones the greater the chance that sound and features will be compromised. Going for a budget option isn't always the best choice, as any money you save on your purchase won't do you much good if you're constantly needing to recharge your audio gear, or the sound quality is poor.
As the saying goes: timing is everything; and right now it's worth checking out our best headphone deals to help you pick up a pair of Sony headphones for less.
How we test the best Sony headphones
In determining the best wireless headphones and wireless earbuds, we consider fit, battery life, sound quality, design and value (are they worth the price?). We also factor in features like how well the controls work and how easily the earbuds pair with phones.
In terms of audio, we listen to many sample tracks that span a number of genres, including hip-hop, rock, jazz, classical and R&B, while evaluating volume, clarity and fullness. We also make phone calls to assess both call quality and microphone performance.
Find out what we listen for during our testing process and how to get the best headphone sound for you.
During the testing phase, our reviewers wear each pair of headphones for hours at a time throughout the course of a week. Reviewers will make note of battery life and how well it matches the rated battery life provided by earbud makers.
We evaluate earbuds based on our five-point system (1 = worst, 5 = best). If a product hits nearly every mark, it's awarded an Editor's Choice badge.
For more information, check out our how we test page for Tom's Guide.
Contributions from Alex Bracetti, James Archer, Simon Lucas, Kate Kozuch
Which entry-level Sony earbuds are best?
What are the main differences between the these low-cost Sony WF-C700N earbuds and the Sony WF-C500?
The Sony WF-C500 are considered some of the best cheap wireless earbuds and set the standard for sound quality for under $100, offering Sony bass performance and proprietary technologies like Digital Sound Enhancement Engine (DSEE) Extreme and 360 Reality Audio. Meanwhile, the recently launched WF-C700N rank as one of the best noise-cancelling earbuds, and boast the same sonic perks as the C500 while adding active noise cancellation (ANC) and a few other upgrades into the mix.
To learn more, check out our Sony WF-C700N vs. Sony WF-C500 face-off.
More from Tom's Guide