The best grocery delivery services bring fresh produce, meat, dairy and pantry staples right to your front door. Forget navigating crowded aisles or waiting for space in the parking lot — get your groceries online with just a few clicks.
The best grocery delivery services became particularly essential for many people at the start of the pandemic. But even now, grocery delivery services continue to remain in high demand. Different options are sprouting all the time, like Boxed and Dumpling.
The best grocery delivery services offer fresh produce, meat, seafood, eggs, cheese, prepared foods and meal kits. Others only sell nonperishable, shelf-stable pantry items like pasta, cereal, canned goods and snacks.
As far as delivery fees and times, they run the gamut. Some offer free delivery with add-on memberships, and most require a minimum order. You can get groceries delivered within an hour in some places or schedule them for the next day or later in the week.
Here are the best grocery delivery services right now.
The best grocery delivery services right now
Amazon Fresh is essentially a digital grocery store. It used to be an add-on service but now comes free for Amazon Prime members. The store offers fresh produce, meat, dairy, seafood, packaged foods, Whole Foods 365 products and household goods, such as cleaning supplies. You can even shop for electronics, clothing and toys on Amazon Fresh. The interface is the same as the rest of Amazon, so using it is easy and familiar. Just add items to your cart and then check out.
Amazon Fresh offers two-hour delivery in most cases and one-hour with an extra fee. The service recently changed its delivery fee structure, with free delivery no longer available. Now, fees are charged based on order amount.
Try the Amazon Fresh service now.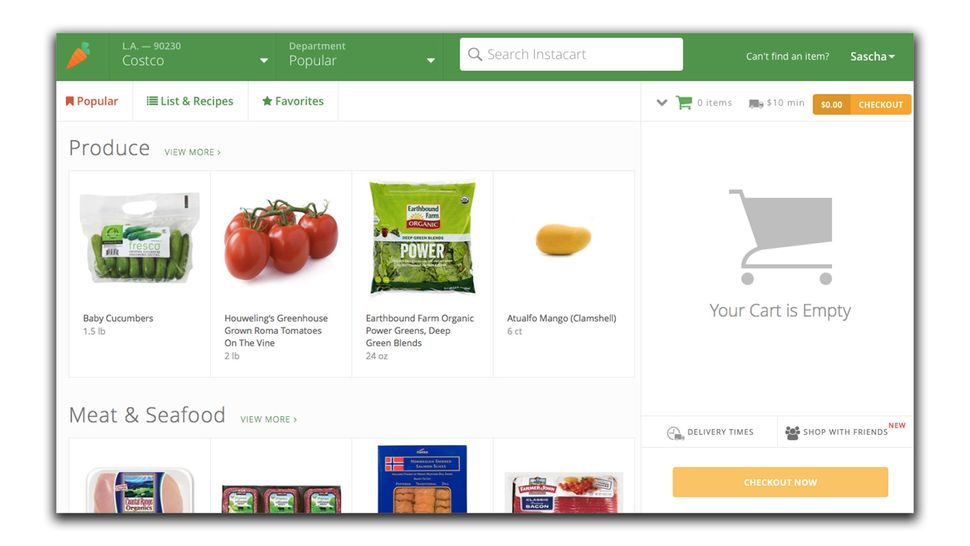 Instacart uses personal shoppers to pick up items for you from local stores. You can even order from Costco and Sam's Club without needing a membership (though you will pay more than members would in the store). Some areas even allow you to order from liquor stores, pet stores and pharmacies. As you're shopping, you can indicate substitutes if any items are unavailable. You'll receive live updates and can track the shopper's progress on GPS.
If you upgrade to Instacart Express, you get free two-hour delivery on orders over $35 and you can also shop from multiple stores at the same time. Otherwise, you have to pay a fee starting at $3.99, which goes up during busier times of the day and varies by how quickly you want your delivery. Learn more about Instacart promo codes, delivery fees and becoming a shopper.
Try the Instacart service now.
The gig economy can be brutal on the people that work it — from Uber drivers to grocery delivery shoppers. Dumpling touts itself as empowering shoppers to become their own business owners. If you feel even vaguely icky about how some services exploit their workers, then Dumpling is a grocery delivery outfit that you can feel good about.
Every shopper sets their own fees, hours and stores, so Dumpling's service will vary greatly depending on which shopper you select. The Dumpling app is a bit less slick and intuitive to use than some of the big names, but the shopping process itself was just as smooth. I received two deliveries from different stores from one shopper, whose range included Trader Joe's (which no other service covers). The shopper was prompt and communicative, texting me about out-of-stock items and inquiring about replacements. The delivery itself was on time and followed current health precautions.
The delivery/shopping fees are a bit steep, but again, those fees are set by the shoppers themselves. And unlike a service like Instacart, Dumpling allows you to select the same shopper again and again, so you can build a more personal relationship with them. And at a time like this, it's a nice way to support an essential worker.
Try the Dumpling service now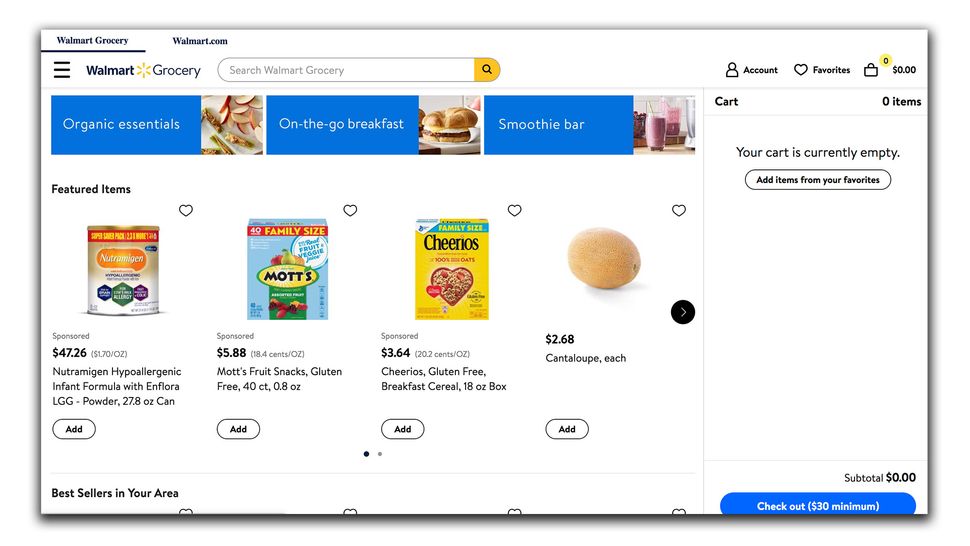 Walmart Grocery pickup and delivery is available most major cities. Previously, the service allowed you to order from Walmart for same-day pickup. Now, you can have that order delivered to you, also same-day. Walmart Grocery has existed on a separate app from the main Walmart app, but the company plans to merge them soon.
So, what can you buy? Everything from groceries (perishable and nonperishable) to home goods to electronics to beauty products to clothing — anything Walmart sells at low Walmart prices, which is why it's one of the best grocery delivery services. You can get fresh fruit and outdoor gear at the same time! Once you order, you can select an open delivery window up to a week in advance. And if you sign up for the Delivery Unlimited package, shipping is free. Otherwise, the delivery fee starts at $7.95.
Try the Walmart Grocery service now.
Hungryroot is a personalized subscription grocery service with a mission to deliver fresh, quality, healthy food. Signing up and shopping is a breeze. You start by taking a simple quiz about your eating habits, dietary restrictions and food preferences. Then, Hungryroot will fill your cart for you with ingredients for several chef-prepared recipes as well other snacks and groceries. Set a delivery day and wait for your groceries to show up at your doorstep.
If you don't want the options that Hungryroot selected, it's easy to modify them. You can peruse other recipes and add all of their ingredients with just one click. Or you can forego recipes entirely and simply browse their products, which include packaged goods like condiments and cereals. They also offer prepared ready-to-eat foods, like tuna salad and chicken burritos.
Hungryroot's focus on nutritious food means that you'll see a more limited selection than you would get at the local grocery store. Delivery is completed within a certain window, though you can't narrow it down to certain hours like some other grocery delivery services. Hungryroot may not entirely replace all your grocery shopping needs, but it's a great, convenient way to get quality produce and meat.
Try Hungryroot now
FreshDirect is limited to a handful of Northeast states and offers those areas high-quality produce, meat, seafood, cheese, baked goods and pantry staples. They also make their own brand of meal kits and prepared meals — you could buy an entire Thanksgiving meal, as an example. You can also buy farmshare boxes, fresh flowers, household goods, personal care items and alcohol in some areas. Because their goods are top-notch (and often organic), their prices reflect that so you may experience some sticker shock.
If you're in New York City, you can also use their Express service to get groceries the same day. And in the summers, FreshDirect expands its coverage zone to the Jersey Shore and Hamptons. Their fees are high, depending on the specific area, as is the monthly and yearly passes. But if you want quality groceries, you have to pay for them.
Try the FreshDirect service now
Peapod is one of the first of the best grocery delivery services, though it's not in many regions right now. They recently pulled out of the Midwest and the Washington D.C. area. Peapod offers all the standard groceries like fresh vegetables and fruit, meat, dairy and pantry staples but also their own brand of meal kits. There's decent savings to be had, too: They double manufacturers' coupons up to $0.99. Be sure to sign up for their emails, which also tout special deals.
When you first sign up for Peapod, you can save $20 off your first order and get 60 days of free delivery with the promo code 60DAYSFREE. After that, you can get free delivery with PodPass, but only by ordering over $100. Otherwise, the delivery fee varies by your order total and the day and time you select.
Try the Peapod service now
Shipt is similar to Instacart but requires you to sign up for a membership, which comes with free shipping on orders over $35 (for smaller orders, the fee is $7). Shipt has a somewhat limited coverage area versus the other best grocery delivery services, but still offers convenience and decent prices. They promote weekly sales, coupons and deals (including buy-one-get-one-free) if you're looking to save on your grocery budget.
Like Instacart, you get a personal shopper who will pick up the items on your list from various local stores, including Kroger, Target and CVS. In some areas, you can even get alcohol. If your personal shopper has questions about substitutes, they will contact you to discuss adjustments to the order. Once you place an order, you can get your items as quickly as within the hour or schedule the delivery in the next two weeks.
Try the Shipt service now
Imperfect Foods is one of several grocery delivery services that sells, well, what it name implies. That could anything from slightly bruised apples to weirdly shaped carrots. As they say, they stock groceries with "cosmetic quirks, irregular sizes, or are just surplus." You may struggle to see what's actually imperfect about the groceries you get, since they're still good quality and sustainable, to boot. Imperfect Foods also offers exclusive sales and deals that you won't find anywhere else.
Once you sign up, you're assigned a delivery day. Then, you have a certain shopping window. A great feature of Imperfect Foods is that they "pre-fill" your cart with items you might like. You can always add and remove your choices during the window. And if you don't need groceries a certain week, you can skip a delivery.
Try Imperfect Foods now
I love the deals found at bulk shopping warehouse stores like Costco and Sam's Club, but I'm deterred by the membership requirements. Boxed is a grocery delivery service that caters to people like me, who want to buy bulk goods without paying an annual fee.
Boxed offers wide, though not super extensive, selection of brand-name nonperishable foods, beverages and pantry items like like cereal, snacks, candy, juices, sparkling water, condiments, seasonings, pasta and canned goods. The service also sells household supplies, so you can follow my lead in stocking up on toilet paper and paper towels.
The main benefit to Boxed is access to discounts and holiday sales. The site also helpfully highlights coupons you can clip. The only drawbacks are the somewhat limited selection and the inability to set a shipping window like some other services. My delivery came even more quickly than Boxed estimated, but I had to rearrange my schedule to ensure I could receive it. Still, it's a great way to save money on staples, which is very welcome in these current times.
Try Boxed now
How to choose the best grocery delivery service for you
The first thing to do when deciding which is the best grocery delivery service for you is determining which are available in your city or area.
If you want to find out which of the best grocery delivery services is in your area, here's a handy list to check for availability. Just visit these links, enter your zip code or address information to learn which grocery delivery service will bring groceries right to your door.
Once you've narrowed down the list to the best grocery delivery services in your area, consider what you need to buy. If you need fresh produce and meat, you should go with Amazon Fresh, Walmart Grocery, Instacart, FreshDirect, Peapod, Shipt or Amazon Prime Now. If you only need non-perishables, consider Google Shopping or Prime Pantry.
You may also want to consider the quality of the groceries. If you want organic produce, we recommend FreshDirect or Prime Now (which sells Whole Foods produce). If you want to shop at your favorite store, go with Instacart or Shipt. If you want to buy pre-made meal kits, check out Peapod and FreshDirect. If you're all about a budget, Walmart Grocery may have some of the lowest prices.
Grocery delivery alternatives
With so much demand for the best grocery delivery services right now, many of the providers on our list are experiencing delays. It's often hard to find open delivery slots, as well.
Other businesses, as well as new enterprises, are starting to step into the avoid. Panera has expanded from delivery of its usual menu of sandwiches, soups and salads to offer pantry essentials including milk, fruit and vegetables and their signature bread items. The goods are priced competitively to similar items found in supermarkets.
The self-driving startup Nuro recently received approval to test its driverless delivery robots in California. The company has already tested driverless delivery in Arizona and Texas and will now expand into nine Bay Area cities. Their service focuses on "last mile" deliveries — groceries, laundry, take-out orders, etc. Down the road, Nuro's robots could bring your supermarket order to you.