17 Tips for Dominating Injustice 2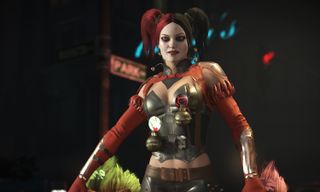 17 Tips for Dominating Injustice 2
Injustice 2 is one of the best fighting games in years, offering an immersive story mode, fantastic combat and a ton of solo and multiplayer content. However, NetherRealm's new comic-book brawler is so fully featured that it's borderline overwhelming, especially when it comes to mastering its 29 characters and understanding what the heck to do with the hundreds of gear pieces you've unlocked.
Fortunately, after hours of exploring the Multiverse, battling it out online and dressing up Superman in all kinds of colorful suits, we're here to help. Whether you're looking to make a mark on the competitive scene or just want to craft a cool-looking superhero, here are 17 tips for getting the most out of Injustice 2.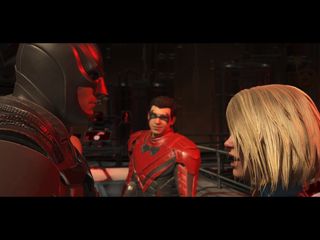 Play story mode first
When you first fire up Injustice 2, story mode is the best place to start. Not only will you be treated to an engrossing DC cinematic adventure, you'll also get to sample a good chunk of the game's huge roster while earning tons of loot and leveling up multiple fighters in a short amount of time. Plus, you'll unlock main baddie Brainiac once it's all wrapped up.
Image Credit: WB Games / Tom's Guide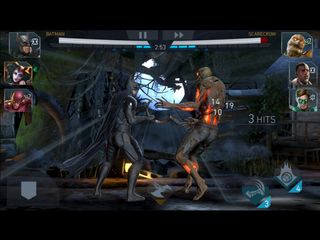 Link the Injustice 2 mobile game
The free mobile version of Injustice 2 is a fun little brawler in its own right, and allows you to unlock a bunch of rewards for the console version. To connect the two versions of the game, simply select Extras > Link to Injustice 2 Mobile on your console to get a link code. Then, go to Settings > Console Link on mobile and enter that code. You'll get a special Grid skin for Cyborg and a diamond Mother Box just for linking, and will continue to get more rewards just by playing both versions of the game.
Image Credit: WB Games / Tom's Guide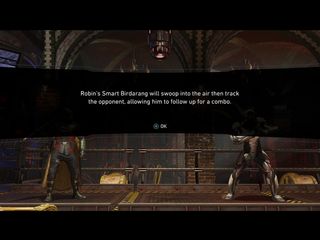 Do the character tutorials
If you're looking to get good with a specific fighter, hop into the character tutorials, which you'll find in the larger Tutorial menu. These missions not only teach you each character's basic moveset, but also explain the best ways to apply each attack and combo in the middle of a fight. Finishing each character tutorial will also earn you a Mother Box.
Image Credit: WB Games / Tom's Guide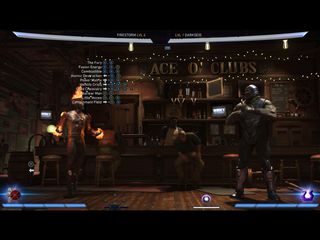 Tag your moves and combos
Injustice 2 lets you pin up to 10 moves or combos to the screen, which is a great way to learn your favorite character's attacks without having to constantly pause to check the move list. To tag moves, simply pause the game, open the move list and press Y or Triangle over any move or combo you want to have easy access to. You can tag attacks in just about all of Injustice 2's offline modes, except for story.
Image Credit: WB Games / Tom's Guide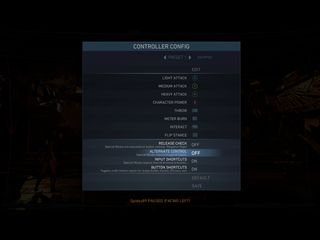 Customize your controls
Injustice 2 offers a few useful control options that you might want to tweak -- especially if you're new to NetherRealm games. For example, I immediately disabled Release Check, which allows you to execute special moves upon releasing a button, since it was causing me to do specials accidentally. Street Fighter players might want to turn on Alternate Control, which lets you perform special moves using smoother, more circular joystick motions. Keep experimenting until you find a configuration you're comfortable with.
Image Credit: WB Games / Tom's Guide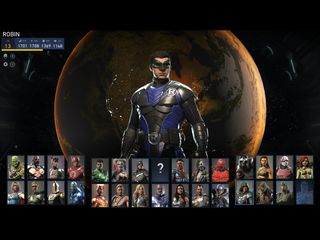 Stick to your favorite characters
Once you've settled on a favorite character or two, play them as often as possible. Each character in Injustice 2 levels up individually, so the more time you put into a fighter, the sooner the character will be able to access high-level gear and Multiverse challenges. Also, it's simply much easier to get good with a few characters than it is to try and master everybody.
Image Credit: WB Games / Tom's Guide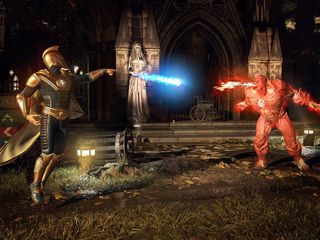 Master the new escapes
Injustice 2 introduces roll escapes and air escapes, and mastering both mechanics is key to playing good defense. Roll escapes (performed by dashing forward and hitting the Meter Burn button) require one bar of super meter, and allow you to quickly close in on a projectile-happy opponent. Air escapes (performed by pressing up + Meter Burn or back + Meter Burn) cost two bars of meter, and give you a chance to slip free while being juggled. Don't get predictable, though -- if your opponent senses that an escape is coming, they can punish you for it big time.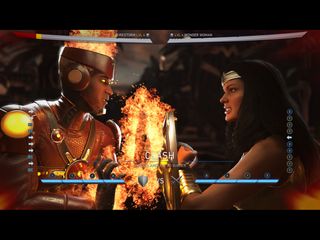 Clash wisely
Injustice 2 brings back the Clash system, which lets players wager their super meter in hopes of doing some extra damage or getting some health back. However, there are plenty of Clash scenarios in which you shouldn't wager anything at all.
For example, if your opponent initiates a Clash and you have a significant life lead, you're better off not wagering any meter -- save those resources for Meter Burn moves, quick escapes and super-attacks instead. Likewise, you can try to get your opponent to exhaust their meter by initiating a Clash but not wagering anything. If you really want to bluff your enemy, press the Meter Burn button during a Clash; the wager sound will play, but you won't spend any meter.
Image Credit: WB Games / Tom's Guide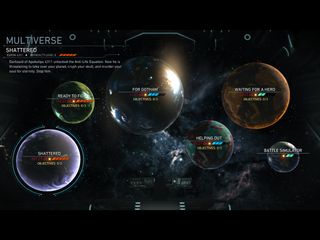 Check the Multiverse often
Injustice 2's dynamic Multiverse mode is filled with challenges that rotate out on a weekly, daily and sometimes hourly basis, so be sure to check in often to see what kinds of alternate Earths are waiting for you. Many Multiverses have themes built around a specific character, so there's always a chance you'll stumble on one filled with rare gear for your fighter of choice. Also, once you're in a Multiverse, don't forget to press Y or Triangle to see bonus objectives that will get you even more rewards.
Image Credit: WB Games / Tom's Guide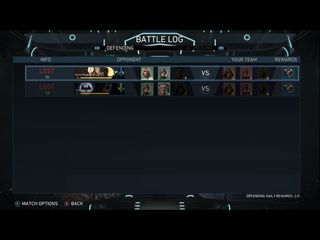 Use the AI Battle Simulator
A neat Injustice 2 feature that's easy to miss is the AI Battle Simulator, which lets you form teams of AI-controlled fighters and is a great way to earn easy rewards. Once you've customized a few AI characters and set up a team of defenders, you can passively earn Mother Boxes when another player challenges your crew -- even if you lose.
Image Credit: WB Games / Tom's Guide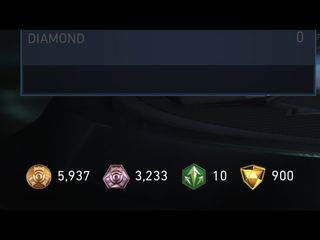 Know your currencies
Injustice 2 has a four different in-game currencies, and it can be hard to make sense of them all at first. Your main currency is Credits, which can be used to buy Mother Boxes filled with randomized gear, as well as to open up select Multiverse challenges. Guild Credits work similarly, but can be earned only by completing Guild challenges. They can be spent on special Guild Mother Boxes.
Regen Tokens are used for regenerating your gear (more on that later), and will occasionally drop when you sell lots of loot. Finally, there are Source Crystals, which can be spent on shaders that change your character's color as well as on transforming the look of your gear. Source Crystals are the only pieces of in-game currency you can spend real money on, though you can also earn them simply by leveling up and completing challenges.
Image Credit: WB Games / Tom's Guide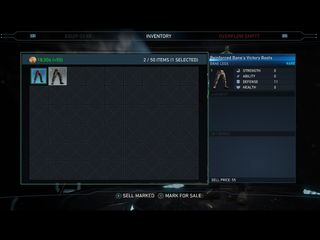 Sell unwanted gear
Let's be honest -- you're never gonna use all that Aquaman gear you've unlocked. To sell gear you don't want in exchange for credits, open the Inventory tab in the Customize Characters menu. The rarer the gear, the more money you'll get for it.
Image Credit: WB Games / Tom's Guide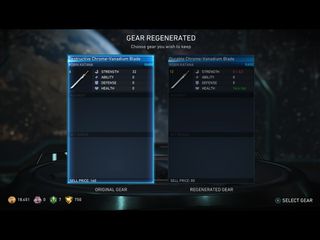 Regenerate and transform gear
The Brother Eye Vault menu hides two key components of the gear system: regenerating and transforming.
Regenerating gear allows you to reset the stats of a gear piece and bring its level up to that of its corresponding character in exchange for a Regen Token. For example, regenerating a Level 2 sword for a Level 7 Robin will bring the sword's Level to 7, and will grant the item some stats it didn't have before. After you regenerate, you can choose whether you want to keep the new version of the gear piece or go back to the old one.
If you prefer the look of one piece of gear but the stats of another, you can transform gear in exchange for 2,000 Source Crystals. First, pick the gear whose stats you want to keep. Then, pick another piece of gear you want it to look like. Voila! That boring high-level Batman mask suddenly looks awesome.
Image Credit: WB Games / Tom's Guide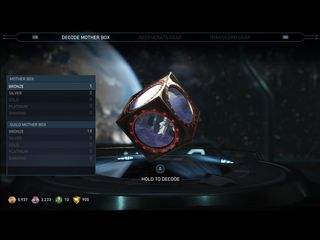 Open your Mother Boxes right away
When you earn a Mother Box, it'll contain gear tied to your current level at the time. As such, don't wait to open them up -- the gear inside Mother Boxes won't get any better if you level up and then open a bunch of old ones.
Image Credit: WB Games / Tom's Guide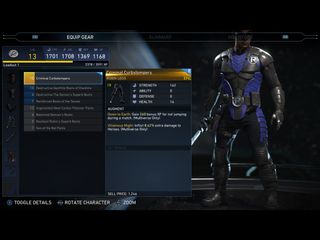 Switch up your gear loadouts
As you earn and equip gear pieces, pay close attention to their special attributes. For example, some gear pieces do extra damage to heroes or villains, while others are especially powerful against Kryptonian characters like Superman or Supergirl. As such, you might want to create a few different gear loadouts for fighting different characters, as those boosts can make all the difference when trying to beat the game's harder Multiverse missions.
Image Credit: WB Games / Tom's Guide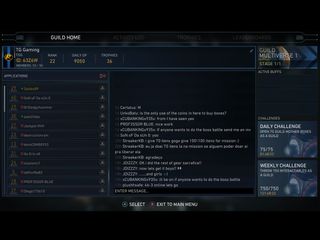 Join or create a Guild
Injustice 2 introduces Guilds, which let you form a posse of fellow fighters and earn tons of great rewards. Joining or creating a Guild gives you access to Guild-only challenges as well as your own exclusive Multiverse, where you and your pals can collectively work toward goals that'll let you earn a whole bunch of Mother Boxes and Guild Credits.
Image Credit: WB Games / Tom's Guide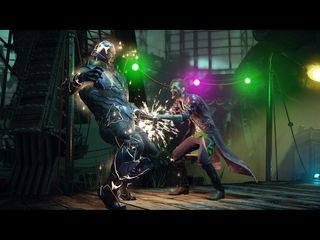 Watch and learn
If you're looking to take your Injustice 2 game to the next level, watching the pros play can be just as invaluable as hammering away in training mode yourself. There are already tons of Injustice 2 streams and videos on Twitch and YouTube, where you can see your favorite characters played at a high level and get lots of great ideas that you can incorporate into your own playstyle.
Image Credit: WB Games