6 Tips For Getting Started with Nintendo Switch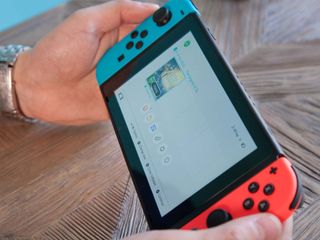 Out of the Box Tips
So, you finally got your long-awaited Nintendo Switch. You probably want to get gaming, but first, you should learn about the ins and outs of your device. From making Miis to switching themes, here are few things to know before you get started with your Switch.
Try the Dark Theme
The Switch's operating system is fast with great sound effects, but you might prefer something a little more subdued. If you go to Settings > Themes > Basic Black, you can switch from a white theme to a dark theme.
Share Your Screens
The screen share button is on the left Joy-Con, and you can use it to capture shots of your games and share them on social media. Once you've snapped a vista in The Legend of Zelda: Breath of the Wild, swing over to the album in the main menu to add captions and share them on Facebook and Twitter.
Add Some Friends
Unfortunately, Nintendo has yet to do away with friend codes (though it's promised new ways to add friends in the future). That means you'll have to dig out your 12-digit friend code to share with others, unless you're in the same room or have already played with them.
Scan Your Amiibo
Amiibo may have started with the Wii U, but they still work with the Switch. The right Joy-Con has an NFC reader in it that lets you use them for bonuses in games like The Legend of Zelda: Breath of the Wild.
Make a New Mii
Go to Settings > Mii > Create new Mii to make an avatar that's more customizable than on any system so far. You're no longer relegated to brown, black and blonde hair. Now dye it red. Or purple. There's no obvious use for Miis on the Switch right now, but Nintendo clearly intends to support them in some fashion down the line.
Use The Parental Control App As An Activity Log
The Switch doesn't have a great option for logging playtime, but Nintendo's own parental control app does a much better job. You can download it on Android here or on iOS here. Just turn off all of the restrictions and you have a great record of how much time you've dumped into Super Bomberman R.