7 Cheap VR Headsets Ranked from Best to Worst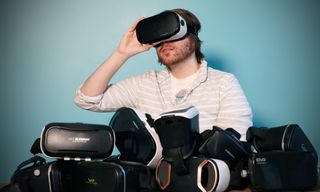 Virtual Reality on a Budget
Are you interested in a VR headset, but not willing to spend hundreds of dollars for a high-end virtual reality device? Don't worry, you still have options. Skip past tethered headsets like the Oculus Rift, HTC Vive and HTC Vive Pro, keep going past premium mobile designs like Samsung's Gear VR and the standalone Oculus Quest and the new Oculus Rift S and HTC Vive Cosmos and you'll find a sea of cheaper models for $45 or less. Even Nintendo's getting into the game with the $40 starter Nintendo Labo VR Kit pack. We've scoured the internet for some of the best cheap options available. Every product listed here will work with pretty much any iPhone or Android device around. After some extensive testing, we've ranked all these headsets based on design, comfort, visual quality, ease of use and any other special features. But if you're looking for a more premium headset, check out our Best VR Headsets page.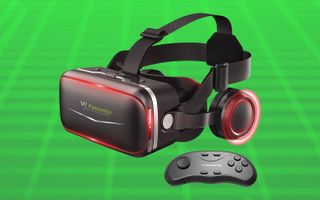 Pansonite 3D VR Headset - 4.5 stars
Pansonite is as close as you can get to a high-end virtual reality headset without paying an exorbitant price. It features a cloth design in front similar to Google's Daydream headsets, along with an adjustable plastic headband that's reminiscent of the PlayStation VR. Pansonite's headset also packs built-in headphones with an aux input — which is great if your phone still sports a headphone jack or if you have an adapter on hand — and a dial on top for adjusting the focus.Playing Roller Coaster VR on this headset was exhilarating, and this 360-degree shark experience was a blast. Even this knockoff Star Wars VR video on YouTube was fun to watch through the Pansonite. Nothing about the headset detracted from any of these experiences, making the Pansonite one of the best overall VR headsets around at this price.
Credit: Pansonite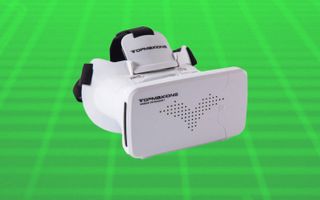 Topmaxions 3D VR Glasses - 4 stars
Topmaxions is a no-frills virtual reality headset that works surprisingly well. The design is simple and minimal, with a little foam in front to protect your face, but not enough to make it particularly comfortable to wear. As a bonus, there's a suction-cup panel in front for holding your phone in place, and a section of the outer cover snaps off to uncover the camera for AR apps.
On the downside, there's no way to adjust the focus, but thankfully, the visual quality was actually pretty good during testing with Roller Coaster VR and a few 360-degree YouTube videos. The head strap in back also needs to be manually attached, but thanks to a Velcro design, that takes only a few seconds to do. Overall, this is a capable little VR headset at a shockingly low price, though it is missing a few frills we saw in other models, like built-in headphones and adjustable focus.
Credit: Topmaxions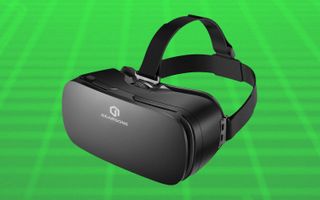 Gearsone G1 VR Headset - 3.5 stars
The G1 is one of the heaviest units we have tested, but their ease of use and comfortable fit made them a pleasure to use. They contain all the features of a more expensive model like adjustable focal length, snug-fitting Velcro head straps, perforated foam face padding and an "action" button to enjoy interactive content. The visual quality was quite good due to a 103-degree field of view, anti-reflective and anti-blue light coating on the lenses. I used the headsets for an extended time with minimal heat issues due to the vented front panel. On the downside, the focus slide adjusters were poorly placed making it difficult to establish good focal positioning. There was also some spacing issues that allowed a significant amount of light leakage. Overall, this device is a solid choice for the beginner VR enthusiast, due to its low cost, comfort factor and screen clarity.
Credit: Gearsone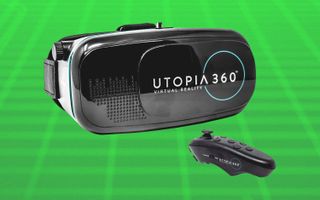 Utopia 360 VR Headset - 3 stars
The Utopia 360 is simple to operate and equipped with a nice assortment of features found in more expensive VR headsets. The front panel is magnetic and takes little effort to open and slide your smartphone inside the unit. Focusing the headset was easy enough, thanks to the well-placed side mounted rollers. While using Google Cardboard apps, the top mounted "action" button activated bonus features inside the app quite with ease. Other notable features include adjustable Velcro head straps, soft vented foam face pad and a wide nose indent to help balance the unite. The included remote was nice, but it was rarely used for anything other than menu choices. Credit: Utopia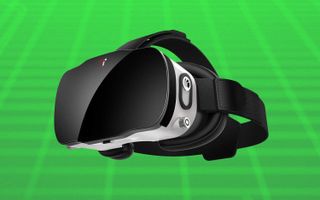 TaoTronics 3D VR Headset - 2.5 stars
One of the smaller and lighter options on this list, the TaoTronics 3D VR headset is quite comfortable. The downside of this headset's small size is increased concentration of heat; larger phones in particular could present a problem. The TaoTronics is the only option we tested that features the Google Cardboard magnet "button," which allows for additional interaction with some apps without the need for a controller. Separate focus adjustments for each eye is another welcome option. Unfortunately, VR content looked slightly distorted and colors were a bit muted.Credit: TaoTronics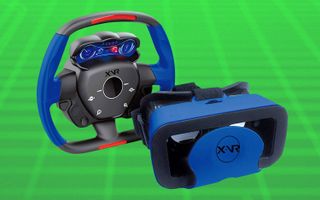 Resulzon 3D VR Headset With Steering Wheel - 1.5 stars
The Resulzon's are similar to those pair of classic 3D viewer glasses stuffed away in your junk drawer. The design is simple, lightweight, easy to use and fit securely on my head. On the downside, they are constructed of hard plastic and lack sufficient padding on the mask, which made them uncomfortable to wear for more than 20 minutes at a time. Finding the focal adjustment was easy enough- since there is only one button on the unit. The facemask did a poor job of blocking light from entering the unit during my VR demos. The headset shipped with a poorly constructed Bluetooth-enabled racing wheel (batteries not included). It took me numerous tries to pair the two devices, after which I quickly lost interest in playing the 16-bit racing game it was designed for. Needless to say, there are many other better choices in this price range that are both cheaper and easier to use. Credit: Resulzon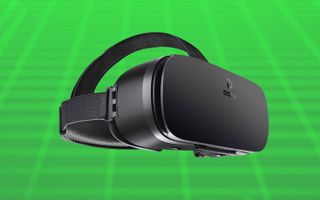 Destek V4 VR Headset - 1 star
The Destek V4 offers a pretty basic and sometimes mediocre experience, especially for a virtual reality headset at the high end of our price range. I noticed some light bleeding in, which can ruin even the best VR app, and it applies a little too much pressure on the bridge of your nose to be comfortable. Your phone's camera is also totally blocked, which means no AR support, and the headstrap needs to be attached before it can be used. The design is as simple as it gets, with the only clear branding being a transparent sticker that had already begun peeling off when we opened the box.This headset's only redeeming quality may be the included Bluetooth remote for navigating app menus, which is actually sort of nice compared to the others we've seen, but it's still not good enough for actual gaming. However, the chances that you'll actually use this accessory aren't high enough to compensate for the rest of the device's shortcomings.
Credit: Destek V4