Getting hold of one of our picks for the best VR headset is a good thing to do when the world is still in the midst of a global pandemic; virtual reality is one way to escape the rigours of life, even if only for a bit.
as such, Tom's Guide has a round-up of the best VR headsets you can buy right now. All you need to do is select the one that best fits your needs, from an all-in-one headset to systems that can be plugged into a powerful gaming PC.
These VR headsets vary in price and requirements, from all-in-one standalone goggles to systems that allow for room-scale virtual reality, providing you have a suitably powerful PC to run the headset and accompanying sensors. There's also a wider range of apps and games you can now use with different VR headsets, ranging from simple mobile apps to fully-fledged triple-A games.
What are the best VR headsets?
Our pick for the best VR headset is the Oculus Quest 2. You don't need to deal with fiddling with smartphones or invest in one of the best gaming PCs just to experience high-quality VR. Rather, you can simply set up the comprehensive all-in-one VR experience and then get cracking with VR without worrying about tripping over cables or running out of smartphone battery life.
Of course, you also have the option to connect the Quest 2 to a PC and enjoy playing Oculus-supported games that way. And there are even more capabilities coming to the Quest 2.
However, for true high-end VR then you will need a VR headset that's connected to a powerful PC. In that case, the Oculus Rift S, HTC Vive, and Valve Index are your best bets. Do bear in mind you'll need a good bit of free space to get the most out of these headsets, especially if you plan on doing room-scale VR.
If you have a PS4 or PS4 Pro handy, then the PlayStation VR is a good option. Its simple setup means you'll be playing games like Batman: Arkham VR and Star Trek: Bridge Crew in no time. Just make sure you have a PlayStation Camera handy and bear in mind it won't work perfectly with the PS5.
The best VR headsets you can buy today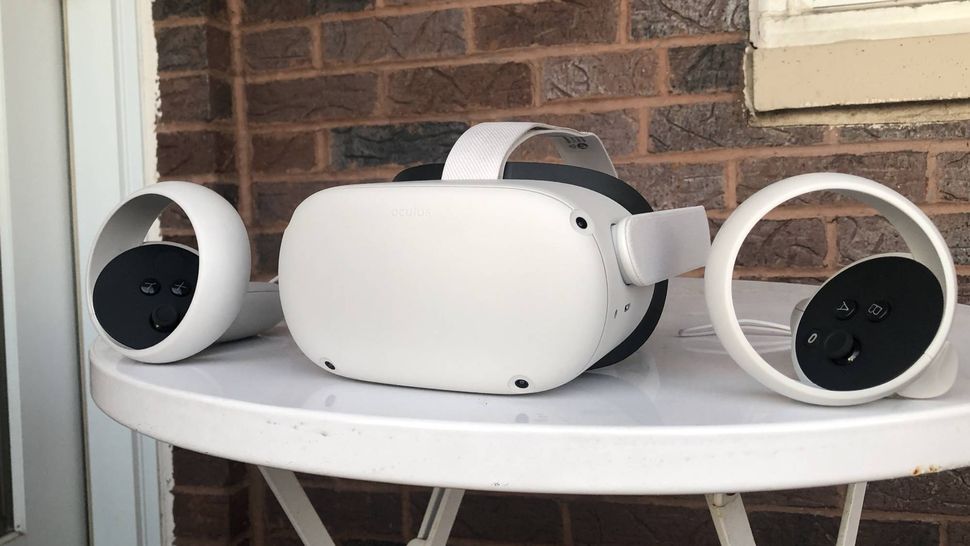 Following up the Oculus Quest wasn't going to be an easy task, but the Oculus Quest 2 improves upon its successor across the board. In fact, it's our pick for the best overall VR headset. With a slicker, more intuitive design, faster performance and better resolution, the Oculus Quest 2 delivers the best VR experience you can have without needing a powerful PC or loads of cables.
Starting at $299, it's not the cheapest VR headset around, but you do get an all-in-one system that can deliver room-scale VR across a broad library of games and apps. It's also a better designed headset than the older Quest. It ditches the plain black of its predecessor and is 10% lighter, and the Quest 2's light gray design is highlighted by a black face strap and a quartet of camera sensors make it look simple, fun and inviting all at once. Improved audio and overall specs boot further sweeten the VR package.
You can also link the Oculus Quest 2 to a PC and use it with full-fat gaming computer-powered VR games; just bear in mind the cable is a costly extra. But if you've yet to dive into VR or want to finally go untethered, the Oculus Quest 2's price, game library and overall ease of use make it the best entry point into virtual reality yet.
See our full Oculus Quest 2 review.
The original Oculus Rift was one of the best VR headsets around for connecting to a PC and enjoying immersive gaming. The Oculus RIft S builds upon that. The headset itself is a lot sleeker than before and it now has a 2560 x 1440 resolution display with a fast 80Hz refresh rate. And it's rather light as well, which makes it ideal for long sessions of VR gaming, whether you're sitting at your desk or enjoying VR in a larger space. It also has a rather neat feature in the form of speakers that are integrated in the headband, avoids the need to use the original Rift's onboard headphones;the audio results are fairly impressive.
Thanks to Oculus Insight tracking tech, the Oculus Rift S can deliver room-scale VR without the need to place external sensors around the place. And it comes with the impressive Touch Controllers that nearly track movements and help make VR feel a lot more kinetic and immersive.
And the Oculus Rift S comes with an impressive library of games all on the Oculus Store, with notable highlights including Beat Saber, Superhot, Job Simulator. Overall, the Oculus Rift S is the best VR headset for folks looking for a PC-based system that plays a huge library of great games for a decent price.
See our full Oculus Rift S hands-on review.
If you want to play VR games on a console then the PlayStation VR system is your best, and pretty much only bet. It combines a neat headset that looks semi-futuristic and is surprisingly comfortable, with a superb range of games that's been slowly expanding. You can play games like Star Wars Battlefront: Rogue One X-Wing Mission, Eve: Valkyrie, and Batman: Arkham VR, as well as Astro Bot Rescue Mission - one of the more interesting recent VR games.
If you have a PS4 or PS4 Pro, then PlayStation VR is one of the more affordable ways to play VR games, especially given that you don't need an expensive gaming PC. Yet with the initiative Move controllers and movement tracking, you are still getting a rather high-end VR experience.
But you don't just have to use it for games as it can also be used to make watching movies more immersive. As such, if you're a PlayStation fan and want to get into VR games, the PlayStation VR is highly recommended.
One thing to also bear in mind that the PS5 also has support for PlaySation VR. The only problem is that it doesn't play nicely with the Move controllers. But there's good news as the PSVR 2 headset is in the works and it will bring with it a pair of new controllers.
See our full PlayStation VR review.

Following in the footsteps of the Oculus Rift, the HTC Vive showed what game company Valve could do when working in partnership with a tech company. The result was a stellar VR headset that delivered a virtual reality experience that really had you moving around rather than sitting in one place and looking around. Valve's Lightroom technology allows you to map out a space that you will walk, crawl or tiptoe through, depending on the game, while Chaperone ensures you don't walk into a wall or trip over a beloved pet.
The controls are a high-point too, at the time offering a more revolutionary feeling of being able to literally reach out and grab something, albeit by pulling a trigger than gripping with your hands. The virtual experience is still pretty awe-inspiring, despite other VR headset catching up with the HTC Vive.
The only thing to bear in mind here is that it requires external tracking sensors, a powerful PC to run, and a good degree of set up and space. So for people in small apartments it might not be the best VR headset for them.
It's worth keeping in mind that if you want a higher-end VR experience from HTC then the Vive Pro 2 has been revealed, It's the first VR headset with a 5K display and also features a suite of screen tech including a 120Hz refresh rate.
See our full HTC Vive review.
Valve is no stranger to VR or gaming having first worked with HTC to create the Vive headset, one of the best VR headsets around when virtual reality became more of a thing some four or so years ago. Now the Valve Index represents the culmination of the game company's efforts to make a VR headset by itself. And it succeeded.
The Valve Index is a comfortable and high-end VR system, with high-quality construction, comfortable cushioning and smart built-in speakers. The downside of this quality is that the headset can be rather heavy to wear for an extended period of time. And for some unfathomable reason, there's no included USB-C cable to charge up the components
There's a lot to like about the Index, as it comes with an LCD panel that offers variable refresh rates to suit the power of your PC. And the images it serves up are suitably crisp and high-rez. The controllers are also a high point as they come with the ability to customize to your hands shape and sport pressure-sensitive controls as well as hand straps to prevent you from dropping them as VR action heats up.
See our full Valve Index review.
How to choose the best VR headset for you
Buying a VR headset can be divided roughly into two categories: a full VR setup or a beginner's exploration of virtual reality.
The latter can be as easy as picking up a Google Cardboard headset, downloading some apps on your smartphone, popping your phone into the headset, and getting started. The former requires a lot more consideration.
If you're going for a powerful VR setup then you need to consider whether you have the space for room-scale VR, which often requires a large amount of empty square space, say a big spare room. If you have less space, then you can still enjoy VR at a smaller scale or even accept that you'll be sitting down when you use it; for flight simulators, this can be ideal.
Next up, you'll need to consider the specs of the desktop or laptop you plan to use your VR headset with. The best experiences require a powerful gaming PC so that VR environments are rendered realistically and run smoothly to prevent you from getting too motion sick.
Some VR games and apps aren't too demanding meaning you can get away with a reasonably well-specced PC. But if you're investing in a high-end headset like the Valve Index, then you'll want a powerful PC backing it up. Be prepared for such a setup to be rather expensive.
And there's also the PS VR headset to consider, which is Sony's dedicated headset for the PS4 and PS4 Pro. This can offer a reasonably straightforward way into VR gaming, but it's also limited to the games the console can support, which aren't exactly prolific.
How we test VR headsets
Identifying the best VR headsets takes a suite of things to consider, from the hardware itself to the software the headsets will work with. We test and consider how easy it is to set up a VR headset and system, how well designed and comfortable the headset is, how well its interface works, and take a look at the accessories the VR headset can use.
We also take a look at how specific VR headsets work such and how easy the interface to use, as well as how head tracking performs and the quality of the controllers with the headsets.
A major part of initial testing involves evaluating how much space is needed to set up one of our picks for the best VR headsets to get the most out of them. This doesn't apply to headsets that use a smartphone to power them, but in this case, we look at how easy they are to get working with an Android phone and well as how much software one needs to download and how well the phone fits inside the headset's enclosure.
A product can look great but still be uncomfortable to use. Aside from testing out all the various content, we spend at least 30 minutes wearing each headset. We test to make sure any embedded air vents are keeping things cool. And if it does get sweaty, we see how well the face guard wicks away moisture. We also weigh the headsets, because even the lightest gadget can feel heavy after long periods of use. Finally, we test how adjustable the head straps are and how secure they feel.
As the de facto face of your virtual experience, the interface is vitally important. We test how responsive and intuitive the home page and subsequent menus are, as well as test special features, like voice commands and gesture control.
Whether it's a traditional gamepad or something more elaborate, like the Rift's Touch Controllers, we're checking to see if the input devices are ergonomically designed; after all, no one wants hand cramps. We also test tracking and responsiveness in a number of games.
Hardware without great software is just an expensive paperweight. We not only examine the size of a device's library but also scour the listings and test out some of the higher-end apps and titles. At this point, a good library should feature a number of games, apps, movies and other experiences.